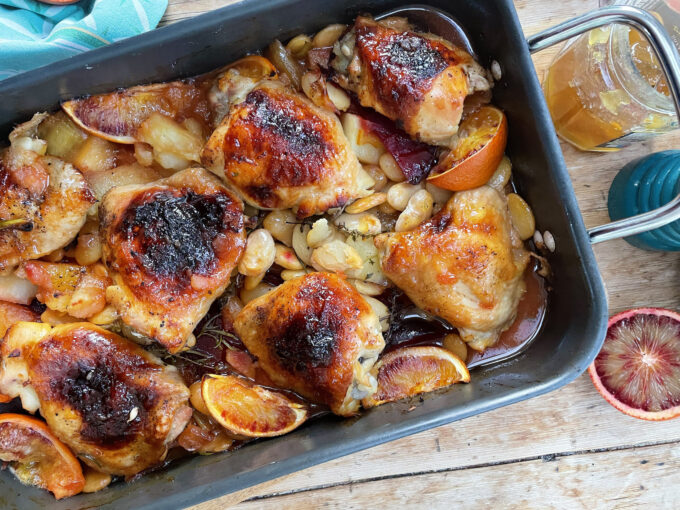 We're back with Chicken Thigh Tuesday and this week I have this absolutely divine marmalade & blood orange chicken thighs stew.  There's some kind of alchemy that happens when you work with chicken and oranges, especially the fattier bits of the bird such as chicken thighs.  I think it's the citrus twang that cuts through the rich meat so beautifully that I love.  The great thing about marmalade is that it's all prepared for you in advance and all your doing is slathering it all over the ingredients.  Job Done.
blood oranges
It also still happens to be blood orange season and so I simply had to include them in this dish to bring their unique flavour and colour.  Again, like the oven-baked chicken thigh risotto I made last week, it's all done in one pot and uses all your favourite veg.  I'm also throwing in some chickpeas for a different texture and to add bulk but you could sub this for pearl barley, lentils or just good old potatoes.
7 or 8 free-range chicken thighs – bone in with skin on
1 carrot – roughly chopped
one large onion – sliced into wedges
1 beetroot – cut into wedges
5 garlic cloves – un-peeled
1 x 400g tin of butter beans
1 large glass of white wine
1/2 litre good quality stock
fresh herbs – I used rosemary and lemon thyme
butter and olive oil
salt and pepper
1 blood orange – cut into wedges
4 or 5 tablespoons of your favourite marmalade – I used a three fruit marmalade which was divine.
pre-heat the oven to 180C – I'm using a Mermaid Deluxe 12″ 31cm Roasting Dish with handles but any roasting tin will do..
place the chicken thighs into a bowl with the marmalade and rub it all together with your hands so that the thighs are fully coated
place all the chopped veg and garlic into the dish and spread out evenly… season well with salt and pepper and a sprinkling of fresh herbs… sprinkle over the butter beans.
place the marmalade covered chicken thighs on top, skin side up, pour in the wine and half the stock, season well again with salt and pepper and wedge the blood orange wedges in between the thighs – place some foil tightly on the dish and pop into the oven for 1 hour, after an hour, remove the lid and roast for a further 30 mins until the thighs are gloriously golden.
For more chicken thigh recipes, check these out on Dom in the Kitchen.
Eat and of course, enjoy!