This Banana Tahini Loaf with a tahini cream cheese frosting is such a wonderful cake I'm quite aghast to think why I've never thought of this genius combination before?  It's so wonderfully rich and nutty and has a gorgeous velvety texture, even with the ground almonds.
The cream cheese frosting is also a revelation. The tahini works beautifully with the cream cheese and just a touch of sugar allows it to become soft and sweet.
It's also an 'all in one' cake so it's super-easy to make. Literally all the ingredients go into the bowl at the same time.  No faffing about with creaming sugar and butter first.  My only watch out is to ensure that the butter is super-soft and at room temperature, otherwise it won't blend well.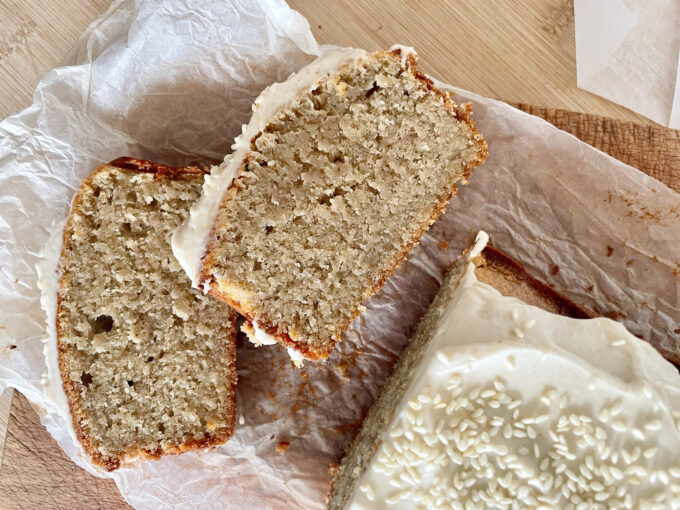 for the loaf cake
180g sugar
180g butter
2 large eggs
100g flour (use your favourite flour)
80g ground almonds
1 and 1/2 teaspoons of baking powder
2 ripe bananas
2 tablespoons tahini
for the frosting
100g cream cheese
30g icing sugar
1 tablespoon tahini
You will need a 2lb loaf tin.  Greased and lined.  Pre-heat the oven to 170C (fan.)
Mash the bananas then add everything to a large bow and beat until fully combined, fluffy and light. I used my
smeg stand-mixer
with the cake paddle and it took about 3 minutes on a medium setting.
Pour the cake batter into the loaf tin and bake on 170C (fan) for 45 mins or until golden and risen and firm to touch. Let the cake cool in the tin for 10 mins on a wire rack and then remove from the tin and allow it to cool completely whilst you make the frosting.
To make the frosting, place all the ingredients in a small bowl and beat until fully combined.  I used a rubber spatular for this and started slowly to avoid a sugar-dust cloud and then got more aggressive once everything was combined.  Place the bowl in the fridge whilst the cake cools.
Eat and of course, enjoy!