We have an abundance of berries growing in the garden this year.  Every morning we go outside and between myself and The Viking we always come back with a handful of fruit.  OK we'd never be able to feed the 5000 but we can make pie and so this cherry, nectarine and gooseberry pie was born.  It's actually got some stunning flat peaches and a few strawberries and blueberries in there too.   A mixture of shop-bought from the fabulous and local Shaws Fruit & Veg and gleaned from the garden.
I don't think I can remember a time when we've had such a lovely crop.  Probably a combination of the heavy rainfall in June followed by this incredible sunshine kept the strawberries and gooseberries coming.  I also think it's possibly the fact that we're not usually here during the summer so we're saving the fruit from the birds. Sorry birds!
Summer Pie
A lovely fruity summertime pie is always a treat. It feels like such a celebration of fruits and is so wonderfully retro.  It's like a fruity hug in a pie harking back to a time that never really existed other than in books from our childhood. I've tried to keep the additional flavours light.  So just a little cinnamon and vanilla to bring out the flavours of the fruits.  I also only use a little sugar as I quite like the tartness.  Feel free to add more to your own tastes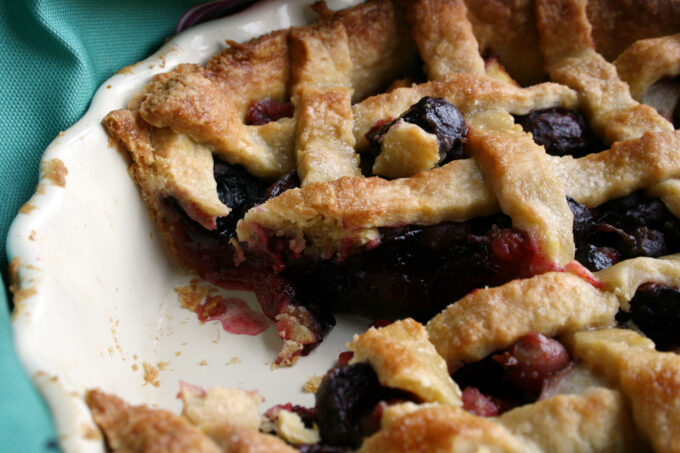 Orange Sweet Shortcrust Pastry
The pastry is a classic sweet shortcrust but I've added some orange zest to pimp it up a little.  Such a small gesture that makes quite a big difference.
for the pastry
450g plain flour
225g butter
2 tablespoons golden caster sugar
the finely grated zest of one orange
2 egg yolks
a little cold water
for the pie filling
200g cherries – halved and de-stoned
2 nectarines – roughly chopped
1 flat peach – roughly chopped
150g selection of mixed garden berries – I used strawberries, gooseberries and blueberries
1 tablespoon plain flour
1/2 teaspoon cinnamon
1/2 teaspoon natural vanilla paste – I used the amazing stuff from LittlePod
2 tablespoons golden caster sugar
the finely grated zest of one lemon
I'm using a 2cm deep filled fluted tart dish.  It's a ceramic one but a metal one would work well too.  I've buttered it liberally.
Start with the pastry by placing the flour, butter, sugar and orange zest into a large bowl and rubbing it all together with your fingertips until it resembles breadcrumbs. Then add the egg yolks and a little water and using one hand shaped like a claw, mix it together until a ball of pastry is formed.  You should be able to clean the bowl with the pastry ball. (This whole thing takes seconds in a food processor.)
Place the ball of dough onto a large piece of clingfilm.  Flatten it out into a disk, wrap it up and pop it in the fridge for at least 30 mins.
Pre-heat the oven to 160C (fan)
Now for the filling. Place all the ingredients for the filling into a large bowl and stir well to combine. Set aside whilst you roll out your pastry.
Time to weave
Take 1/3 of the pastry and roll it out onto a well floured worktop. (re-wrap the rest of the pastry and pop it back into the fridge.) You want it thin because we're not blind baking but not too thin you can see-through it. Line your tart dish and trim the top.
Fill the tart dish with the filling then set aside.
Roll out the remaining pastry and cut it into strips.  I like thin strips so my lattice has large holes the filling can peak through but you can weave your lattice top however you like. For a dish size like mine you want at least 10 strips but don't worry if you feel like you don't have enough pastry.  You can use the bits you cut off the ends as you start the lattice to make up any bits and bobs.
Lay half the strips across the pie all running one way with an even gap between each strip.  Seal one end of each strip to the pastry case below by squishing it in with your thumb.
Now take the other strips and carefully weave them over and under each of the other strips in a perpendicular direction. Remember that sometimes a few mistakes can make a pie look rustic, so don't get too stressed.  There are also plenty of YouTube videos showing how to do this so don't fret!
Trim off any scraggly edges and brush the top of the pie with an egg and water mix.  Sprinkle with sugar and then bake on 160C fan for 35-40 mins.
For more pie inspiration check out these recipes on Dom in the Kitchen
Eat and of course, enjoy!