I know it's daft but I love the name I've given this soup.  'summerstrone' …it just sounds lovely as it rolls off the tongue. Plus it says exactly what it is – a minestrone for the summer.  Lighter and fresher than it's autumnal cousin, a summer stone is filled with all the wonderful fresh seasonal vegetables available this time of year.
The Veg
I'm using some classics that would be traditionally found in a minestrone but chasing their seasonal sisters.  So I'm using spring onions instead of regular white onions, fennel instead of celery and some wonderful mixed colourful new carrots.  I've added fresh green beans and veg some asparagus and instead of a tin of chopped tomatoes I'm using a big juicy heirloom tomato which is packed with flavour.
Potatoes instead of pasta
I decided to use some freshly grown (by me I may add) new potatoes instead of pasta, to keep it lighter.  I've also added a bunch of watercress instead of the traditional cabbage.  It all worked out beautifully and it made this summerstrone a wonderfully light and summer dinner.
1 bunch (roughly 5) spring or salad onions – finely chopped
1/2 fennel – chopped
4 or 5 small coloured carrots – I used yellow, purple and orange ones – chopped
2 cloves of garlic – finely grated
a selection of fresh herbs – I used rosemary, lemon thyme and oregano (plus basil for serving)
a handful of green beans – chopped
5 or 6 asparagus stalks – chopped
1 large heirloom or beef tomato – chopped which I purchased from the amazing Shaws Fruit and Veg
1 litre of good quality vegetable stock
a bunch of watercress – chopped (stalks and all)
100g finely grated cheese – I'm using Lincolnshire Poacher
salt and pepper to taste
I'm using my 30cm shallow cast iron casserole pan to cook my summerstrone.
Place the pan on a gentle heat and add some olive oil and a little nob of butter.  Once it's melted add the onions, fennel and carrot and sauté gently for about 5 mins.  As the veg begin to soften add the grated garlic and herbs and stir well.  Next stir in the green beans and asparagus and let them gently mingle for a few mins before stirring in the chopped tomatoes.
Pour in the stock, followed by the chopped watercress and let the whole thing gently bubble away for about 10 mins.  Then turn off the heat and stir in the cheese.  Let it sit for a few minutes before serving.
I like to serve in wide shallow bowls so you can see all the lovely veg.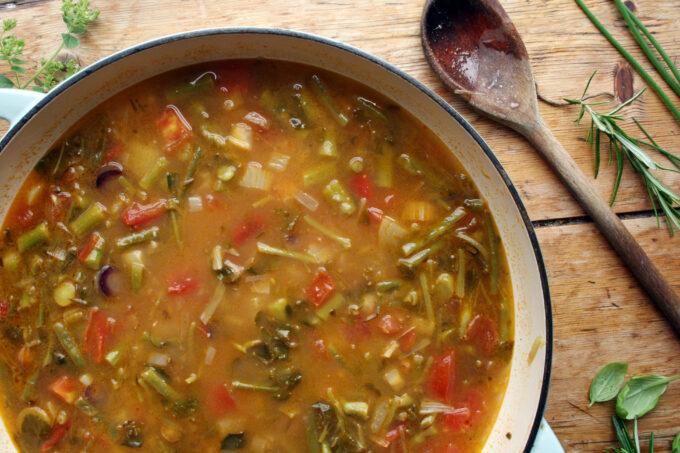 For more soup ideas check to the recipes on Dom In The Kitchen
Eat and of course, enjoy!