Like edamame beans, these chargrilled peas with rosemary and soy are divinely delicious and ridiculously more-ish. You literally can't stop popping them.  I think it's the combination of salty soy, fragrant rosemary and the sweet sweet peas that make them so heavenly. Just like edamame you eat these whole by sliding them out of your mouth between your teeth and discarding the pods (although The Viking just munched down on the pods too because why not?  They're nice and tender and wonderfully charred!)
the perfect season for peas
It is precisely pea season in the UK so if you can get your hands on some freshly picked peas in their pods then you're winning.
the rocket store – Boscastle
These chargrilled peas with rosemary and soy are inspired by the INCREDIBLE peas we ate at the wonderful Rocket Store restaurant in Boscastle in Cornwall last week.  Wow, what an amazing menu and such a lovely team of people working there.  It was by far the best meal we ate all week.
500g peas in the pod
2 tablespoons soy sauce
1 tablespoons white wine vinegar
½-1 tablespoons chilli oil, to taste
1 teaspoon clear honey
1 teaspoon sesame seeds, toasted
Put a griddle pan on a high heat. (Or fire up the BBQ)
In a large bowl add the sesame oil, soy sauce, vinegar, chilli oil and honey and mix well.
Add the whole pea pods to the bowl and massage into the pods. Set them aside for at least 30 mins.
Place them on the hot griddle (you may need to do this in batches) and cook for 10-12 minutes, turning occasionally, until the pods are slightly blackened and the peas inside are tender.
Serve with a dipping sauce made from the same ingredients.
When the pods are all nicely charred, serve them with the sauce: dip each pod in the sauce, pop in your mouth, slide out the peas with your teeth and discard the pod.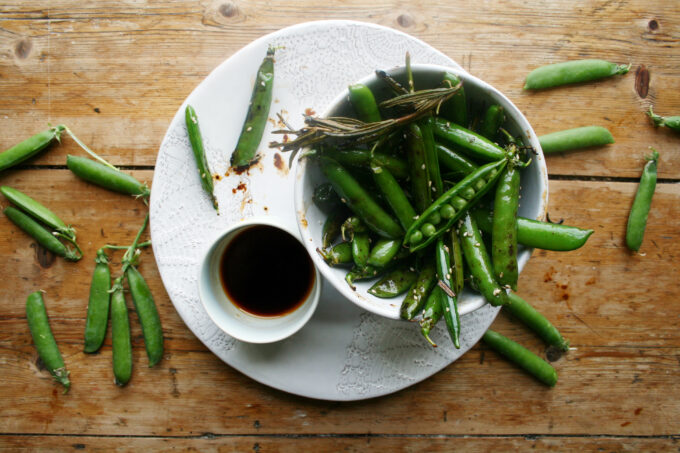 Try here for some more of my fabulous pea recipes.
Eat and of course, enjoy!