This banana, rum and fudge ice cream has been made because if I have to listen to The Viking moan any more about not getting his banana ice cream from the incredible people at The Mablethorpe Ice Cream Company once more I will probably kill him.  They make it in small batches you see and we always miss it! It's slightly different from what I've made here so no doubt he'll still have a moan.  Theirs is a soft-serve whipped ice cream whereas mine is more of a traditional scooping ice cream.
Banana and Fudge
As you can imagine the banana, rum and fudge ice cream is a wonderful combination. Particularly using some of the stunning Copperpot Cornish Clotted Cream Fudge I brought back from my recent trip to Cornwall. It's made with Rodda's Cornish Clotted Cream and it's fabulous.  It's the kind of fudge that is crumbly rather than super-smooth which is by far my favourite kind of fudge. Of course the banana just makes everything taste luxurious and ridiculously smooth. I'm also giving the whole thing a slightly tropical feel by adding some spiced rum.  Keeping it Cornish though by using the amazing Twin Fin Spiced Golden Rum.
This is one of the easiest ice creams I've ever made, yet it delivers the taste in spades as though you've gone all out to make something special. No faffing around making a custard, it's just the 5 ingredients. I was fortunate enough to be sent the wonderful ice cream attachment for my smeg stand mixer last year but ridiculously I've barely used it.  It's not like we don't LOVE ice cream here in Belleau because, believe me we do. You don't need a an ice cream maker but it helps achieve that luxuriously smooth and creamy finish.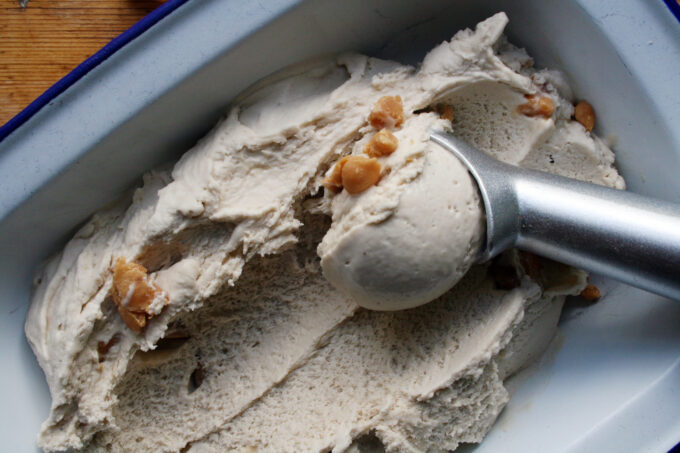 4 ripe bananas – roughly

 chopped

400ml double cream 

75g golden caster sugar

2 tablespoons rum – I'm using the amazing Cornish Twin Fin Spiced Golden Rum
100g fudge – roughly chopped
Whizz everything, apart from the fudge, together in a food processor or using a stick blender.
Pour into an ice cream maker and churn, or pour into a freezer-proof box and freeze, stirring every 2 hours until the mixture solidifies. Add the fudge towards the end of the freezing process so it doesn't turn to crumbs and stays nice and chunky.
For more ice cream recipes check them out here on my blog.
Eat and of course, enjoy!