I made this Bakewell tart because The Viking said I should.  I literally had no idea what to bake and he simply said 'Bakewell tart' and there you go. If I'm honest, I've been a bit uninspired to cook recently.  Not entirely sure what it is but I have a feeling that it's because I've simply cooked everything. These past 14 or so months have more or less seen me cook three meals a day, every day.  Give or take the odd pizza or Chinese takeaway that's a LOT of cooking.  In fact that's roughly 1260 meals!
Bakewell Tart
I'm actually not complaining because I love cooking and I honestly haven't been that fed up, it's just I do feel like I've been through my repertoire a number of times which can be a little soul destroying.  One thing I haven't made in a number of years is a classic British dessert called a Bakewell Tart.  A rich frangipani filling sits on top of a layer of jam inside a crumbly sweet shortcrust pastry.  Decorated with a simple icing sugar glaze and little glacé cherries, it's the perfect cake to have a slice with a cup of tea.  I am in heaven.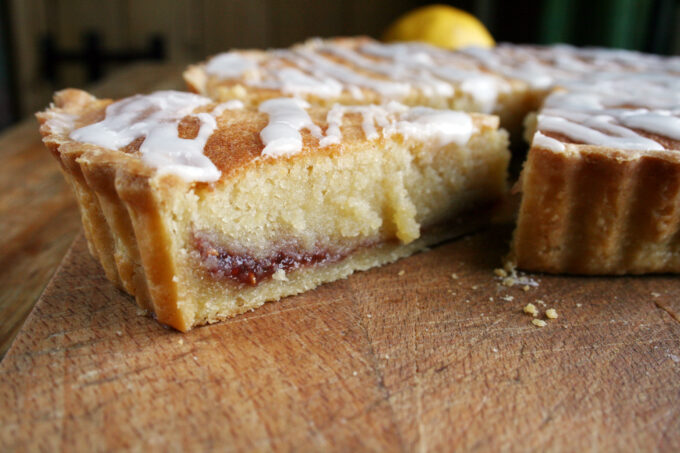 For the sweet shortcrust
200g plain flour
2 tablespoons caster sugar
100g unsalted butter
1 large free-range egg – beaten
1 tablespoon milk
For the filling
150g unsalted butter – room temperature
150g golden caster sugar
3 large free-range eggs – at room temperature, beaten
150g ground almonds
the grated zest of 1 lemon
4 tablespoons of strawberry jam (or your favourite jam)
2 tablespoons icing sugar (and a little water or lemon juice to mix.)
Start with the shortcrust pastry. Sift the flour, icing sugar and a pinch of salt into a large bowl. Using your fingertips, rub in the butter until it forms fine crumbs. Add the beaten eggs and milk and lightly bring together to form a firm dough, taking care not to handle it any more than necessary. Shape into a disc (which will be easier to roll out later), then chill, wrapped in cling film, for 30 minutes.
Preheat the oven to 180°C (fan160°C) along with a baking sheet. Grease a 23cm fluted, loose-bottomed tart tin with butter.
Roll the pastry out on a lightly floured surface and line the buttered tin with it . Try not to stretch the pastry when tucking it into the edges. Trim the excess and prick all over with a fork. Chill for 30 minutes.
Line the pastry case with baking paper and fill with baking beans or rice. Place on the pre-heated baking sheet and blind-bake for 15 minutes, then remove the beans/rice and paper. Cook for a further 5 minutes until pale golden and dry on top.
Make the filling. Beat the butter and sugar together until pale and fluffy. Beat in the eggs a little at a time, then fold in the ground almonds and lemon zest.
Spread the jam evenly across the base of the pastry case, then spoon over the sponge mixture, levelling the surface with the back of the spoon. Bake for 35-40 minutes until golden, well risen and just set in the centre.
Leave to cool in the tin for 5 minutes, then lift onto a wire rack and leave to cool completely. Make a simple icing by mixing the icing sugar with a little water and drizzle on top.  Decorate with glace cherries.
Eat and of course, enjoy!