roast beetroot & goats cheese salad with a roast garlic yoghurt dressing
Weight has been put on and there's a layer of fat in the middle of this body that for some reason won't just disappear overnight so we've been eating a lot of salads to compensate. This roast beetroot & goats cheese salad with a roast garlic yoghurt dressing is a lovely way to make the humble salad a little more creative. I'm really into little baby gem lettuce at the moment and I'm using one here cut into quarters and then simply laid on the plate in the quarter, so it's like a big piece of vegetable to cut into. I'e peppered this with a few baby leaves too but you can obviously use what you have in the house.
roast garlic yoghurt dressing
The dressing is nice and sharp which sets off thee sweetness and earthiness of the beetroot really nicely. Plus the roasted garlic in the dressing is quite sublime and if you're lucky a little of the pink colour from the beetroot will have lead into the garlic so your dressing should be the faintest shade of pink!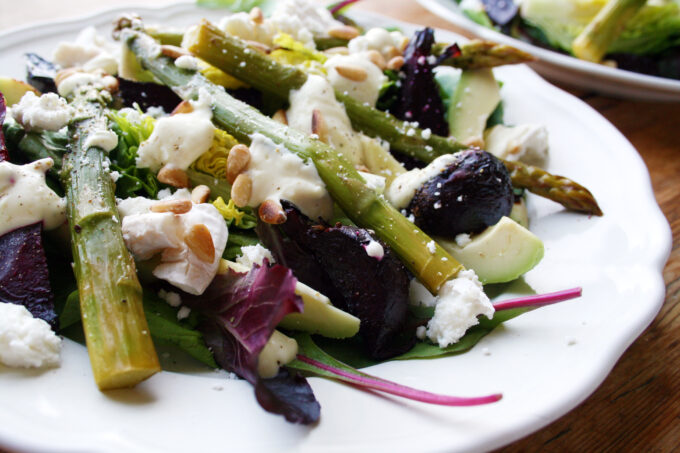 for the salad
50g pine nuts
4 or 5 raw beetroots – trimmed and quartered. I leave the skin on
1 whole garlic – cut in half through the middle
fresh herbs – I used thyme, rosemary and oregano
olive oil
balsamic vinegar – go for a basic cheap one here, nothing fancy
6 stalks of asparagus
one lemon – quartered
1 baby gem lettuce – quartered (enough for 2 people)
goats cheese
for the dressing
2 tablespoons

fresh lemon juice, plus a little grating of fresh zest

1 tablespoon

white wine vinegar

1-1/2 teaspoons

sugar

1 teaspoon roasted garlic

3 tablespoons

Greek Yogurt – I use the best which is Fage 0%

2 tablespoons

extra virgin olive oil

salt and pepper
Start with the pine nuts.  Dry roast them in a hot pan, with no oil.  They should take about 3 minutes but watch them. Toss them constantly or they will burn and turn bitter.
Take them out of the pan the second they go golden and set aside. – You can make more and keep in an air-tight container for other salads on other days.
Next we want to roast the beetroots. I like to cut them into quarters lengthways with the skin on – I don't even wash them.  Place them into a roasting tin along with the garlic and drizzle them with olive oil and balsamic vinegar (just an inexpensive one) season well and sprinkle on some fresh herbs.
Roast for about an hour on a medium temperature until the beetroot are soft with just a little bite.  Set aside. (The roasted garlic will be used for the dressing.)
At the same time you can steam the asparagus in the oven. I place them in a roasting tin along with a couple of wedges of lemon, a little seasoning and a drop of water.  Cover with foil and roast for about 15 mins until tender, then set aside.
For the yoghurt salad dressing simply place all the ingredients in a bowl and whisk to combine. Then refrigerate until you're ready to serve. The dressing keeps well for 3-4 days.
Once you're ready and it's time to eat, it's just a matter of building the salad. When it's just the two of us I make the salad directly onto a plate but if there's more I double the quantity and make it in a large flat bowl.
Slice the gem lettuce lengthways into quarters and then build up the salad from there, adding the beetroot then the asparagus and then I crumble the goats cheese on top at the end. A sprinkling of toasted pine nuts and a drizzle of the dressing all over completes the picture.
Eat and of curse enjoy!