This stewed apple tart is a proper 'mum's recipe' by which I mean that I found myself with an abundance of Bramley apples last week and had really run out of ideas.  A quick call to mum, who like most mums always seems to have the answer and we had the solution! I had thought of stewing them anyway because stewed apples freeze so well but it seemed a little boring and all too 'planned ahead' for me. This tart is perfect.
apples and sultanas
The great thing about this tart is that it falls into that sweet / sharp taste category that I love.  Only a teaspoon of caster sugar goes into the apples but because there's a layer of jam at bottom of the tart there's enough sweetness to take away from the sharpness of the apples.  The sultana's also add an element of sweetness which is lovely although I know a lot of people don't like raisins and sultanas so you can just leave those out.
Obviously you can add more sugar if you have a sweeter tooth but do it once the apples have stewed so you can adjust the sweetness accordingly.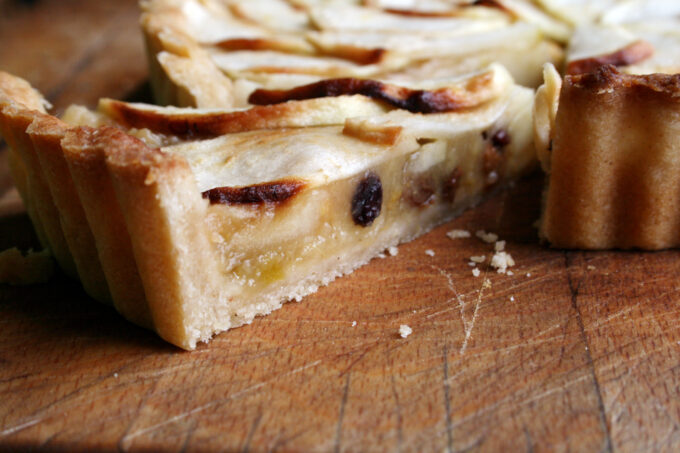 the best pastry in the world
I'm using my wonderful ground almond and cream cheese pastry (although I'm using marscapone this time rather than regular cream cheese) because it's so perfect for this tart but I'm not blind-baking it.  It's one of those pastries that really doesn't need to be pre-baked.  As long as you bake the tart in a metal tart case and place the case on a metal tray there'll not be a soggy bottom in sight.
This recipe is easily enough for two tarts. I used a 20cm fluted metal tart tin with a loose bottom.  The tart freezes really well so we had one the day we baked it and one is in the freezer for the next time mum comes to visit.
for the pastry
300g plain flour
3/4 teaspoon baking powder
112g caster sugar
150g unsalted butter
150g full fat cream cheese
75g ground almonds
1 egg yolk
a little milk to bind
1 teaspoon cinnamon
for the stewed apple filling
6 large Bramley apples – peeled and cored.  I should have weighed them for the recipe but you really can't go wrong here with too little or two much.  Remember to save one of the apples for slicing on the top of the tart.
the juice and zest of 1 lemon
100g sultanas or raisins or any dried fruit would work
1 teaspoon ginger
1 teaspoon mixed spice
jam – mum suggest apricot jam but I used marmalade in one and strawberry jam in the other
butter a your tart cases – I used 2 x 20cm tins
Start with the pastry. Sift the flour, baking powder and sugar into a bowl, add the butter and rub until it resembles breadcrumbs
Add the cream cheese, ground almonds and egg yolk, take a knife and mix until it comes together into a dough. You may need to add a little milk here, as I did, once it's all together, wrap in clingfilm and chill the dough for at least 30 mins before rolling out. (The dough also freezes really well and will keep for about a month)
When rolling out use plenty of flour. The pastry is very short and crumbly so be generous with the flour and gentle when you roll. Line your tart tins and pop them back in the fridge before using.
To make the stewed apples, place them in a large pan along with the sultanas, lemon juice and lemon zest and a dash of water and place the pan on a gentle heat.  Let them stew gently for about 20 mins, stirring occasionally.  You want them to be pulpy but not totally mashed.  I like it with a few large chunks in.  Set aside to cool.
Once you're ready to bake, pre-heat the oven to 170C. Take the tart cases out of the fridge and slather the bottom of them with a layer of jam, then pour in the stewed apples, then place thinly sliced apples on the top.  Brush a little more jam on top of the sliced apples.  To make this easier, place a couple of tablespoons of jam in the microwave for 20 second, you'll find it much easier to brush on.
Bake for 30 mins or until the apples are beginning to turn golden.  Let the tart rest until cool.  I prefer to eat them cold from the fridge but warm is also nice.
Eat and of course, enjoy!