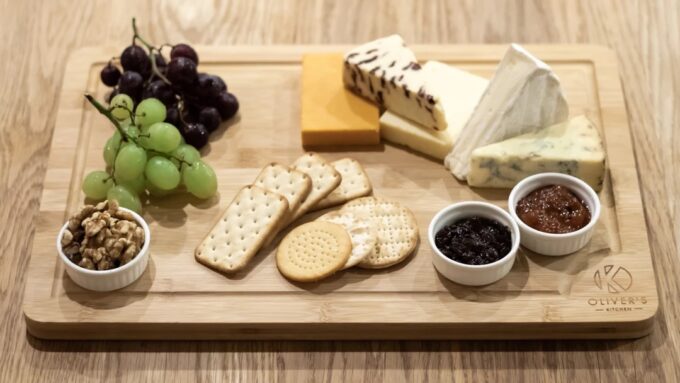 Oliver's Kitchen – giveaway time!
Oliver's Kitchen is a brilliant new kitchenware website set up by a Lincolnshire based family who's passion for cooking and eating fresh and healthy meals has led to them sourcing and developing the best products to allow us all to do this.
I love this ethos.  If you love something and can see a gap in the market that could help you and others then share that passion. It goes further than that though.  They have a lovely reason for wanting to start a business. The founder Oliver says that 'Oliver's Kitchen was created to allow our new family to earn enough money to travel the world and allow our youngest son (9 months old at the time of writing) experience as many different cultures, people and food as possible before he starts school.'
The business is relatively new and so far their collection of kitchenware is relatively limited but they've clearly gone for the types of items that we all need.  Simple but sturdy chopping boards, hefty garlic crushers that actually work without fiddly bits or faffing around having to peel the cloves or 'one touch' salt and pepper grinders with adjustable coarseness.
It's wonderful to see a local company succeed in something that I'm so passionate about too and I feel really honoured to have been asked to review their products and also give you guys the chance to win my favourite items from their collection.
Garlic Crusher
So it's just another garlic press right?  Well, no.  Over the years I've come to realise that a garlic press can be quite a frustrating item. From those fiddly little chamber that only takes one peeled clove to the crappy crushing arm that just gets in the way.  So much so that I've actually thrown mine out in favour of the humble microplane.  However, on trying the Oliver's Kitchen garlic crusher  I think I may be re-converted!  It has a brilliant, large chamber so you can crush more than one clove at a time, un-peeled but it's also so sleek and sturdy.  It feels like it could last a life time whilst looking really stylish.

Large Ice Cube Trays
You know those fancy cocktails where they put one large round ball of ice in it and it just looks SO cool.  Well here's the ice cube tray to end all ice cube trays.  Choose from large balls or large cubes, they just make every drink just look epic! I'm drinking a lot of cocktails at the moment and always trying to make them look good in pics.  These large cubes now mean I can achieve that.  I love these. The ball trays come with two silicone layers that you sandwich together to make the ball.  It even comes with a little funnel so you can fill the trays to the top to achieve the ball shape.
Large Ice Cube Tray 2 Pack – £11.99

Kitchen Tongs
I'm a recent convert to tongs and I have no idea why I waited so long?  They're such a brilliant solution to turning all kinds of sautéing foods.  In this box you get 2 different sizes and both come with their own clever little in-built stands so they sit about your work surface which is really clever.  They're nice and sturdy which seems to be a running theme throughout these products but I love that.  They also have this cool 'push/pull' mechanism to open which means you can do it all one handed. These are just a simple, effective and practical  win for me.
Kitchen Tongs – £9.99 for 2 different sizes

Chopping Board
A classic, sturdy, wooden chopping board is exactly what every kitchen needs. The bigger the better as far as I'm concerned and this one is a whopper. Made from 100% sustainable and eco-friendly bamboo, which just happens to be the same material as our kitchen worktop, this large chopping boards is totally the dogs nuts! It's actually very quickly become a permanent addition to our every day kitchen use because it sits on the work surface at all times which is genius. I am thinking of buying a couple of these to keep as spares.
Large Wooden Chopping Board – £16.99
The lovely folk at Oliver's Kitchen have given me an 11% discount code to share with you guys for your first orders.  Use the code DOMINTHEKITCHEN11 when you check out.
So it's Oliver's Kitchen – giveaway time! The gang at Oliver's Kitchen would also love to offer 4 of my readers the chance to get their hands on one of the above items, all you need to do is answer the questions in the giveaway box below.  We'll send out the 4 gifts randomly once the giveaway ends. It's UK only I'm afraid.
The good people at Oliver's Kitchen kindly gifted me these items to review.