Pea and potato soup in a crusty bread bowl
This pea and potato soup in a crusty bread bowl is quite a basic soup recipe. (It just so happens to be my favourite soup) but it's the crusty bread bowls that are the stand out here. I also really wanted to share the recipe and method I used to make the incredible loaf of bread I made last weekend and showed off on instagram. Even though I'm dividing it into bread rolls for the soup bowls for this recipes, it's essentially the same ingredients list as if you were making one large loaf.
Non-Sourdough Sourdough
You know when a loaf just works and works extremely well, it's like the coming together of all the elements in that one moment and I hope to recreate here. It's the closest non-sourdough bread I've ever baked that is close to sourdough in taste and structure and that's probably because I'm using a lot of methods that I would normally use in making sourdough, including a 'stretch and fold' technique instead of kneading.

Why isn't my loaf like your loaf?
You need a robust flour that will give you a good crust as well as a sturdy structure and rye flour is my go-to flour for this but to be honest, it should work with most flours.   I think it's important to mention that all flours, yeasts and bread ingredients are different and even if you manage to source exactly the same ingredients as me then it's still possible that your loaf won't be the same as mine.  Oven temperatures fluctuate wildly, especially with non-commercial ovens.
Liquid
In terms of liquid, you want quite a wet dough, so whilst I say 400ml liquid, don't be slavish to this, if it's looking too dry then add a little more water. Water is different all around the world and this plays an important part here, plus whilst my measurements are exact, it's possible that you may need do add a dash or so more water to get the consistency of dough that works for your set of circumstances.
With all this said, the recipe for pea and potato soup in a crusty bread bowl is quite classic and pretty basic so there's not much that can go wrong.
for the bread bowls
300g strong white bread flour
150g rye flour
150g wholemeal flour
400ml liquid made up of:
300ml warm water
2 tablespoons Greek Yoghurt
a large egg (beaten into the liquid)
1 sachet (7g) fast-action dried yeast
1 teaspoon salt
a splash olive oil
for the soup
1 medium onion  – finely chopped (I'm using 2 small banana shallots)
1 medium carrot – finely chopped
a stick of celery – finely chopped
1 clove of garlic – crushed or grated
2 medium potatoes – finely chopped (I'm using Maris Piper)
400g frozen peas
1 litre good quality vegetable stock (I'm using kallo organic vegetable stock cubes)
Start with the bread bowls. These can and potentially should be made the day before as you want them to be as robust as possible. I'm using my smeg stand mixer with the dough hook but it can all be done by hand, it's just quite a wet dough and will get messy.
Place all the dry bread ingredients in the bowl of your stand mixer and start the dough hook rotating on the lowest setting, pour in the liquid and ensure it all comes together.  Let the mixer knead it for 5 mins (knead it in the bowl if you're doing it by hand.)
Oil the inside of a large bowl with olive oil, then place the kneaded dough into the bowl. Cover with clingfilm and set aside for 20 minutes. After 20 minutes use wet hands to lightly knead the dough in the bowl.
I do part of a 'stretch and fold' and I also push my fingers into the dough using a 'bouncy' motion with my hands that seems to flood the wet dough with air pockets.  Cover with clingfilm and set-aside for 20 minutes.
Repeat this process twice more, then set aside for an hour to fully double in size. (Note, that by the second time you do this the dough should be lighter and have bubbles trapped within it.
Also note that the first and most successful time I made this bread it was a glorious sunny (but cold ) day and the dough sat on the sunny window sill during each proving time.)
Heat your oven to 220C fan and line a large oblong baking tin with parchment.
Knock back the now risen dough onto an oiled work surface and divide it into 6 equal portions.  Roll each portion into a ball, ensuring you tuck the underside of each ball into itself a number of times to create some nice air pockets. Place the 6 balls onto the baking tin, cover with oiled clingfilm and set aside to prove for 30 mins.
After 30 mins, spray the top of each ball of dough with water. Dust each one with flour and gently score a ring around the top third of each bun. (This will form the lid of each bowl.)
Place them into the oven for 35 mins until they are puffed up balls of joy. Set aside on a wire rack to cool.
To make the soup, melt some butter and olive oil in a large pan. Sauté the onions, carrots and celery until beginning to soften – this should tae about 8 minutes.  Add the crushed garlic half way through plus some fresh herbs if using – thyme would be nice here.
Stir in the potatoes, place the lid on and let them sweat gently until soft for about 10 mins.  Add the peas and the stock and let it bubble away for 15 – 20 mins on a gentle heat. Turn the heat off and let the pot of hot soup could down by at least half before blitzing to a smooth soup with a stick blender – I love my smeg one.
Once you're ready to serve, cut the 'lid' off the bread bowl. Scoop out the bread in the middle (you can make knobbly croutons with this.) Make sure you leave thick walls to the inside of the bowls. Pour in the hot soup and serve.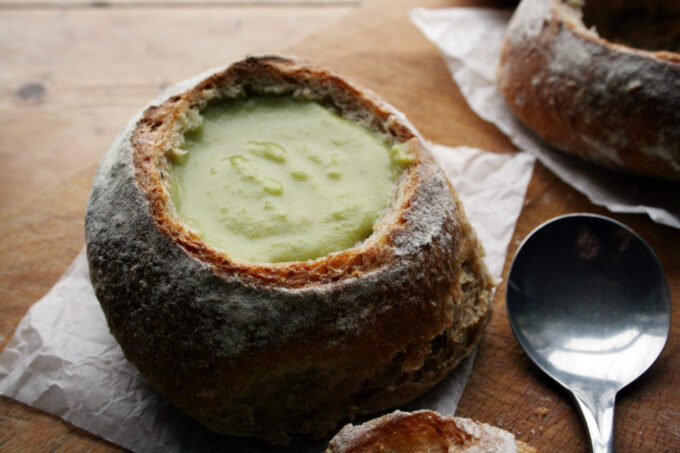 Eat and of course, enjoy!