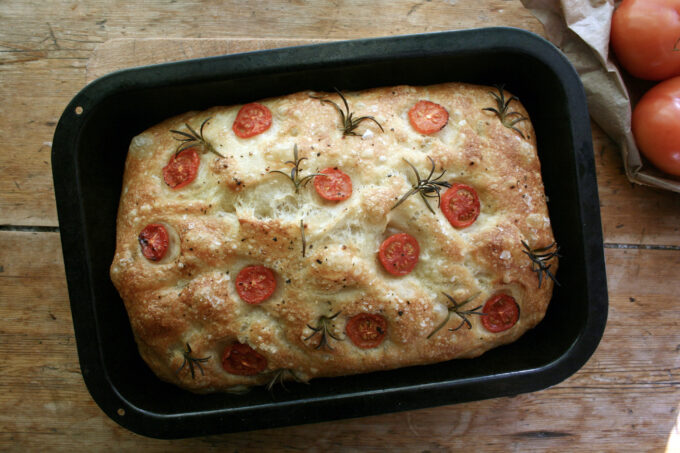 What with lockdown 3.0 dragging it's feet I've been watching a lot of 'food porn' on instagram lately and one of the things I've been most intrigued with is this incredible focaccia from Clerkenwell Boy.  It's just so bubbly and airy, almost like a sourdough and my rosemary and vine tomato focaccia is no exception. Plus his little videos are mesmerising.
I love focaccia and have made my fair share of it but to be honest my focaccia pales in comparison to this method. A mentioned above this method has a lot in common with a sourdough and I'm actually going to try making a regular loaf with this method too.  It's all about the way you treat the dough whilst it's proving – and it's very 'hands-on' so don't be afraid to get a little messy.  It's a 3 day bread too so it's not a fast food by any standards but boy is it worth the wait and as you see the bubbles form whilst it's being squished it's very exciting.
If you're like me and you love squelching your hands into soft, silky, oily dough then this is the bread for you. It's also wonderful because you can flavour it however you like.  I've gone with a classic rosemary, cheddar and caramelised onion focaccia but you really could put on any of your favourite toppings.
A quick note, I haven't stuck slavishly to Clerkenwell Boys recipe, mainly because I was following photo's rather than actually clicking on the link to his actual recipe, so I was guessing a few things based on my limited knowledge of bread-making but it seemed to turn out OK, so I'm sharing you my version here: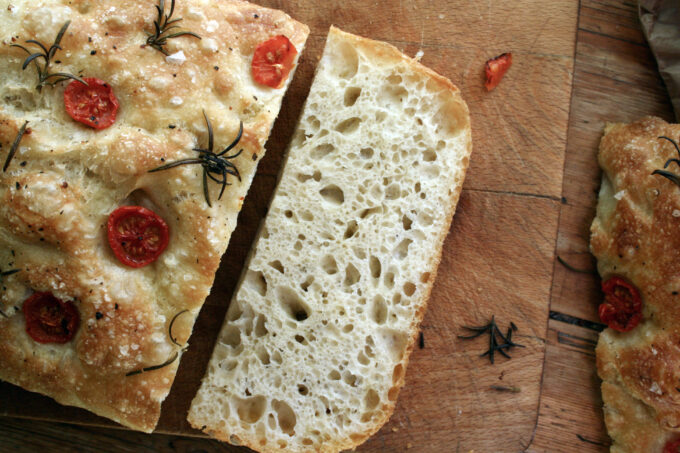 for the 'poolie'
30g strong white bread flour
30g lukewarm water
1/4 teaspoon fast action dried yeast in a tablespoon of warm water
for the focaccia
500g strong white bread flour
450ml lukewarm water
1 teaspoon fast action dried yeast (the rest of the sachet of yeast if you've used one.)
1 teaspoon salt diluted in a tablespoon water
plenty of olive oil
Day 1
Make the poolie by mixing a teeny dash of yeast with a tablespoon of warm water and let it bubble for a fw mins, then stir it into the flour and water in a jug. Place the jug somewhere warm over night.
Day 2
You're essentially making a regular bread dough here but adding the poolie and mixing it all together.  Put the flour, water, yeast and olive oil into a bowl along with the poolie but NOT the salt. I used my smeg stand mixer but you can simply bring it together in a bowl and knead it in the bowl for 5 mins. Transfer it into an oiled sealable container such as a large tuppawear, pop the lid on and let it rest for 30 mins
After 30 minutes add the diluted salt and use your fingers to squish it into the dough.  Even after just 30 minutes the dough should already start to feel soft.  Massage the dough until the salt is absorbed.  Pop the lid back on and set aside for another 30 mins.
After 30 mins, drizzle over a dash of olive oil, enough to lubricate your fingers and then do a quick stretch and fold of thee dough. Then place the lid back on and set aside for an hour.  Repeat this process three more times over the day, then place the tub in the fridge overnight.
Day 4
Take the dough out of the fridge and let it come up to room temp – roughly an hour, then transfer it to a well oiled roasting tin. I use a metal tin that measures 30cm x 20cm and is about 6cm deep.
Squish your fingers into the dough, which should be incredibly soft and silky. Air bubbles should start to form on the surface.  Do not pop these.  Set aside for 30 mins whilst you turn on your oven to 220C fan.
Decorate the top of the focaccia with your favourite herbs and foodie bits.  I'm going really classic here with vine tomatoes and rosemary but the world it your oyster.
Bake for 35 – 45 mins or until the focaccia is puffed and gloriously golden.  Set aside to cool on a wire rack for at least 20 mins before tearing into it!
Eat and of course, enjoy!