I'm really not a big fan of Christmas Pudding but I understand it has it's place on the Christmas Day table. I do love the idea of an old-fashioned steamed pudding though, there's something wonderfully 'Victorian' about the shape of it and so I think this pear, cinnamon & syrup steamed sponge pudding is a great, lighter alternative.  It ticks a number of boxes for me other than shape; it's packed with cinnamon which quite frankly is the spice of Christmas, plus it has pears in it which are very much part of the Christmas tradition, just ask the proverbial partridge. You could also add a dash of booze such as whisky or brandy which would just tip it perfectly into the Christmas spirit.
Steamed pudding desserts are also a great 'make-ahead' dessert.  Admittedly this one can't be made months in advance like the traditional Christmas pud but it would last a good 48 hours in the fridge and can easily be re-steamed for 15 or 20 minutes as you sit down to eat the main course and anything to make life easier during all the Christmas nonsense is alright by me.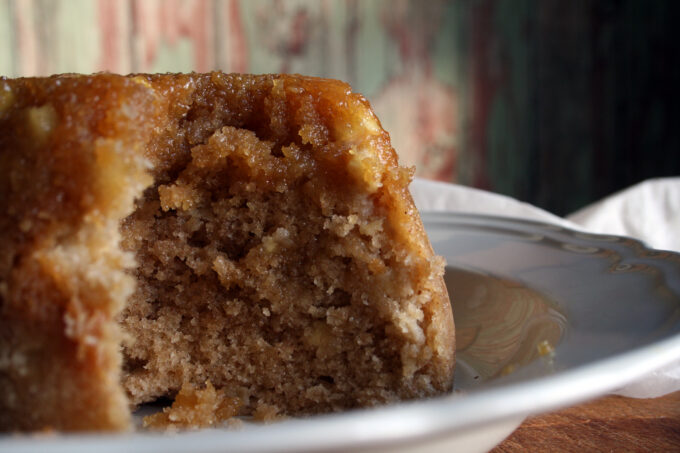 150g caster sugar
150g butter – soft / room temp
3 large free-range eggs
150g self raising flour
2 medium pears (roughly 150g) – chopped into small cubes
1 teaspoon cinnamon
100ml golden syrup
for this pear, cinnamon & syrup steamed sponge pudding I used a 750 ml pudding basin which needs to be greased well with butter but would easily work in a 1ltr pudding basin.
Place the sugar and butter into a bowl and beat until pale and fluffy.  This will take about 4 minutes with a hand-held electric whisk but could be done in a stand mixer with the paddle attachment or even just the old-fashioned way with a wooden spoon and plenty of elbow grease.
Beat in the eggs for a few minutes, followed by the flour and cinnamon.  Fold in the apples.
Pour the golden syrup into the bottom of the pudding basin and then pour the pudding batter onto the syrup.
Cover the top with foil or parchment paper tied with a string and steam for 1 hour.  I used my veg steamer for this but you could sit it in a large pan with a little water in the bottom and the lid on.  Check the water to make sure it doesn't dry out.
After an our remove the paper and invert into a bowl.  Works wonderfully served with custard or cream or even some brandy butter!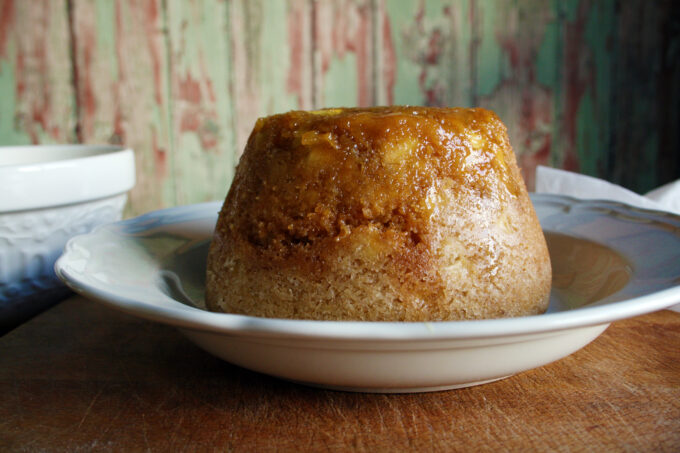 Eat and of course, enjoy!