So these apple, cranberry & cinnamon strudel biscuit swirls are my mums 'go-to' easy treats, especially if she's been doing a lot of pastry making and has some left-over.  They're so terrifically simple to make and can be adapted to pretty much any ingredients you have in your larder.  They would also work well with pears, or a mix of apples and pears.  I'm using a divine raspberry and rose jam from the amazing Abundance Street Bakehouse but whatever jam you have in your larder, or marmalade would be nice too.  Also, in terms of dried fruits, just use what you've got.  I had some dried cranberries from buywholefoodsonline.com which were gloriously sweet, plus some left-over dried fruit from last Christmas.
Talking of Christmas (if we may?) These are actually a brilliant bake for Christmas.  They're very quick to put together and if we're ever allowed to have people in our houses again, they're great for the gang to have laying about.  Wonderful with a cuppa in front of the fire on a cold winter day.
for the almond and yoghurt pastry
110g butter , diced
200g plain flour
50g ground almonds
2 tablespoons Greek yoghurt
75g caster sugar
zest 1 lemon
1 egg – beaten
for the filling
3 or 4 cooking apples (I used Bramley's) – grated (I leave the skin on because it's too much of a faff to bother)
jam or marmalade of your choice
a handful of dried fruit such as sultanas or cranberries
cinnamon
To make the pastry, rub the butter and yoghurt into the flour and almonds. Add the sugar and zest, then the beaten egg. Bring everything together into a ball, wrap in cling film and chill for at least 15 mins.
Grate the apples and gently squeeze out the juice.  You want them a little moist but not so much that they make the pastry soggy as they cook.  All apples have different quantities of juice so it really depends on how moist your apples are. Set aside the rest of the filling ingredients ready to start the assembly of the strudel.
Pre-heat the oven to 175C and line two baking sheets with parchment paper.
Generously flour your work surface and roll out the pastry to a rough rectangle (roughly 30cm x 40cm) don't worry about it being neat or perfect, and spread your jam or marmalade all over the pastry.
Next, distribute the grated apple evenly over the jam, followed by some dried fruit and finally a sprinkling of cinnamon.
Careful roll the pastry up in a tight roll, then slice the sausage shape into separate biscuits.  You should get roughly 20 spirals out of the length..
Bake for 35 mins or until they are darkly golden, then remove them from the oven and let them cool on a wire rack until the firm up.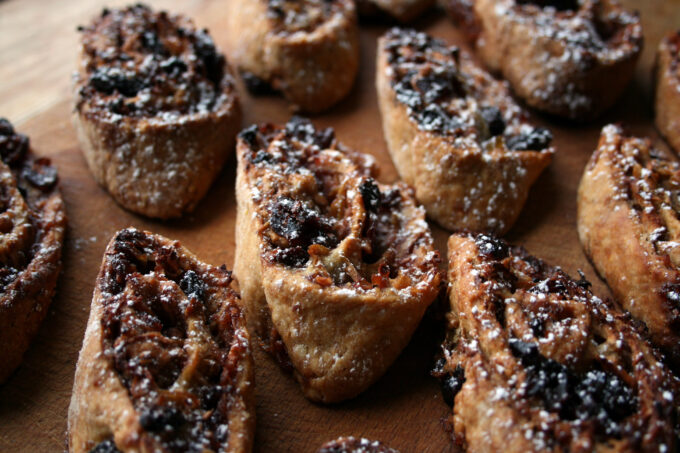 Eat and of course, enjoy!