This time in October is all about apples and this apple cinnamon cobbler is a celebration of the season.  There's a little apple orchard that I can see from the back garden here at Belleau Cottage and so all year I can see them grow and know exactly when they're ready to be picked. Roughly 18 or so years ago, when we first moved into the cottage, there was a new house next door.  Our friends in the village had built it for their parents to move into. It's a lovely home, in a traditional cottage style and it's aged really well into the neighbourhood. A few years later they decided to turn half the back garden into a mini apple orchard and every year they have an abundance of glorious apples.  There's only 4 or 5 trees but they're all different varieties.  For many years their parents happily picked the apples themselves but sadly they're no longer able to make the harvest and so we've all been graciously invited to go and pick them ourselves so that they don't rot on the trees.  When I tell you the house is filled with apples I am not exaggerating.  It's silly really.  Way too many to eat or cook with and there's only so much apple puree I can freeze!
I have a lot of apple recipes here on the blog but this simple cobbler is perhaps my favourite.  It's essentially apple stew with scones on top but I got creative with both the puree and the scones, which is the joy of cooking like this.  I believe that the apples I'm using are Bramley's (it's hard to 100% know) and they are a classic cooking apple that are full of juice and go very fluffy when cooked.  I like to have recognisable chunks in my apple pies and cobblers so I haven't over-done the pre-cook… just let them soften slightly and then take them off the heat or you'll have mush very quickly. I'm also not using any sugar in the stewed apples.  I love how wonderfully tart they are but feel free to add sugar to your own tastes.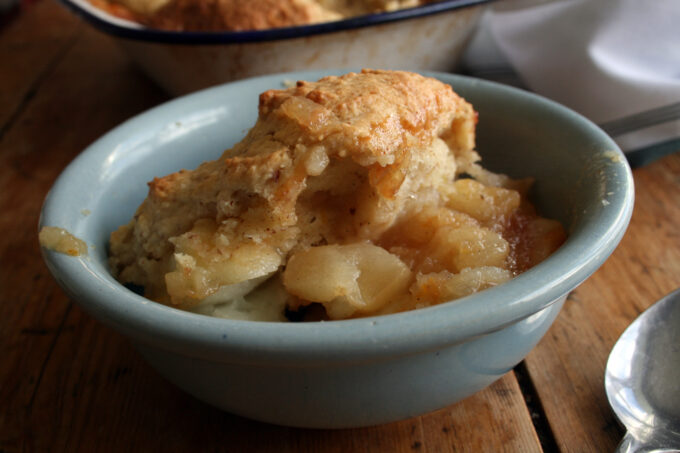 for the stewed apple
1kg cooking apples, peeled, cored and roughly chopped into large chunks
1 teaspoon cinnamon
1 teaspoon vanilla (I'm using the Little Pod Real Vanilla Paste)
a large knob of butter
for the cobbler
100g self-raising flour
50g ground almonds
50g cold butter – cubed
50g caster sugar
1 egg – beaten
2 tablespoons milk
I'm using my 25cm x 15cm oblong enamel pie dish which I've buttered. Preheat the oven to 180°C
Gently heat a shallow casserole pan and melt a knob of butter, then place the apples, cinnamon and vanilla into the pan and stir to combine the spices.  Let the apples cook for about 6 mins, staring regularly.  You want them to soften slightly but not turn to pulp.  Once they're like this, set them aside whilst you make the cobbler.
To make the cobbler, place all the dry ingredients into a large bowl and rub them together with your fingertips until you have a breadcrumb texture, pour in the egg and milk measure and, with your hand shaped like a claw, bring everything together to form a dough. It will be relatively wet, like a wet scone dough mix.
Pour the stewed apple into the buttered dish, then dollop the cobbler mix over the top in large spoonfuls.  I prefer 6 rough dollops randomly placed over the top as I think it has more of a rustic aesthetic… but you can be as measured as you feel comfortable with and don't worry if there are a few gaps – the mixture will blend together a bit more once it's cooked.
Bake in the oven for 30–35 minutes or until golden brown on top and the fruit is soft and bubbling.
Eat and of course, enjoy!