Victoria plums are my favourite fruit.  There, I've said it. I know it's just a humble plum but there's something about them just tastes like late summer.  I guess it's one of those taste-memory things that instantly takes me straight back to being a kid in the suburbs and eating the plums from the plum trees in the back garden, juice running down my chin as I swat the wasps away from the sweet, sticky fruit.  They have such a particular taste that is both sweet and heady and well, plummy that only the Victoria plums have. This plum and strawberry lattice tart definitely delivers that flavour. They also seem to deliver in every single fruit, you rarely get a dull one and if you're lucky enough to have a tree then you're in for a riot of jam-making and tart baking for a few weeks.
My lovely neighbour Ann was kind enough to give me a bag yesterday morning.  If I'm honest I was actually waiting for her to turn up and deliver these purple-green gems.  I even cheeky asked her if they were ready a week or so ago, more to prompt her to bring some over!  Her and her lovely husband Mike have been very generous to us over the lockdown with eggs and other goodies and it's made us feel connected in the most wonderful way.
This tart is just a celebration of summer fruit.  Some left-over homegrown strawberries that were frozen,  line the base of the pastry case then layered with the plums and finished off with a traditional lattice pattern.  Gloriously old-fashions and fabulously tasty!
for the pastry
200g plain flour
100g ground almonds
4 tablespoons icing sugar
150g butter
1 teaspoon ground ginger
1 large free-range egg – beaten
a little cold water
for the filling
200g of fresh plums – stoned and cut into wedges
150g fresh strawberries (frozen is good too) – chopped
2 tablespoons caster sugar
the zest of one lemon
1 tablespoon marmalade
I'm using a 22cm round fluted loose-bottomed metal tart tin but this would work well in a cake tin or a baking sheet form too. Grease the tin well with butter. Pre-heat the oven to 170C
To make the pastry, place the flour, ground almonds, icing sugar, ginger and butter into a large bowl and rub together with your fingertips until you have what resembled breadcrumbs. Add the beaten egg and just a drop or two of cold water and combine the ingredients using your hand in a claw shape.  The dough should come together very easily but you may need a drop or two more cold water to clean the bowl with the dough ball that forms.
Divide the pastry into two equal portions and flatten them out slightly, one into a round shape (for the tin) and one into more of an oblong shape (for the lattice) Wrap both pieces in clingfilm and pop them in the fridge for 30 mins.
After 30 mins roll out the round shape of pastry and line your tin, fork the centre of the case and place the tin onto a baking sheet.  Pop the whole thing back into the fridge whilst you prepare the filling.
Chop the strawberries into small chunks.  I used frozen strawberries and just hacked at them whilst they were semi-defrosted.  Place them in a bowl along with the lemon zest and a tablespoon of marmalade, along with some caster sugar.  Mix them all up until well combined then set aside whilst you cut your plums into wedges.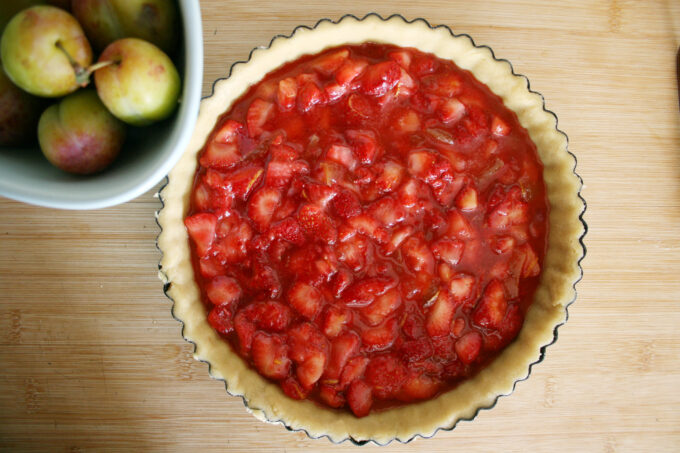 When you're ready, remove the tin from the fridge and spoon the strawberries into the tart, then layer the plums over the top in a pretty pattern.  Set this aside whilst you roll out the pastry for the lattice top.
Use plenty of flour to dust your work surface and roll out the pastry nice and thin.  The pastry oblong should be wider that your tart tin.  Slice the pastry into lengths.  I used a fluted pastry wheel with looks all fancy but a straight-edged knife would work well.  My strips were about 1cm wide.
Lay half the strips onto the tart in one direction and then weave the remaining strips in a perpendicular direction.  I promise it's really easy but if you're unsure there are plenty of YouTube tutorials out there showing you how.
Brush a little milk over the whole pie and sprinkle some caster sugar over the top.  Bake for 30 mins.
Eat and of course, enjoy!