I thought I'd share another amazing recipe from Edd Kimbers brilliant book One Tin Bakes. These Tahini chocolate chip traybake cookies are phenomenal.  I have honestly never eaten a nicer cookie. I think it's the combination of the brown butter (something I've not done before but clearly makes a HUGE difference) and the tahini which both add different depths of nuttiness.  There's also the genius combination of sweet and salt which Edd seems to get so perfect in his baking.  He's very brave in the way he plays with this and whilst it's not an original idea he has perfected it in his cookies.
I'm not a big cookie baker if I'm honest.  I know they're easy to make but for some reason I find them a little fiddly and I never have enough baking trays or the patience to spoon out the dough, and that's what I love about this traybake version.  You literally just bung the dough into a tray, spread it out and bake. I've tweaked the recipe slightly because I didn't the correct measurement of chocolate or chocolate chips that's called for in the recipe so I added some chopped nuts, which I think just add to the overall nuttiness of the traybake.  Edd suggests using slab chocolate and chopping it up, rather than actual chocolate chips but again, I only had some chocolate chips so these went in.
I'll try not to bake anything else from the book because I feel like you all need to go out and buy a copy, but I do think it's also good to see that the recipes work and that you can get away with a little tweaking with our breaking the recipe too much.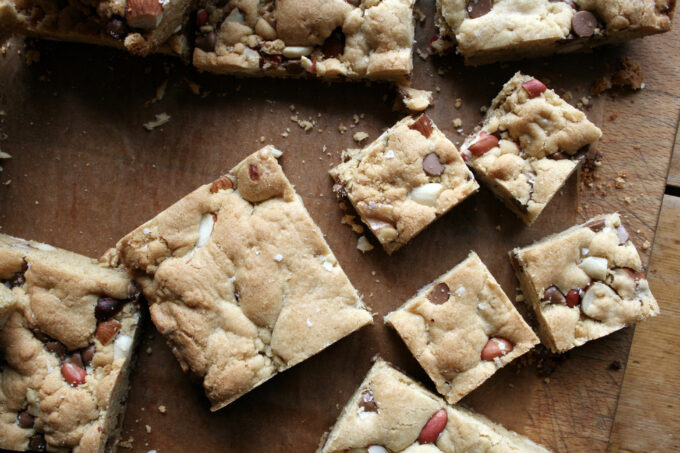 100g butter
125g caster sugar
125g light brown sugar
75g tahini
1 large egg plus 1 large egg yolk
1 teaspoon vanilla extract
280g plain flour
3/4 teaspoon bicarb of soda
1 teaspoon sea salt flakes
100g chocolate chips
100g mixed nuts – chopped
Pre-heat the oven to 180C (fan) and grease and line your tin up over the long sides. The tin for this recipe needs to be 23cm x 33cm by at least 5cm deep.  I use a roasting tin.  You can halve the recipe and use a 23cm x 23cm square pan if you like.
I'm using my stand mixer with the whisk attachment which I then change to the paddle beater.
Mix the flour, salt and bicarb in a bowl and set aside.
Brown the butter by placing it in a saucepan over a medium heat.  Let it melt and then gently stir it as it heats up.  It will start to foam, then bubble, then spit but continue to gently stir and eventually you'll see little lumps start to separate.  These will begin to brown.  You want them to turn a light brown colour and then remove the pan from the heat.  Any more and they will burn and this won't be a good flavour in the cookies.
Place the browned butter, along with the two sugars and tahini into a bowl and whisk for 5 mins until it's pale and the volume has increased, (I'm using my stand mixer for this but an electric hand whisk would work fine.) Then whisk in the vanilla, egg and egg yolk for a minute.  The texture will change to a smoother batter.  Now change from a whisk to a paddle (or use a wooden spoon) to beat in the flour for a minute and when it's just incorporated, fold in the chocolate chips and the chopped nuts.
It should be a medium firm cookie dough – a word of warning here.  I ate a spoonful at this stage and nearly ate the whole lot so try and resist from eating any!
Tip the dough into the baking tin and spread out.  I used my fingers to squish it into the corners of the tin.
Bake for 25 – 30 mins until it's slightly risen and just golden on top.  Allow it to cool in the tin before dividing into squares.
Eat and of course, enjoy!