These divine peanut butter brookies come straight from the brilliant new cookbook One Tin Bakes by Edd Kimber.  Edd is otherwise known as The Boy Who Bakes and you'll probably know him as being the very first winner of The Great British Bake Off.  The book delivers exactly what it says on the cover. It's filled with sweet and simple traybake, pies, bars and buns that can all be cooked using just one tin.  An excellent concept and bang on trend with the whole 'one dish wonders' that are rightly very popular at the moment.
These brookies caught my eye straight away.  I'm a massive peanut butter fiend so the idea of a cross breed between a peanut butter cookie and a chocolate brownie really spoke to me. They taste utterly divine. Imagine if a brownie and a cookie made love and you ate their babies!
Edd had very kindly allowed me to share the recipe with you but I urge you to buy the book, you wont be disappointed!
for the peanut butter cookie layer
160g smooth peanut butter
220g light brown sugar
1 large egg plus 2 large egg yolks
100g plain flour
1 teaspoon bicarb
1/2 teaspoon fine sea salt
100g salted peanuts – roughly chopped
for the brownie layer
150g unsalted butter – diced, plus a little extra for greasing the pan
85g cocoa powder
100g caster sugar
100g light brown sugar
1/4 teaspoon fine sea salt
1 teaspoon vanilla extract
2 large eggs
70g plain flour
You will need a baking tin measuring 23cm x 33cm at least 5cm deep. Preheat the oven to 180C and lightly grease and line the baking tray
For the peanut butter cookie layer, mix the peanut butter and the brown sugar together in a large bowl for a couple of minutes until combined and slightly lightened. Beat in the egg and the egg yolks for a further 2-3 minutes, then add the rest of the ingredients holding back 3 tablespoons of the chopped peanuts. Gently mix it all together to for a uniform cookie dough which you can then spread in an even layer in the prepared tin.  Set aside whilst you make the brownie layer.
I used my smeg stand mixer for all the above and it worked well.
Add the butter and cocoa to a small sauce pan over a medium heat and stir constantly till melted. Remove from the heat and set aside.
Place the sugars, salt, vanilla and eggs in a large bowl and whisk together for 2-3 minutes until slightly thickened and pale. Pour in the melted butter and cocoa mixture and mix briefly until combined, then fold in the flour.
Pour the brownie mixture over the cookie mixture, spread into an even layer and then sprinkle with the reserved peanuts.
Bake for 25-30 minutes or until a skewer inserted ed comes out with a few moist crumbs.  Leave in the tin to cool completely before cutting into squares.  They will keep in a sealed container for 3-4 days.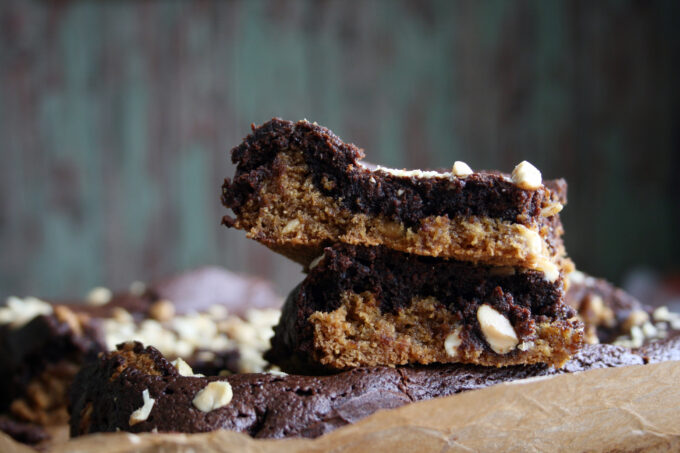 Eat and of course, enjoy!