Anyone who knows me or regularly reads this blog knows that I make a rather fabulous veggie sausage and stuffing sausage roll at Christmas. (Crap, it's July and I've mentioned the 'C' word!!) They're rather phenomenal, even if I do say so myself and so I wanted to make a more summer seasonal version that would work well for a picnic and so these pea, pearl barley and stuffing sausage rolls were born.
It also happens to be Great British Pea Week, not that we need an excuse to celebrate peas but seeing that they're one of Lincolnshire's finest exports I thought it worth sharing a recipe that has one of my favourite vegetables at heart.  Sweet, fragrant and full of glorious vitamins, peas are exceptionally good for you.  I prefer frozen over fresh as they're literally frozen in the field as they're picked and this locks all their goodness in but fresh peas have a lovely sweetness too. Anyway, the good people over at Yes Peas are celebrating in style and you'll find loads of gorgeous recipes on their website.
I'm using some shop-bought puff pastry because I'm being extra lazy this week but if you want to make your own ruff puff (and I emplore you to at least give it a go, then follow the link above for the sausage rolls as I have a fab recipe with that… or better yet, there's a tutorial on my insta stories where you can see me making my own ruff puff.  So check it out.)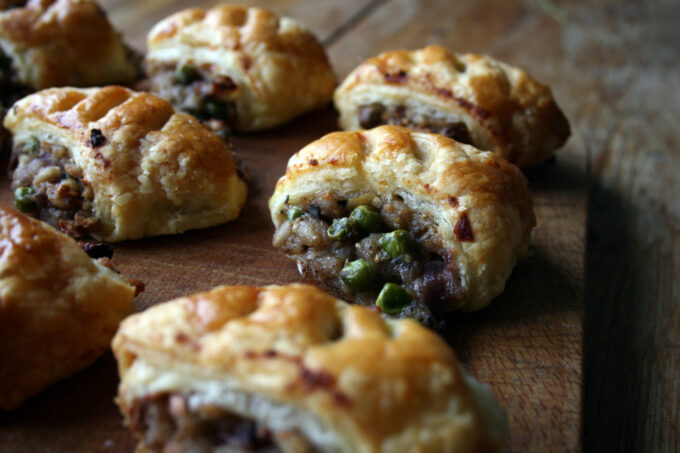 for the filling
200g pearl barley
1/2 ltr good quality vegetable stock
1 red onion – finely chopped
150g peas (I used frozen)
1 packet of your favourite stuffing mix
seasoning
I used 2 rolls of ready made puff pastry sheets but feel free to make your own ruff puff.  This recipe makes at least 40 small sausage rolls.
Start with the pearl barley by placing it into a small saucepan and adding most of the stock.  let is simmer gently for at least 25 mins or until the barley is soft, use the remainder of the stock to top up if it becomes too dry.  Then when it's all soaked in, take it off the heat and lay a tea-towel over the top – set aside.
Rehydrate your stuffing mix according to the packet instructions.  I like to add a large nob of butter into mine. – set aside.
Sauté the red onion with a little olive oil in a small pan until soft, then stir in the peas and take it off the heat.  Add this mix to the stuffing mix and stir in the pearl barley.
Roll out your pastry sheets and cut them longways down the middle.  (If you're using 2 sheets you'll have 4 strips.) Spoon a generous 'sausage' of mixture down the middle of each strip and then roll the pastry over and seal the edges with a little water.
Cut the sausages into bite-sized rolls, score each one with slash marks on top and lay out on a backing sheet.  Pre-heat the oven to 160C
Brush each roll with a little milk / egg wash and bake for 30 mins or until gloriously golden.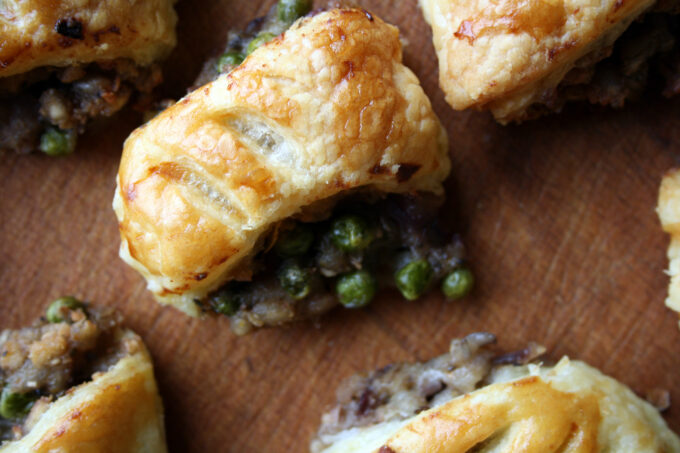 Eat and of course, enjoy!