I found a roll of puff pastry hidden at the back of the freezer and couldn't remember buying it so felt it needed to be eaten, plus I was in the mood for pizza so this puff pastry courgette pizza was born.  We've been getting regular weekly deliveries from the supermarket and planning meals like we've never done before.  I'm in two minds about whether I love it or hate it.  I've always thought I was never one for this kind of routine.  Sometimes it feels like a velvet trap, comfortably caught in the net of daily existence and other times it feels like a brilliantly modern thing to do. Whilst I love the technological advances that allow me to shop on-line I really miss being able to slowly peruse the aisles of the stores, touching groceries to see how ripe they are, making decisions based on smell and sight rather than simply what we need.  It means our weekly shop has become very 'samey.'
I try occasionally to throw in the odd impulse purchase and that's how I ended up with an extra roll of puff pastry and some courgettes that had been languishing in the fridge well past their sell by date. (Who would have thought that courgettes would be seen as an impulse purchase… how times have changed.
I always have chopped tomatoes in the larder.  There's nothing I find more comforting than making a home-made tomato sauce.  I always tweak the recipe whenever I make it and it's such a pleasure to make, hardly an inconvenience and the time it takes to bubble away is every minute of flavour in the finished sauce.  I highly recommend you bother. My sauce is exactly that, my sauce.  I use what veg I have lying around and add garlic to my taste.  Experiment with what you like.  Leave out the celery, add more garlic, add a little smoked paprika.  Play with your food!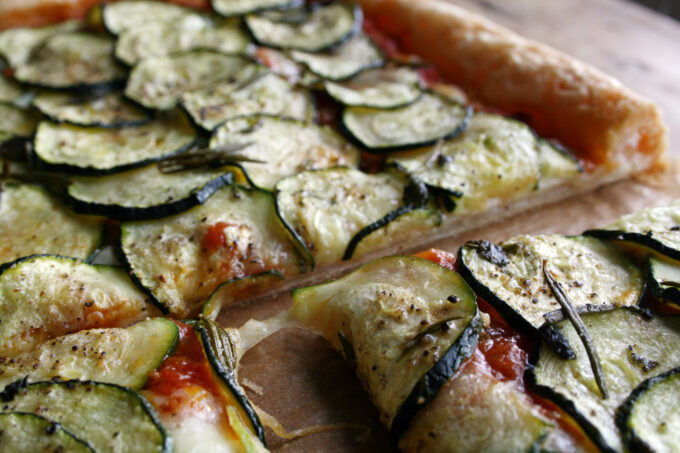 for the tomato sauce
1 medium onion – finely chopped
1 small carrot – finely chopped
1 stick of celery – finely chopped
2 cloves of garlic – crushed
2 x 400g tins of chopped tomatoes
2 x teaspoons tomato puree
2 x teaspoons balsamic vinegar
a glut of white wine
1/2 litre good quality vegetable stock (you may not need all of this)
for the pizza topping
3 or 4 tablespoons of tomato sauce
mozzarella cheese
1 medium courgette – finely sliced
olive oil
salt and pepper
rosemary and oregano
You will also need a sheet of ready-rolled puff pastry.  I always find these work best if you take them out of the fridge a good hour before you need to use it. Often they will crack when you un-roll them if they're too cold.
The sauce takes a minimum of 2 hours to cook so let's start with this. (It can be made in advance and will store in the fridge for 4 days or in the freezer for 1 month.) Gently sauté the onions, carrots and celery in a little olive oil until soft. Add the garlic and fresh herbs and stir in and let the garlic cook down a little to add flavour to the onions.
Stir in the tomato puree and tinned tomatoes, followed by the balsamic vinegar and white wine, then add half the stock.  Stir well and then turn the heat down to it's very lowest.  let it gently bubble away for a good 2 hours (I always leave mine for 3!) Stir on occasion and add a little more stock if it's becoming very dry.  The idea is to get a thick sauce with a little moisture.
Set aside to cool.  You can either puree the whole lot with a stick blender or leave it lumpy depending on your preference or what you're using it for.  I tend to puree it for pizza but leave it chunky for pasta.
Once you're ready to eat, it's an assembly job.  Pre-heat your oven to 170C and lay your pastry out on a baking sheet with some parchment. Score a 1 inch boarder around the pastry sheet.
Place the thinly sliced courgettes into a bowl, drizzle with olive oil, season well with salt and pepper and fresh herbs and smoosh it around with your hands, coating all the courgette with oil and herbs.
Spoon a little tomato sauce onto the pastry, then add a generous amount of torn mozzarella.  Lay the courgettes on top of this.  I've used a fancy pattern on mine but quite frankly just bung them on there any way you like.
Bake for 25 – 30 mins until the pastry is puffed and the courgette is beginning ti brown slightly.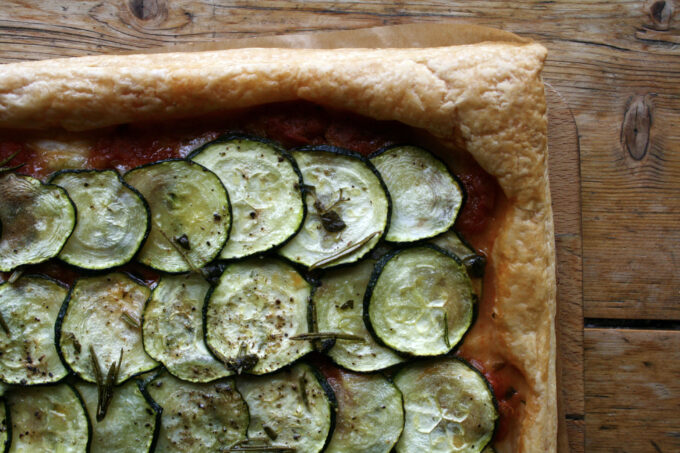 Eat and of course, enjoy!