The weather has made a turn for the worst here in Belleau.  In fact I'd go as far as to say it's positively cold. Which is why I've made this cottage pie hot pot, and what seems like rather a wintery dish.  It's quite incredible in fact how we've gone from a very hot May to a cold June in a matter of days.  As it happens, it's not that incredible.  If I look back over this blog, the past few May's have been rather lovely followed by at least a week or two of cold rain.  It's just particularly frustrating as we're locked in at home.
On the topic of the lockdown, the rules in England have shifted slightly so that those like me, on the vulnerable list can now go out for an hours exercise each day as long as I don't come into contact with anyone.  At least I think that's what's allowed.  It's all very confusing.  We've decided not to take any risks and plan to stay isolated until at least the end of June.  I simply don't feel confident in this governments advice or the way they're tracking the virus and there seems no point, having already spent 10 weeks in isolation, to ruin it all just so I can go to McDonalds.
So here we are, still very fortunate to have the cottage and surrounded by the stunning Lincolnshire Wolds.  Gardening, walking and of course cooking. This cottage pie hotpot is a sort of hybrid between a cottage pie and a hot pot.  So it has the tomato and mince filling but instead of a mashed potato topping it has little golden nuggets of roasted potatoes.  It's divine and the perfect warming dish for a cold Summer day. It's also all done in a one-pot-dish which is a joy.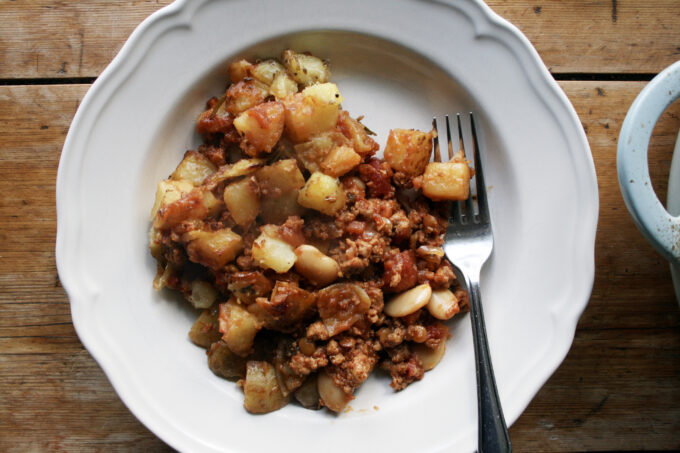 for the filling
1 medium onion – finely chopped
1 stick of celery – finely chopped
1 medium carrot – peeled and finely chopped
1 x 500g bag of vegetarian mince – I'm using Quorn.  Would work well with lamb or beef mince.
50g green lentils (option, I like them for the texture)
salt, pepper and fresh herbs – I'm using rosemary and oregano
1 x 400g tin of chopped tomatoes
1 x 400g tin of butter bean – well drained
2 teaspoons tomato puree
1/2 teaspoon yeast extract spread (such as marmite)
1/2 litre good quality vegetable stock
a dash of white wine
for the potato topping
a large amount of potatoes (it all depends on the size of your final dish) – cut into chunks
olive oil
salt and pepper
fresh herbs
I'm using my trusted 3o inch shallow cast iron casserole dish which will take me from start to finish but you can use a large pan for the filling and transfer to a pie dish or even a roasting tin for the finish.
Start with the filling, gently sauté the onions, carrots and celery in the pan with a little olive oil, until they are soft.  This can take about 10 minutes.  You want them to be soft but not really too coloured.
Add the mince and lentils if using, stir well and sauté for 5 mins, then stir in some fresh herbs, salt and pepper and sauté for another 5 mins.
Stir in the rest of the ingredients, then let it gently bubble away for 25 minutes on a low heat.
Meanwhile, cut the potatoes into dice-sized chunks.  I like to leave the skin on but you can peel them if you want.  You want enough potatoes to totally cover the top of your dish in a nice thick layer.
Boil them until soft, then drain well.  Keep them in the pan you've boiled them in, drizzle liberally with olive oil, season well, place a lid on and bash them in the pan with a few vigorous shakes
Pre-heat the oven to 200C
If you're transferring the pie filling into a new pie dish, do that, then carefully spoon the potatoes onto the cottage pie filling.
Roast in the oven for 30 mins or so, until the top is gloriously golden and crispy.
Eat and of course, enjoy!