We're gearing up for a glorious Summer here at Belleau Cottage and these summer berry crumble bars are a celebration of that.  One of the positive things to have come out of this global 'hiatus at home' is that we've truly been able to tend to the garden, almost as a full time job. April, May and June are when our cottage garden is at it's most beautiful and for a number of years we've only been able to enjoy it fully at the weekends or on early mornings as we leave the house for work. We've almost become 'one with the garden' planting vegetables and fruits that have thrived.  For me, summer really kicks in when we get an abundance of berries and this year we've planted strawberries and raspberries and I may add some blackberries to the mix too.  For anything we don't grow ourselves there's always the handy 'pick-your-own' farm down the road which I'm hoping will open with safety rules in place of course.
I wanted to celebrate these summer fruits with something that really zings.  These Summer Berry Crumble Bars may seem simple, and they really are easy to make, but their simplicity allows the berries to be the star.  Isn't it funny when you've never made something before, for no reason other than not being bothered, but when you finally do, you realise what you've been missing out on.  These bars are just like that.  They take no longer than 5 minutes to prep, although I imagine they won't last as long!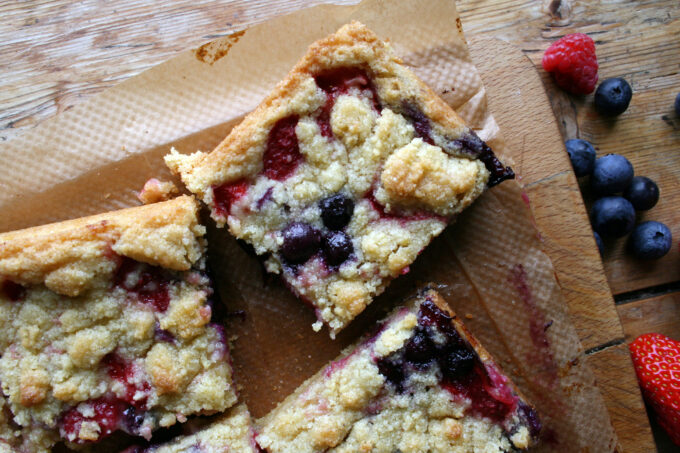 For the crumble base and topping:
200g sugar
1 teaspoon baking powder
250g plain flour
100g ground almonds
1/4 teaspoon salt
finely grated zest of 1 lemon
225g cold unsalted butter cut into cubes
1 large egg
1/2 teaspoon pure vanilla extract
For the berry filling:
200g  fresh berries – chopped (I used strawberries, blueberries and rasperries
50g golden caster sugar
4 teaspoons corn flour (or regular flour if you can't find)
juice of 1 small lemon
Preheat oven to 190°C. Line a 9inch x13inch Swiss roll pan with foil or parchment, and grease with butter.
Start with the base and crumble. Using a hand mixer or stand mixer fitted with the paddle attachment, combine granulated sugar, baking powder, flour, ground almonds and salt. Add lemon zest, butter, egg, and vanilla. Beat on low speed until the butter is evenly distributed in small pieces and the mixture is crumbly.
Place a little more than half of the mixture into the bottom of the prepared pan. Use your hand or the base of a spoon to evenly press the dough into the pan.
For the filling, gently stir together all ingredients until well incorporated. Spread the filling over the base, then crumble the remaining crumble dough over the top of the berries.
Bake for approximately 40 minutes, until the top is light golden brown. Transfer to a rack to cool, before cutting into squares.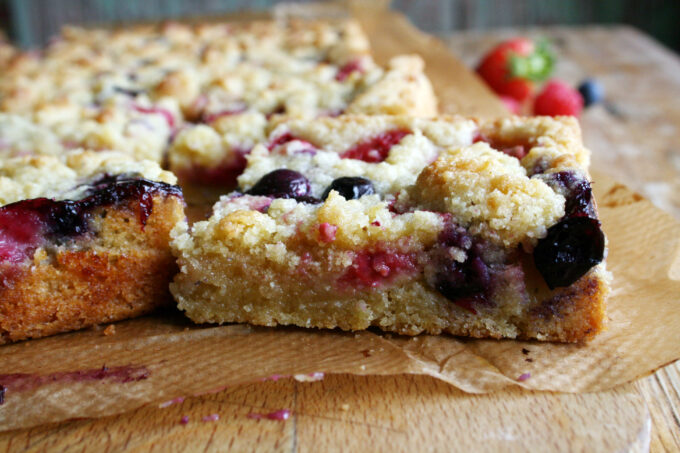 Eat and of course, enjoy!