We're off to LA this week and these roast vegetable fajitas with homemade oat-flour tortillas are a little taste-prelude of what's to come.  Outside of Mexico itself, California has some of the best Mexican restaurants in the world and we plan to try a few of them.  Fajita's are one of those hybrid dishes that has multiple origin stories.  The concept was Mexican; the word fajita is a TexMex bastardisation of the Mexican word for skirt steak – arracheras.  Skirt steak was always used as it was the cheapest cut, so in fact a vegetable fajita makes no sense but I love how food and food origins evolve over time to suit a particular peoples tastes and thank god for fajitas because they a firm Belleau Kitchen favourite.
Many few years back, when I first started this blog I took part in an international food swap.  I think I sent some local honey out to a Spanish lady and I was sent a few sachets of different spicy herb blends including a cajun spice bag and a chipotle spice bag.  They've lasted me for years and they are SO good.  I don't have a recipe for these but you can now pick up quite authentic spice blends at all good supermarkets.
This is a ridiculously easy dish to make.  It can of course be done in a frying pan but I like this oven-roasted version as it's hassle free and means you can enjoy drinking margaritas without worrying about standing in front of a hot stove. I'm using an array of traditional wrap vegetables (peppers and onions) along with a couple of more locally grown veg such as Brussels sprouts and leeks.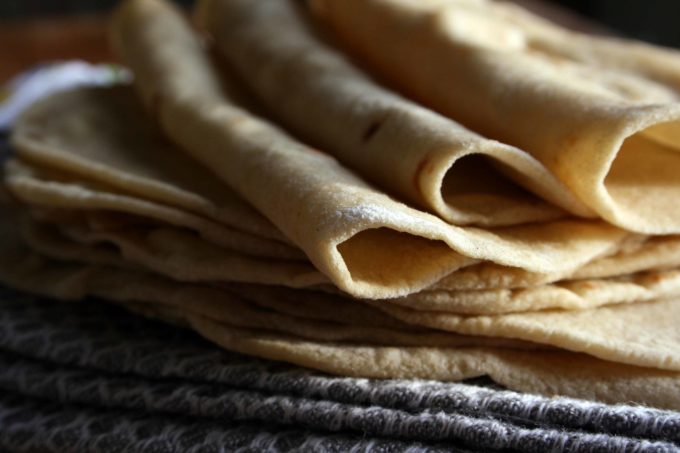 The flour tortillas are also super-easy if you have a stand mixer and honestly so delicious and can be made in advance and frozen, or make them in the morning and keep them in a sealed container to keep them fresh, then simply re-heat them in a microwave for 20 seconds. I'm using the amazing oat-flour that was sent to me from buywholefoodsonline as I thought it would make a lighter, softer wrap and I wasn't disappointed. They also have cornflour (if you want to make corn tortillas) as well as regular flours.
For the vegetables:
3 teaspoons of your favourite spice blend mix – I'm using a chipotle style spice blend.
4 banana shallots – quartered lengthways
2 packets of baby sweetcorn – halved lengthways
4 large Portobello or field mushrooms – thickly sliced
1 yellow pepper – sliced
1 red pepper – sliced
6 large Brussels sprouts – halved
1 medium leek – halved and chopped
2 medium red chillis – whole
3 cloves garlic – skin on
3 tablespoons olive oil
For the soft flour tortillas:
320

g

 plain flour
100g oat flour

1

teaspoon

salt

1

teaspoon

baking powder

72

ml

 (roughly 5 tablespoons) 

extra virgin olive oil 

250

ml

warm water
start by making the tortilla by combining the flour, salt and baking powder in the bowl of a stand mixer. Using the dough hook, mix dry ingredients until well combined then add the oil and water with mixer running at a medium speed. After about 1 minute, or when mixture comes together and begins to form a ball, decrease mixing speed to low. Continue to mix for 1 minute or until dough is smooth.  Place a tea towel over the dough and set aside to rest for 10 mins – the dough won't rise but the gluten needs time to relax.
Place the dough onto a lightly floured work surface and divide it into 16 equal portions. Coat each piece liberally with flour and then form each piece into a ball and flatten with the palm of your hand. Sprinkle each flattened balls of dough with flour, then stack them gently into piles of 5, cover them all with a tea towel and allow to rest for another 10 minutes.
Place a large pan over medium heat. Roll each dough piece into a rough circle, about 6-7 inches in diameter, you should be liberal with the flour again. When the pan is hot, place one tortilla into the pan and allow to cook about 1 minute or until the bottom surface has a few pale brown spots and the uncooked surface is bubbly. Keep an eye on the heat and adjust accordingly so that they don't cook too fast or too slow. Flip to other side and cook for 15-20 seconds. The tortillas should be nice and soft but have a few small brown spots on the surface.
Remove from pan with tongs and stack in a covered container to keep the tortillas soft.
To make the roasted vegetables simply pace all the vegetables into a large bowl, drizzle with the olive oil and then sprinkle with 2 or three teaspoons or your spice mix – stir around to ensure all the veg are coated and then pour all the vegetables into the centre of a large sheet of foil.  Fold up the edges of the foil to create a little foil teepee and place on a warm BBQ for 20 mins – open the teepee after this tie and let the veg crisp up a little for a further 5 mins (the same can be done in the oven in a large casserole dish covered in foil)
Serve with sour cream and smashed avocado and lime juice, rolled inside the fresh tortilla
Eat and of course enjoy and a Happy New Year one and all, I hope all my readers have an incredible 2020 and a big thank you to everyone who has the patience to come and say hi and read all my ramblings!