The reason I'm making these hot dog rolls is that The Viking and I love hot dogs but we very rarely eat them.  They feel rather naughty (when in actuality these plant-based ones really aren't) and we have a tradition here at Belleau Cottage that in this time between Christmas and New Year – a time I like to call Betwixmas  – we eat all the naughty food we don't eat the rest of the year.  It's daft really but particularly with hots dogs it feels a little bit special and we all love a tradition don't we?
I also realise that these buns make for rather wonderful iced buns.  Another very basic treat but one greatly welcomed nonetheless. To make the icing, simply combine a lot of icing sugar with a little water until you have a nice thick consistency.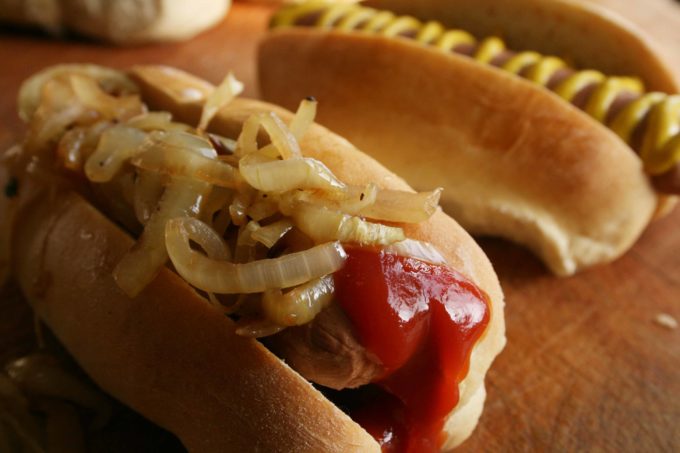 The vegan dogs we're eating are a new brand we found at Waitrose called Moving Mountains and we're very pleased with them.  They taste great – although I'm convinced its the combination of aroma, caramelised onions and mustard that really makes them taste so good!
500

g

 strong white bread flour

120

ml

 

milk

120

ml luke 

warm water

 

2

teaspoons

dry active yeast (this is equal to a 7g packet)

1

teaspoon

salt

1

teaspoon

sugar

1

 large free-range 

egg

2 tablespoons butter – very soft
I use my stand-mixer for this as it's rather a wet, sweet dough but you can of course knead by hand.
In the mixing bowl of your stand mixer, combine the flour, yeast, sugar and salt and in another bowl, whisk together the water, milk and egg.
Begin to mix the dry ingredients and add the water-milk-egg mixture and mix slowly to combine. If it's looking a little dry then add a drop or two more water, then knead for about 5 mins before adding the butter and then knead for roughly 8 mins until you have a shiny, smooth ball of dough.
Lightly oil a big bowl and place the dough in it. Cover the bowl with clingfilm and store in the fridge overnight (8 hours) or for up to 24 hours. Alternatively, if you want to bake it on the same day, you can cover the dough with plastic wrap and let it rise for 1 hour in a warm place, until it has doubled in size. (The fridge method does give a lighter, fluffier, softer roll.
On the day you bake the bread rolls – turn the chilled dough out on to a lightly floured surface and lightly dust the surface of the dough as well. If the dough wasn't chilled, you may need extra flour on your hands and on your work surface to prevent the dough from sticking.
Divide the dough into 10 equal portions. I usually weigh the bread dough so that I know how much each section should weigh.
Knead each portion for just a few seconds to form a smooth ball. Roll out each portion into a flattened piece of dough that's about 5 inches long and 4 inches wide. Then roll up the dough to form a tight cylinder. Tuck in the sides/edges and pinch these edges and seams to seal. Place each portion on a parchment paper lined baking tray, about 2 inches apart.
Cover the rolls with oiled clingfilm and set aside for at least 30 mins for their second proofing.  At this point I usually put the oven on to pre-heat.  180C is you preferred temperature.
Brush the top of each roll with a little beaten egg, then bake on 180C for roughly 20 mins until the tops are golden and they sound hollow when tapped.
Serve with hot dogs and caramelised onions then eat and of course enjoy!