Another long weekend.  It's entirely lovely and i'm really not complaining but it does adds pressure to those of us under deadlines.  Whilst everyone else is enjoying the days off, anyone who has to deliver projects during or after May is cursing the repetitive 4 day weeks.  I'm trying my best to be as lazy as possible in between the spouts of work, for instance it's nearly 4pm and I'm not out of my pyjamas just yet.  The TV is on with a selection of classic movies and of course there's a cake baking in the oven, filling the house with glorious aromas but i'm hardly fooling myself here.  I still have to go and sit down at the computer every few minutes to check and send emails, update budgets and write plans. Thankfully the weather this weekend is pretty grim so being stuck inside isn't such bad thing.
This is a delightfully simplistic cake with a couple of added extras that me it just that little bit special.  Adding ground almonds to any sponge cake mix always makes it taste a little special and gives it such a great texture and the orange zest gives it a delightful zing that cuts through all the sugar, ever so slightly but it does really work.  The batter is so divine i'm always amazed how any of it makes it into the final cake. Raspberries and raspberry jam give it a traditional Victoria Sponge style and make it the perfect cake to have with a cup of tea on a bank holiday Sunday with friends.
almond, raspberry and orange zest sponge
250g butter – room temperature
250g golden caster sugar
3 large free-range eggs – beaten
150g plain flour
100g ground almonds
1 teaspoon baking powder
a little milk
the finely grated zest of one orange
120g fresh raspberries
raspberry jam
I've used an 18cm deep loose-bottomed cake tin which i've greased and lined (the bottom and the sides) with parchment paper.  Pre-heat the oven to 170C
I'm using my smeg stand mixer with a cake paddle attachment but feel free to use a bowl and an electric whisk or even a wooden spoon and plenty of elbow grease.
place the plain flour, ground almonds and baking powder into a bowl and mix well together – set aside
place sugar and butter into the bowl and beat them together until pale and fluffy – this takes roughly 6 mins in a sand mixer
add half the beaten eggs and half the flour mix and beat together, then add the remaining flour and eggs plus the grated orange zest and beat well again
add a little dash of milk and beat once more – the milk is to give you a looser batter – you want it to drop off the spoon
spoon the whole lot into your cake tin and bake for 45 mins or until the cake is risen and golden and a skewer inserted comes out clean
set aside to cool entirely on a wire rack, then slice in half, slather each side with jam, cover the bottom layer with fresh raspberries and place the top half on top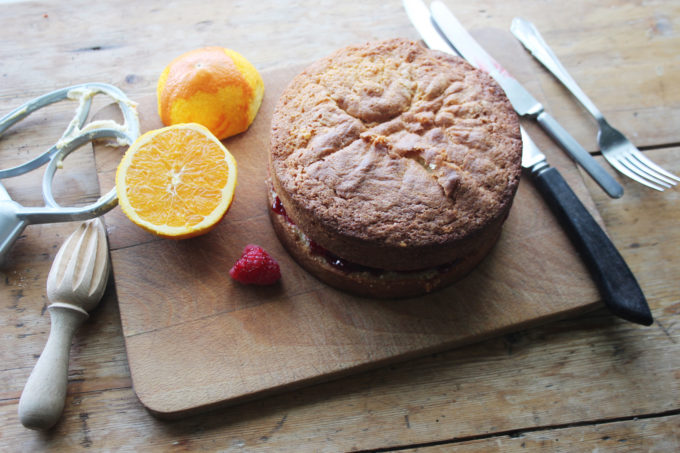 eat and of course, enjoy!