Back at the cottage for a quick weekend chill before it all kicks off next week.  We've already had the most intense May at work that I can remember and we're barely half way through.  Next week we go live with two very exciting projects for two really cool brands (check out my insta for some fun updates) so we made a mad dash back to Lincolnshire for some cottage time.  The Viking has already spent the best part of 24 hours in the garden, which is beginning to look so incredible.
The weather hasn't been as good as last year so the garden isn't in 100% full bloom yet but you can tell it's about to burst.  I've been pottering in the kitchen.  When we're here only for a short period I tend not to make big meals or dishes that need a lot of love and attention.  I prefer an instant win or something that is simple.  It tends to be soups and salads or a big breakfast but I thought today I could give myself at least enough time to bake this gorgeous loaf.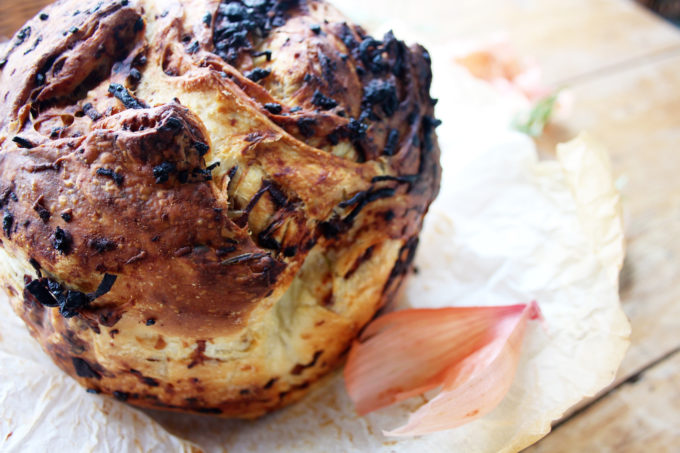 cheese and onion bread with garlic and rosemary
This is a divine bread that to me, tastes of summer days on some Mediterranean island.  The glorious caramelised onions – some of which have poked out of the dough and crisped to lip-cutting perfection in the oven – blend beautifully with the sweet garlic and pungent rosemary and the strong cheddar cheese brings the whole thing together.  Each slice has one or two little pockets of cheesy onion mix which makes it all extra special. Serve this toasted with butter and a runny poached egg or fresh and warm from the oven with olive oil and balsamic vinegar.
I've used my new favourite echalion (banana) shallots which are a cross between a regular shallot and an onion, so they have the more intense oniony flavour and sweetness of a shallot with a more easy peel of an onion plus they look so cute.  They caramelise really well (and quite a lot quicker than normal onions,) but also roast beautifully and hold their shape. My local Morrison's supermarket seems to have them on a regular basis so check in yours if you can't find them anywhere else.
for the basic loaf
500g strong white bread flour
7g / 1 packet of fast action dried yeast
1 teaspoon sea salt
1 teaspoon extra virgin olive oil
350ml luke warm water
for the filling
5 echalion shallots – peeled, cut in half lengthways and sliced
large nob of butter
extra virgin olive oil
2 garlic cloves – crushed or finely grated
1 teaspoon golden caster sugar
2 sprigs fresh rosemary
salt and pepper
100g grated strong cheddar
Start with the dough by placing the flour, yeast, talk and olive oil into a bowl. Add the water and bring together with a spatula or your hand.  Once you've formed a relatively cohesive but messy ball, tip it onto a lightly floured work surface and knead for at least 10 minutes.  This whole process can (and quite frankly should) be done in your stand mixer with a dough hook.  Same timings on a very low speed.
Oil a bowl, place the kneaded dough into the bowl and cover tightly with clingfilm. Set aside for at least an hour or until the dough has risen and doubled in size.
Whilst the dough is rising, gently saute the onions in a generous amount of butter and olive oil.  Once they start to soften and colour add the minced garlic, rosemary and sugar, season well, stir together and turn the heat down and let them caramelise gently for about 15-20 minutes.  Set aside to cool.
When the onions are completely cool, grate the cheese into them and mix them well together and set aside
Prepare your baking tin by lining it well with making parchment.  I'm using my small round last iron Le Creuset casserole pot for this but any bread baking vessel would work.
When the dough is risen, oil your work surface, tip the dough out onto it and punch the dough down with your fist.  Punch it out a few more times and flatten it as you go, spreading it out.  Tip the cheesy onion mix onto the dough and then begin the fold the dough up and over blending dough and onion mix.  It's a slippery, messy process but you should eventually end up with a messy cheesy doughy ball or gloriousness.  Place this into your baking dish and set aside for at least 30 minutes for its second rise.
pre-heat your oven to 220C
bake in the oven at 220C for 20 mins and then turn the oven down to 200 for a further 30 mins until the bread is risen and gloriously golden – set aside on a wire rack to cool.
eat and of course, enjoy!