Growing up in North West London in a Jewish household food was ubiquitous.  From the everyday meals to the festivals and high holidays.  It shaped our world and gave me a passion for what i'm doing right now.  Like most cultures, bread always played an important part of the food ritual, with the traditional Friday night challah bread being the most common, however it was the humble bagel that I loved the most. I think my love of the bagel stems from what went on it rather than just the bread itself, and like most breads which are, lets face it, a rather basic vehicle for the toppings.  But the bagel also has something different about it.  Many people assume that the bagels 'roll with a hole' is what makes it unique and yes, this is an important part of its DNA but it's actually the chewy sticky quality that makes a bagel a bagel and this only comes from the boil then bake nature of the cooking process.  The bagel has become so popular in recent years that it's now readily available in a pre-packaged form but those so-called 'New York Bagels' are not bagels and I urge you to hunt down the real deal and go find a Jewish deli or bagel bakery where they make them with an authentic recipe. (Although as the ever-brilliant Felicity Cloake writes – unless your London postcode starts with an NW it's unlikely you'll find one.)  Saying that, the two bagel bakeries on Brick Lane are very good but if you really want authentic then get on the tube and go to Edgware on the Northern Line and head for J Grodzinski & Daughters where you will experience the real deal.
ugly bagels
Now, you know me… if I can do anything, I can bake bread.  It's rarely been an issue but for some reason this is the second time i've baked bagels and pretty much failed. I've followed and adapted a recipe from the infamous and queen of Jewish food recipes Claudia Roden although it's important to note that she must have adapted it over the years herself to include egg which makes them less chewy and more fluffy which is not what you want.  Also a must read is Felicity Cloake's in depth investigation into the bagel from her 'How to Make the Perfect…' series which can be found here and she has so many tips and references, most of which I agree with! You need a dough with considerably less water than most bread recipes as this will also add to the chewiness and then you also need a sweetness which I've obtained by using honey, which isn't really traditional but I think they taste rather good even if they look a bit dodgy. They are also not by any means a quick bread recipe.  Like a decent challah recipe, bagels need to be refrigerated for at least 18 hours prior to cooking.  It does something to the dough, don't ask me what… i've tried it without and it's just not the same…
so… what went wrong and why are they so ugly I hear you cry? Well, firstly they're too big, they should have been max 90g each… They looked so beautiful this morning when I took them out of the fridge but the moment you touch them, which you need to do to add them to the boiling water, they stretch and go wonky… I didn't grease my baking parchment and maybe this would have helped, or maybe I should have worked out a way to drop them into the pan without man-handling them… whatever I did, next time I will try and undo but you know what? They tasted amazing, which I guess is what counts…
this recipe made me 7 bagels, double it for 12 or 13 although I think that's a lot of bagel for one household!
7g pack of dried active yeast (roughly one teaspoon)
200ml luke warm water
1 1/2 tablespoons honey
400g strong white bread flour
1/2 tablespoon olive oil
Measure out the water, then add the yeast and honey to the water and whisk together. Cover with a tea towel and leave until the surface is covered with froth – roughly 6 mins.
Tip the flour and salt into a stand mixer (kneading this dough by hand is not impossible but it's a tough old dough) add the yeast mixture and mix with a dough hook on the lowest speed for about 8 minutes until it comes together into a dough. Place a little oil into a large bowl and wipe around with your hand, then remove the dough from the stand mixer, place it in the bowl and cover with clingfilm and leave in a warm place for at least 2 hours or until about doubled in size.
Line a baking sheets with baking parchment (and grease thoroughly.) Turn the dough out on to a clean work surface and punch the air out of it. I divided my dough into 7 balls weighing roughly 100g each. (but to avoid them being too big i'd go for 8 bagels at 90g each.)
Roll each ball into a sausage about 25cm long. Wrap it round your knuckles, with your hand flat and the two ends flapping at the palm side. Pinch them together, then roll your hand along the work surface to seal. They will look more like stretchy donuts rather than what you're expecting bagels to look like but believe me, the hole needs to be this big in order for them to eventually look like what you want them to look like! Place on the baking sheet then cover with cling film and place in the fridge. Refrigerate between 18 and 24 hours, then remove from the fridge about half an hour before cooking.
Bring a large pot of water to the boil (I use my shallow casserole dish) and add a generous amount of salt. Heat the oven to 240C and put pizza stone in there, if you have one, or another baking sheet larger than the one you're using for the bagels.
You'll need a wire rack for draining and then cooling the bagels and a bowl full of poppy seeds close by.
Carefully place the bagels into the boiling water (I do this one at a time) and boil for 30 seconds, then flip over and boil for another 30 seconds. Drain on the rack and repeat.
Dunk each bagel into the seeds, if using, then put seed-side down on the baking trays. Bake for 7 minutes, then flip over and bake for another 7 minutes or until golden. Cool on a wire rack.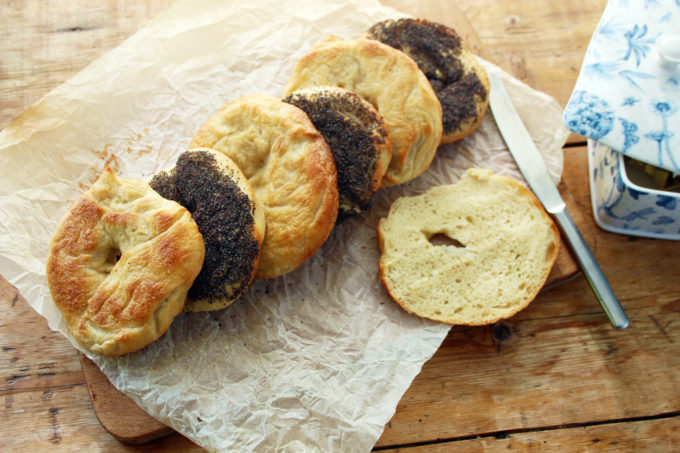 eat and of course, enjoy!