We got back to the cottage after two weeks in London and boy do we need this weekend.  Walking through the doors is like slipping into a warm bath on a wet and windy day.  Other than cooking (which for me is never a chore) I have done very little but sleep and watch TV and quite frankly that's the best medicine at the moment.  If I've learnt one thing from this recent sickness it's how to fully enjoy the down moments.  The moments of calm and restoration.  We all live such incredibly hectic lives that many of us now feel guilty when we 'put our feet up.'  Well no longer.  I utterly revel in being lazy.  It's unbelievably restorative and I'm sure, mentally, it's as good as a work out at the local gym.  of course i'm not advocating we all give up our healthy lifestyles but a day off, feet up, snuggly jumper and a slew of trashy films can sometimes be the best medicine…
… another thing that can make a man very happy is a lovely free gift from a brand and friends that you love.  I'm very lucky that over the years i've built up some lovely relationships with PR agencies and food brands that even now i'm not blogging as intensively as I once was, they still know me well enough and have become friends so that they can react when something happens.  The good people at Smeg alongside their delightful PR agency Little Red Rooster have sent me a lovely get-well gift which has, as you can imagine, cheered me up no end.  As you know, I do love a Smeg product, particularly the stuff from their 50's Retro Style range. The small domestic appliances quite literally litter my kitchen with their cool retro aesthetic, a perfect match for my home in pastel blue and pastel green.  I think their stand-mixer wipes the floor with other popular brands but even something as basic as the kettle is, I can honestly say, one of the best kettles we've ever had in the kitchen.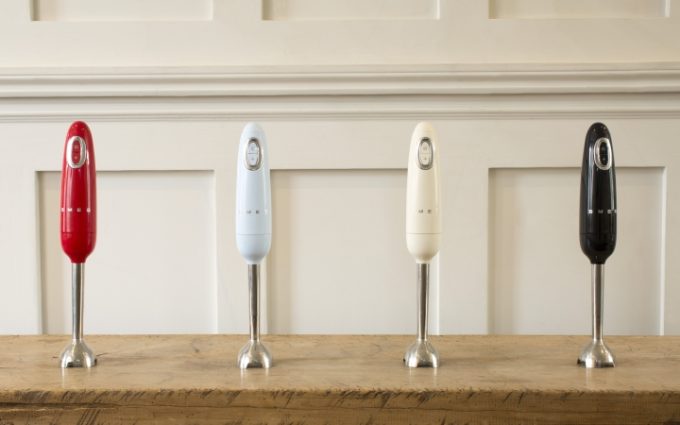 My gorgeous gift was the HBF02 Hand Blender, in pastel blue and I genuinely love the little thing even after one use! Not only does it come with the obvious hand-blender, a sleekly designed stick with a 700W motor and the unique FlowBlend system that helps blend things smoothly but it also has 4 rather useful detachable accessories… a whisk, a chopper (which is quite large and i'm sure I could make pastry in it,) a potato masher and a beaker with lid. I've barely scratched the surface with the soup i've made here and I will review it in full when I get to make some more stuff but I was so excited by this generous gift that I wanted to share it with you.

butternut squash soup with cheese and onion swirl buns
i've made variations of both these things before but never together and they make a great autumnal meal.  There's lots of squash and pumpkin around at the moment, it being the spooky season and with the weather finally turning it's nice to share a warming, velvety smooth dish for the whole family to enjoy.  I think squash and pumpkins can be a little bland, even the smaller, nuttier ones need a little perking up and roasting them is the best way to do this.  It adds a depth of flavour that rounds off the dish in quite a sophisticated way, plus if you add a little dried chilli or fennel seeds you get another dimension in there too.  I've roasted mine along with all the other vegetables as I think the medley of the addition of carrots, potatoes and onions works ever so well, particularly with the all getting that crispy, roasted attitude!  A dollop of Greek Yoghurt will also twist the whole soup to another unexpected dimension but gives the whole soup a lovely, lighter lift.
for the bread
600g Strong White Bread Flour
10g / 1.5 teaspoon / 1 sachet – fast action yeast
7g / 1 teaspoon fine salt
1 teaspoon mustard powder
400ml half water / half milk
1 nob butter
for the filling
4 large white onions – peeled, halved and thinly sliced
1 teaspoon sugar
2 tablespoons extra virgin olive oil
a large nob of butter
fresh rosemary and thyme
100g strong cheddar – finely grated
for the soup
1 large butternut squash – peeled (keep those peelings for crisps), de-seeded and chopped into large chunks
5 medium to large carrots – chopped
3 cloves of garlic – peeled
1 large onion – peeled and quartered
2 medium potatoes – chopped into large chunks
1.5 litres good quality veg stock
1 teaspoon fennel seeds
1 teaspoon dried oregano
1/2 teaspoon dried chilli flakes
1/2 teaspoon ground cumin
1 large tablespoon Greek Yoghurt
olive oil and seasoning
start with the onions – in a large pan, heat the olive oil and butter and throw in the onions and the sugar and stir around until all the onions are coated, then turn the heat down and let them gently sweat and simmer for at least 30 minutes, stirring occasionally to avoid the onions sticking
after 30 minutes, add the fresh herbs and plenty of salt and pepper and stir in. leave on the heat for another 30 minutes, stirring every 10 mins or so, until the onions are a dark golden brown and gloriously sticky and caramelised.
Meanwhile, in a large bowl, mix the flour, yeast, mustard powder and salt with the water/milk and stir together using a rubber spatula. Turn out onto a well floured surface and knead for 10 minutes until soft and elastic (this process can be done really easily in a stand mixer with a dough hook, for 15 minutes)
Oil a large bowl, add the dough, cover tightly with cling film and set aside to prove for at least 1 hour or until doubled in size.
Take a roasting tin – roughly 12inches x 8inches (or a cat iron, shallow casserole dish works really well) and oil it very generously and set aside.
After your dough has had its first prove, liberally flour a large work surface and turn the dough out onto this. Using your oiled hands, spread the dough out to form a thin, rough rectangle, roughly 20 inches x 12 inches… the dough will be elastic and want to spring back but leave it for a few minutes and then go back to it and gently tease it larger – you can use a rolling pin but I prefer a gentle teasing by hand.
Take your caramelised onion and tip it onto the dough rectangle and evenly spread it out covering the entire surface, then sprinkle on the grated cheese, followed by some more fresh herbs and salt and pepper
Carefully roll the long edge up the work surface, creating a long roll of dough and onions, then cut this into sections, each one roughly 3inches wide and place these into your oiled roasting tin until it's full
Cover the tin with oiled cling film and set aside to prove for 30 minutes and turn your oven on and set to 200C
After 30 mins, remove the cling film and place the bread into the oven for 10 minutes on 200C and then a further 20 minutes on 180C
remove from the oven and set aside on a wire rack
make the soup by placing all the veg and herbs in a large roasting tin, drizzle generously with olive oil, season well and roast for at least 30 mins or until the veg have started to soften and turn a little dark golden brown at the edges
remove from oven and tip into a large pan, followed by the stock and let it simmer gently for 15 mins, then turn off the heat and let it sit until cooled by half.
add the greek yoghurt and blend until smooth with your new hand blender!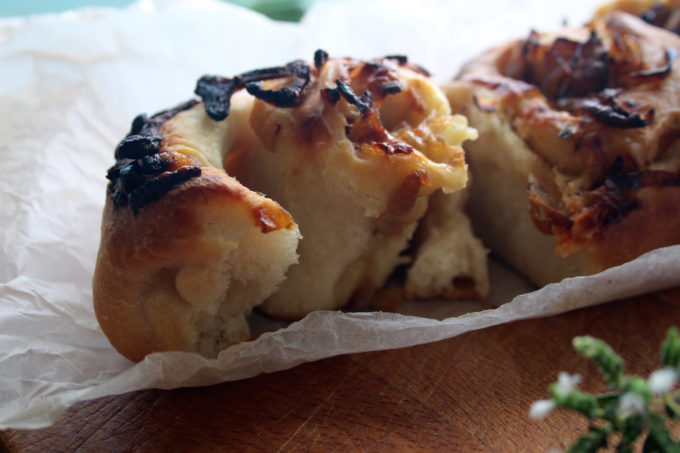 eat and of course, enjoy!