Another glorious weekend is upon us and I am looking forward to being at home so much.  I know I say it every year but once again this year seems to have literally zipped past.  I think it's probably because we started the year with our feet hitting the ground running in January that it feels this way but how is it possible that June is just around the corner?  It also means that every moment we can, we get back to the cottage to recharge and we've been so lucky recently with the weather so it means we can have all the doors open and let the cottage fill will air and sunshine and we can all breathe something a little fresher.  I'm having problems sleeping at the moment so I like to take the weekends to find inner energy.  This may mean sitting on the front bench and taking in our surroundings, listening to the birds singing (the swallows have finally returned to Belleau – 4 weeks later than usual, can you believe it?) and the cows and calves munching in the fields… or it could mean spending some time in the kitchen, where i'm truly relaxed.  Pottering about with ingredients and cooking long slow meals that can be eaten without fuss, over the weekend.  I also love baking bread during the weekend.  It's the most satisfying thing I like to do because you simply can't rush it.  It has to take its time so you have to take yours. But of course nothing really beats a good sweet dark chocolate and cherry frangipane tart…

dark chocolate and cherry frangipane tart
there's something about the combination of rich dark chocolate, intensely sweet frangipane and tart cherries that needs celebrating and this cakey tart does just that. It's about this time of year that I go and pay a visit to my secret cherry trees. They dot themselves sporadically down a quiet little lane that winds lazily through the wolds and have generously given me their bounty over the years. The fruit isn't usually ready until July but I like to go and make sure they're doing well, have blossomed nicely and the little nubs of fruit are under way. I adore cherries. There's nothing more wonderful than munching my way through a bowl of sweet, freshly picked cherries but this divinely rich frangipane tart is a good way to eat them and a wonderful preview of what's to come… i've slightly adapted my usual frangipane to make it thicker which I think holds up nicely in this tart.  It only has one egg but if you prefer it a little looser then by all means add another egg.  Just leave it in the oven for another 5 or so minutes to set.
for the special short-crust pastry
– once again i'm sharing my cream cheese pastry… this is, in my opinion, the best sweet short-crust pastry I've ever eaten. The cream cheese makes it so light and the ground almonds make it deeply rich and a stunning bed-fellow to this marzipan inspired tart.
300g plain flour
3/4 teaspoon baking powder
112g caster sugar
150g unsalted butter 100g full fat cream cheese
75g ground almonds
1 egg yolk a little milk to bind
for the frangipane filling
125g unsalted butter, softened to room temperature
125g caster sugar
25g plain flour
125g ground almonds
1 large free-range egg, beaten
50g dark chocolate drops or broken chocolate
1 teaspoon vanilla bean paste
a handful of whole cherries with stalks
i'm using an oblong fluted tart case which i've greased well with butter but any shape tin will work
start with the pastry – sift the flour, baking powder and sugar into a bowl, add the butter and rub until it resembles breadcrumbs – add the cream cheese, ground almonds and egg yolk, take a knife and mix until it comes together into a dough, you may need to add a little milk here, as I did. – chill the dough for at least 30 mins
now make the frangipane filling, cream the butter, sugar, flour and almonds together, then slowly add the egg, mixing until fully incorporated, then beat in the chocolate drops and vanilla. – Allow the frangipane to rest for 5 minutes before smoothing it inside the pastry case.
pre-heat the oven to 170C fan
roll out your pastry on a very well-floured surface – I am very generous with the flour on the top and underneath this pastry – and then roll out (I adore this pastry nice and thick)
lay the pastry into the case and gently tease it into the fluted sides and press down then trim the edges, spoon in the frangipane mix (should be nice and full) and level off with a palette knife, then push your cherries down into the tart
bake for 35 mins or until golden brown – set aside on a wore rack to cool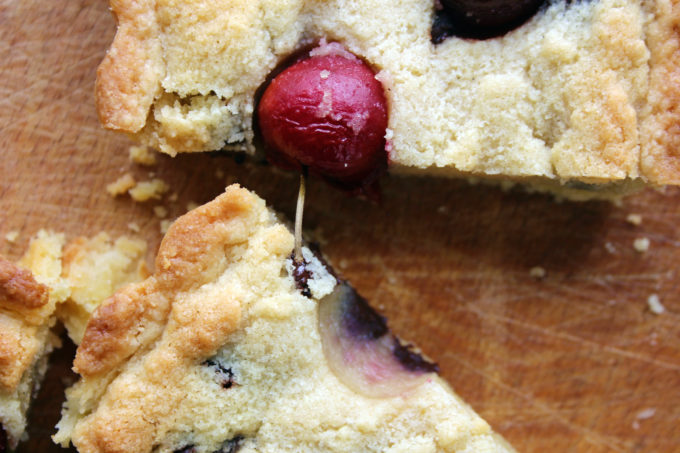 eat and of course, enjoy!