… well this week has been rather exciting. For those who don't know, for my day job I run an event production company called The Persuaders and this Wednesday we won a couple of awards for our work.  We don't usually enter award events but the Event Awards are probably the top awards for our industry and we felt it was about time we grew up a little and played in a world that our competitors live in… and we're so glad we did. Which is why i'm showing off a little here.  We won an award for the Best Exhibition Experience for the Elf Workshop stand we designed and built at Stylist Live for notonthehighstreet.com and we got Highly Commended in the Outstanding Creative Idea category for the Beauty Drive-Thru we created for Benefit Cosmetics.  We had a great night with good food and good friends and were actually totally surprised by our win so it was a genuinely brilliant night!  I love my job and the teams I work with and this is such a great reward to recognise what we do when i'm not cooking pie!

apple, pernod and blackberry pie with cream cheese shortcrust pastry
so this is a bit of a classic pie and very autumnal with its sweet and sharp blackberries and complimentary Bramley apple.  I've added sultana's for texture and pernod, cinnamon and vanilla for depth of flavour but it's the cream-cheese shortcrust pastry that makes this pie stand out from the crowd. Many regular readers will know that this is my all-time, favourite festive pastry.  Not only does it taste superb with the richness of the cream cheese and ground almonds but it's incredibly robust whilst also being 'melt-in-the-mouth.'  It's perfect for mince pies and i've used it now for many years for Christmas baking because it holds its shape which is perfect for holding in your hand which is what you want for standing around at Christmas parties… but also great for pies like this where you want a decent crust to cut into slices.  This pastry also doesn't need blind baking, especially if you're using a metal pie dish as I am.
for the cream cheese pastry
300g plain flour
3/4 teaspoon baking powder
112g caster sugar
150g unsalted butter
100g full fat cream cheese
75g ground almonds
1 egg yolk
a little milk to bind
for the filling
3 large Bramley apples – peeled and chopped
200g blackberries
3 tablespoons caster sugar
1 teaspoon cinnamon
1/2 teaspoon fennel seeds
1 tablespoon Pernod
1 teaspoon vanilla bean paste
start with the pastry… sift the flour, baking powder and sugar into a bowl, add the butter and rub until it resembles breadcrumbs then add the cream cheese, ground almonds and egg yolk, take a knife and mix until it comes together into a dough, you may need to add a little milk here, as I did.  Place the dough onto some cling-film, flatten it out, wrap it up and chill the dough for at least 30 mins.
meanwhile, place the apples, blackcurrants, sugar, cinnamon and vanilla into a large pan and heat gently, stirring occasionally.  You want to cook these for roughly 5 mins to soften slightly but you don't want the apples to be too soft, I like to keep some bite and remember they will cook in the oven too.  Once you're happy, stir in the currents and set aside whilst you roll out the pastry
butter your pie dish – i'm using my 22 inch metal pie dish and pre-heat the oven to 180C
generously flour your work surface – this is very important because this pastry can be very tricky to handle so you need to treat it with respect and be in control – cut the pastry in half and set one aside back in the fridge
place the piece you're going to use onto the flour and pat it down with your hand, turning the dough as you go to ensure a nice round shape – sprinkle more flour on top and then gently roll out with a rolling pin.  I tend to do one roll, then turn the pastry one quarter clockwise, a little more flour, roll again and turn, then I flip it over and repeat till I get the thickness I need.
carefully lift up the pastry and swiftly transfer it to the greased tin, press well into the base and trim the edges
pour the cooled filling into the tin on top of the pastry, then roll out the other half of the pastry as per before.  Now you can top your pie in any way you like.  I adore the look of a lattice pattern but you could be as creative as you wish, or leave it entirely plain.  Whatever you chose to do, try and allow the filling to cool before you lay the pastry on top and then you can be more creative with patterns and you know the pastry won't melt. There's a really cool video here.
brush the top of the pie with an egg and milk wash and bake for 30 mins or until golden brown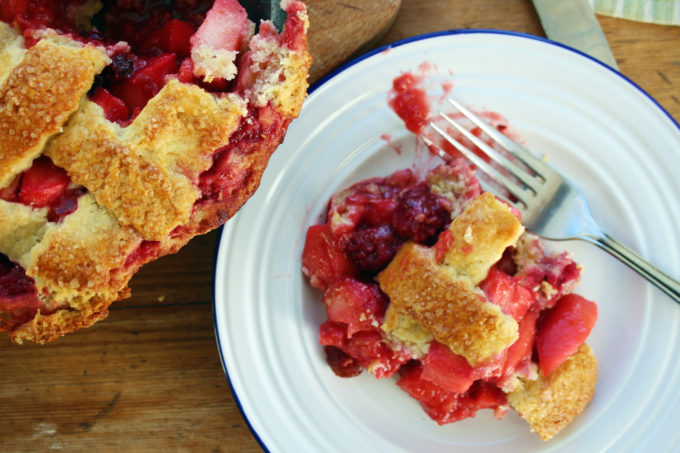 eat and of course, enjoy!