… this banana and vanilla victoria sponge… or The Viking Bakes A Cake as the title of this post should read, is too good to not be written about even though it's the simplest of cakes… but let's start at the very beginning shall we?  Firstly, Happy Easter to one and all… boy do we need this long weekend! After the few weeks i've had I am going to lie as still as a slug and only move when I need to eat.  And poo.  Secondly, last weekend two things happened;  I finally received the beautiful tea set from Portmeirion designed by Sophie Conran after waiting too long to review it and I can safely say that it was worth the wait as it's absolutely beautiful.  I love that it feels classic yet it has a slightly contemporary twist with the natural wavy lines.  We're very fussy here at Belleau Cottage and like things to be in keeping with our eclectic but classically traditional cottage tastes and this is true for our tableware too, so i was very pleased when it arrived and felt it fitted in with this aesthetic…
… and then, for some unknown reason The Viking said he wanted to feature in one of my instastories that i've been doing at weekends.  I don't know if he was feeling left out or if he just wanted to prove once again that he can hold his own when it comes to baking but either way he baked this cake and, I have to admit, his addition of the banana at the last second was inspired…
if you've been watching my recent instastories you'll know i've been cooking live at the weekends and filming the exploits as I go on instagram.  I've really enjoyed it and I think maybe The Viking got a little jealous… whatever the reason we had an absolute scream last Sunday and from the reactions and messages i've had you guys enjoyed it too.  It was very silly but we had a blast.  if you can, do check it out tomorrow as i'll be baking hot cross buns to celebrate Easter… but remember the films are only live for 24 hours, so it's a case of 'blink and you'll miss them.'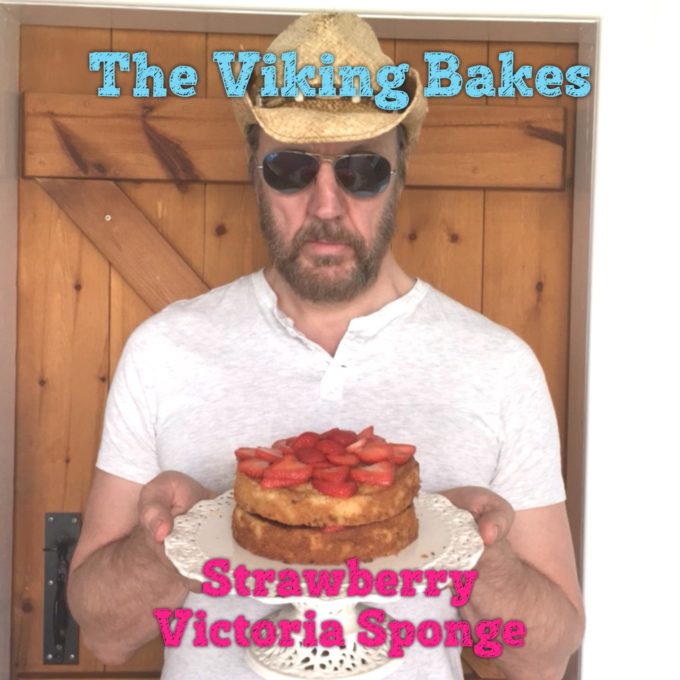 loving the natural lines of the Sophie Conran for Portmeirion teapot

banana and vanilla victoria sponge
… the cake is practically perfect and absolutely divine and so simple to put together.  As I mention above, the addition of the banana at the end is inspired and adds a wonderful moistness.  We kept it simple for filling and decoration.  A classic strawberry jam and then some fresh strawberries to compliment the banana (if you've not tried banana and strawberry before you absolutely must they are a winning combination.)   A few people we spoke to over the last few days said we should have included a whipped cream and whilst I suggested this The Viking was insistent that it really didn't need it and again he was right.  It was perfect.  As he explains so hysterically during the film he used the 'weigh-the-eggs' method to bake the cake.  This is a classic, no fuss, always win method where you weigh the eggs in their shells and then use the equal measurement of butter, sugar and flour to create the cake.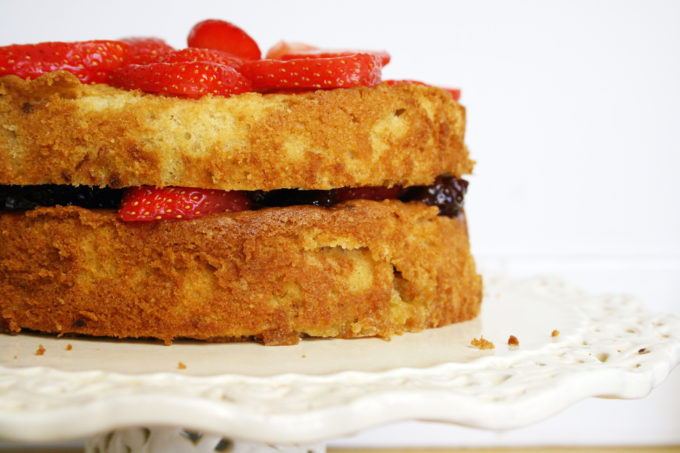 3 large free-range eggs
200g golden caster sugar
200g butter – at room temperature
150g self-raising flour
50g ground almonds
2 teapsoons vanilla (I used the brilliant Nielsen-Massey vanilla bean paste)
1 ripe banana
jam and fresh strawberries
grease and line 2 20cm loose-bottomed cake tins and pre-heat your oven to 170C
combine the flour and the ground almonds and set aside.
place the butter and sugar into a bowl and beat furiously into submission until you have a wonderfully light and whipped creamy texture… a stand mixer will do this in five minutes, an electric whisk will do this i 8 mins and a wooden spoon and a lot of jiggling will do this in 10 mins
then add one egg and a third of the flour mix and beat in, then the second egg and another third of the flour mix and beat in and then the last egg and the rest of the flour, then beat in the banana along with the vanilla.  Beat well until it's all whipped up and the banana is broken and creamy.  You may need to add a dash of milk to slacken the consistency if it looks a little thick
divide equally between the two cake tins and bake for 25-30 mins until golden and risen and firm to touch – set aside to cool entirely.
once cool, slather one cake in jam and fresh strawberries and then lay the other cake on top and top off with more fresh strawberries
eat and of course, enjoy!