… thrashing towards the big C with the confidence of a child with a lack of personal space awareness it can sometimes feel like the world has gone mad.  I guess you notice it more in the big city as the festive lights are all around us and every street is rammed with shoppers and at all times of the day!  London is manic at the best of times but bung in Christmas and a reduction in the value of the pound due to the idiotic buffoons who voted to leave the EU and sometimes it can feel perilously close to armageddon.  I genuinely haven't purchased a single gift yet but if i'm honest, i'm not panicked just yet.  The Viking and I are off to California for New Years Eve which is our gifts from Father Christmas to each other and for the rest of the family and friends, well I can't really think right now but seeing that I gave my mum her Christmas gift from last year about a month ago I don't think it's going to be such a big deal!  I love Christmas but as the years have gone by it's of course become less and less about the whole gift thing and more and more about food and friends.  I guess if we had kids it would be different although I do despair when I hear the amounts of stuff that kids receive these days – not that I ever went without you understand but it somehow feels on another level to when I was a child with the dream of Father Christmas in my eyes…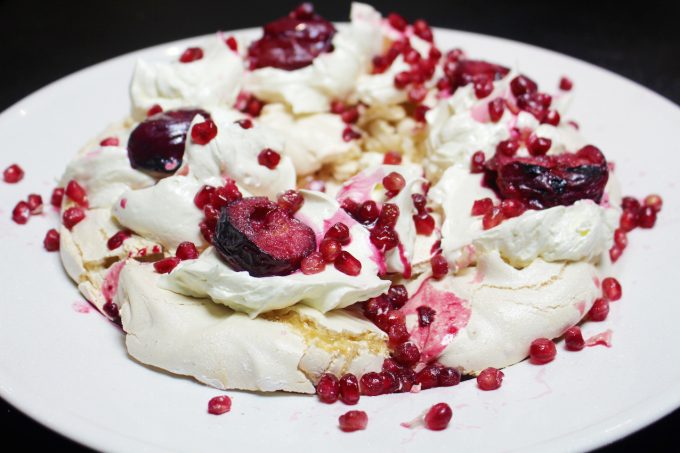 meringue wreath with mulled plums and pomegranates
the meringue wreath is a classic Christmas favourite… I believe I remember seeing Delia make it on one of her Christmas shows, always thinking that it looks so effective and yet really it's quite a light pudding to eat after a big meal such a Christmas Day lunch… if my memory holds true I believe that Delia's was a classic raspberry and cream wreath, with perhaps some mint leaves for added green but I think the principal of the idea is pretty open to interpretation.  There's lots of inspiration out there too, from my cooking-demo buddy Steven Bennett's chocolate meringue wreath to Lucy at Super Golden Bakes' impressive 3-tiered meringue tree.  I've opted for these plums baked in mulled wine and some jewels in the form of pomegranate seeds which I think work particularly well… i've also laced the whipped cream with my firm festive favourite, Grand Marnier which of course makes things all the merrier…
a little cooks note… my meringue never comes out well when it comes to early defined peaks… i've made it half a dozen ways following half a dozen different recipes and I just can't get that perfect firm peak… they always taste nice and I honestly think a nice crispy crunch, a soft mallowy centre, plenty of boozy cream and fruit and the whole thing can be quite forgiving… so I don't sweat it…
for the meringue wreath
6 large egg whites
350g caster sugar
1 tsp white wine vinegar
1 tsp cornflour
for the mulled plums
6 plums – halved and stoned
4 tablespoons mulled wine
1 tablespoon caster sugar
for the whipped cream
200ml double or whipping cream
1 tablespoon grand marnier
the seeds of 2 large pomegranates
preheat the oven to 160˚C Line a baking sheet with baking parchment and draw a 30cm circle on the paper and take a 15cm metal ring, dunk it liberally in corn flour and place this in the middle of your drawn circle – set aside
place the plums into an oven-proof dish and drizzle over the mulled wine and sprinkle with caster sugar – bake for 15 minutes until the plums are soft – set aside to cool
make the meringue wreath by putting six egg whites into a mixing bowl and whisk with an electric whisk until they look like clouds.Gradually add the sugar a little at a time, whisking on maximum speed until they are stiff and glossy. Mix the vinegar and corn flour in a cup until smooth, then stir carefully into the bowl with a metal spoon.
spoon the meringue around the metal ring on the baking parchment, to make a wreath shape. Be as messy or structured as you like.   Slide into the oven, then immediately reduce the temperature to 140˚C/fan 120C/gas 1 and bake for 1 hour – 1 hour 15 minutes. Turn the oven off and leave the pavlova inside for an hour to dry, after which carefully remove the metal ring.
whip the cream with the booze and then assemble your wreath by placing blobs of cream randomly on the wreath, then lay the plums like glorious glossy baubles, into the cream and sprinkle with a flourish of pomegranate seeds…. oh and a liberal spritz with some edible glitter spray helps add a festive something-something too.
eat and of course, enjoy!