… can you believe it's been nearly three weeks since i've blogged.  I feel both bereft and guilty and yet as many of my blogger friends agree, I also feel a little bit free… It's not like I've been doing nothing you understand.  This summer has just been absolutely manic at work.  I've been getting in at 8am and not getting home till 9pm and then literally falling down on the bed into a deep sleep.  I love my work, I really do but with the potential madness of the last quarter of the year rushing onto us I feel like a week in bed would be rather wonderful.  It also means that the blog takes a back seat for a while and I hate this because the further away from it I get the more I see the light of not being shackled to it, yet I also pang desperately for being in my kitchen.  It's the place I relax and breathe, the place I feel at home, the place I love… but with all the added stress the inspiration also takes a dive.  None of it is ideal.  What is nice, is that this weekend we have good friends coming to stay and this kind of forces me into the kitchen but in a fun way.  It's only Friday but i've already baked bread and a divine chocolate and raspberry cake which I will share later… One of our friends is gluten intollerant so i've also made this lovely banana bread and whilst many would find the whole thing a hassle i've really enjoyed the challenge…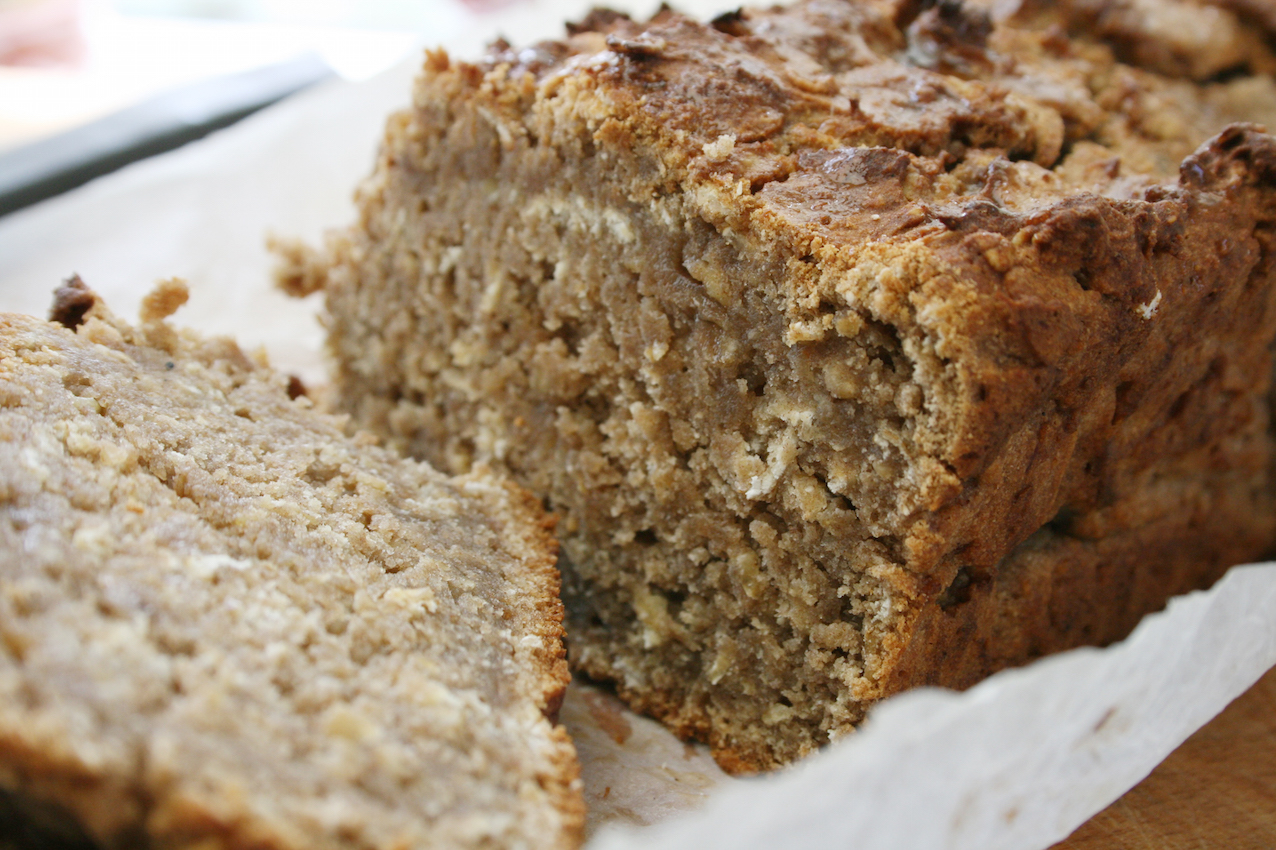 gluten-free banana bread with maple syrup and coconut flour
i'm actually very pleased with this recipe… it's heavily adapted from one by the Minimalist Baker whom I am currently having a bit of a girl-crush on… it's hearty, like all good banana loaves yet it's light and moist and keeps really well.  It's not too sweet and in fact i've used some of the coconut sugar i've been using for the sugar-free recipes i've been developing for the Leisure Range Cooker project i've been working on, so it's also a little healthy too, which is nicely pleasing.  The maple syrup adds that dark richness that only comes from maple syrup and the coconut flour makes it lighter  which is good here in such a dense recipe…
3 medium ripe bananas
1/2 teaspoon vanilla bean paste
2 large free-range eggs
3 tablespoons coconut oil – melted in the microwave
100g coconut sugar (or regular brown sugar)
3 tablespoons maple syrup
3 teaspoons baking powder
a pinch of salt
180 ml milk
70g ground almond 
70g coconut flour
100g teff flour
100g rice flour
110g rolled oats
preheat oven to 170C fan and line a loaf tin with parchment paper
mash the bananas in a large bowl then add all the ingredients, stirring as you go, finishing off with the flours and whisk to bring it all together. 
pour it into the loaf tin and bake for 1 hour until it's firm and golden, remove it from the oven and drizzle with a little maple syrup and let it cool completely in the tin.
eat and of course, enjoy!