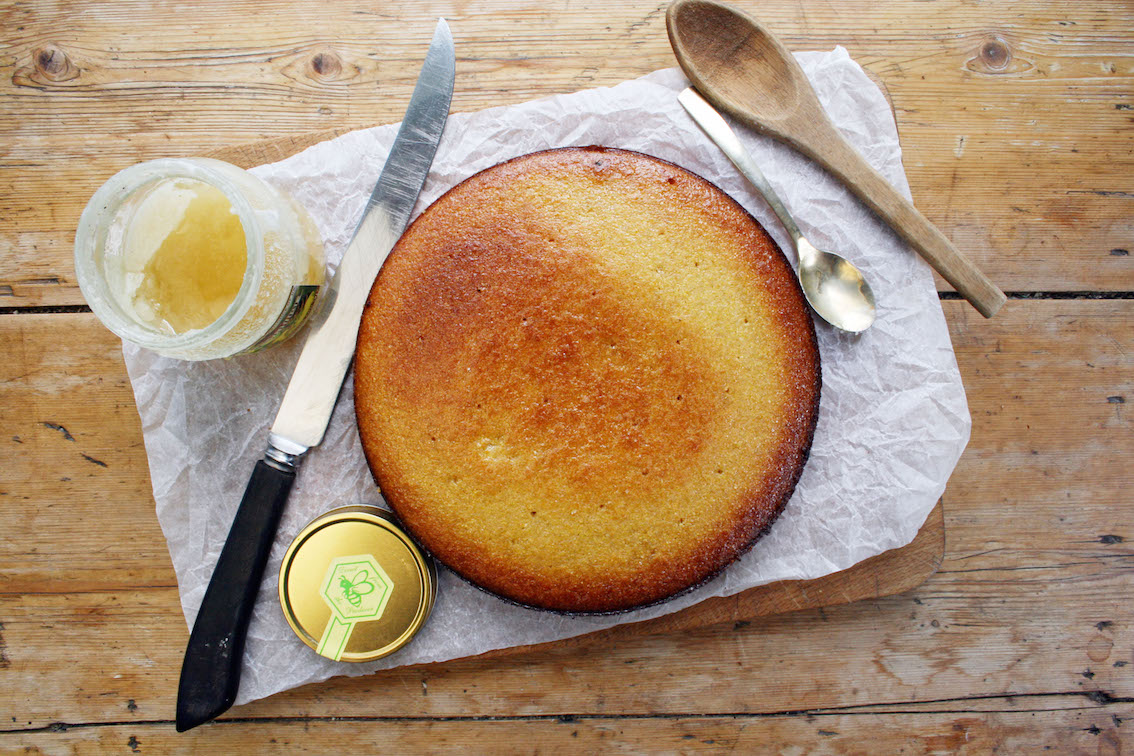 … what a lot of people don't realise about sugar is that it's not just sweetness that it adds to a cake but structure too.  The sugar granules hold onto the other flour and egg molecules and create the spongy texture that we know and love in a cake so when we mess with this special kind of craft we're essentially no longer making cake and as we know from previous sugar-free adventures, what we end up with is a whole lot of dog-food.  There are of course ways to overcome this and this usually involves using larger grained flours and flour alternatives such as ground almonds, polenta and coconut.  It works surprisingly well and ensures you don't get what could end up being a sweet frittata… which is what nobody wants.  Of course, what I love about this cake the most is its stunning colour and the intense aroma of honey and olive oil… it's as though summer has been delivered on the back of a honey-bee and I adore it.  Well ok, I like it a normal amount.  Let's face it, the cake tasted nice but nowhere near as lovely as butter and sugar and that my friends is the gospel…
sugar-free gluten-free, dairy-free honey, polenta, coconut and apple puree cake
more sugar-free exploits and this is more like it… if truth be told, what we have here is simply a twist on a classic gluten-free polenta cake but with the apple puree and honey for sweetness.  The addition of honey came to me at the last moment as the cake was hot out of the oven and it looked so perfectly golden that I wanted to give is a bath of glossy, silky something and honey came to mind.  Now of course this really isn't a sugar-free cake.  It's a refined sugar-free cake and relies heavily on the natural sugars found in the apple puree and honey but let me tell you, it tasted glorious and the texture was a million times better than the monstrosity that was the chocolate beetroot cake I posted about earlier in the week.  This one is most definitely and winner, easy to bake and a cake I will without doubt make again.  I happened to use a very strong tasting extra-virgin olive oil and it is a very strong flavour here but I actually adore this and it works very well with the apple puree but you may want to tone down this slightly by using a regular olive oil.
for the cake
160ml good quality extra virgin olive oil
150g apple puree
100g ground almonds
100g polenta
100g desiccated coconut (sugar-free)
1 ½ teaspoons baking powder
3 large free-range eggs
3 or 4 tablespoons runny local honey
oil and line the base and sides of a 20cm loose-bottomed cake tin with baking parchment and pre-heat the oven to 180°C
in a large bowl beat the oil and apple puree with an electric whisk for roughly 5 mins – I did this in my trusty and gorgeous smeg stand-mixer
mix together the almonds, polenta, coconut and baking powder, and beat some of this into the oil-apple mixture, followed by 1 egg, then alternate dry ingredients and eggs, beating all the while.
the mixture will be considerable runnier than your average cake batter but don't panic, the structure is all there so pour it into your prepared tin and bake in the oven for about 30 – 40 minutes
the cake is cooked if a skewer comes out cleanish and the edges of the cake begin to shrink away from the sides of the tin.
remove from the oven to a wire cooling rack, but leave in its tin and prick all over with a skewer and pour the runny honey all over and let it cool entirely in the cake tin
once cooled, remove from the tin and serve.  It should stay fresh for about 3 days.
eat and of course, enjoy!