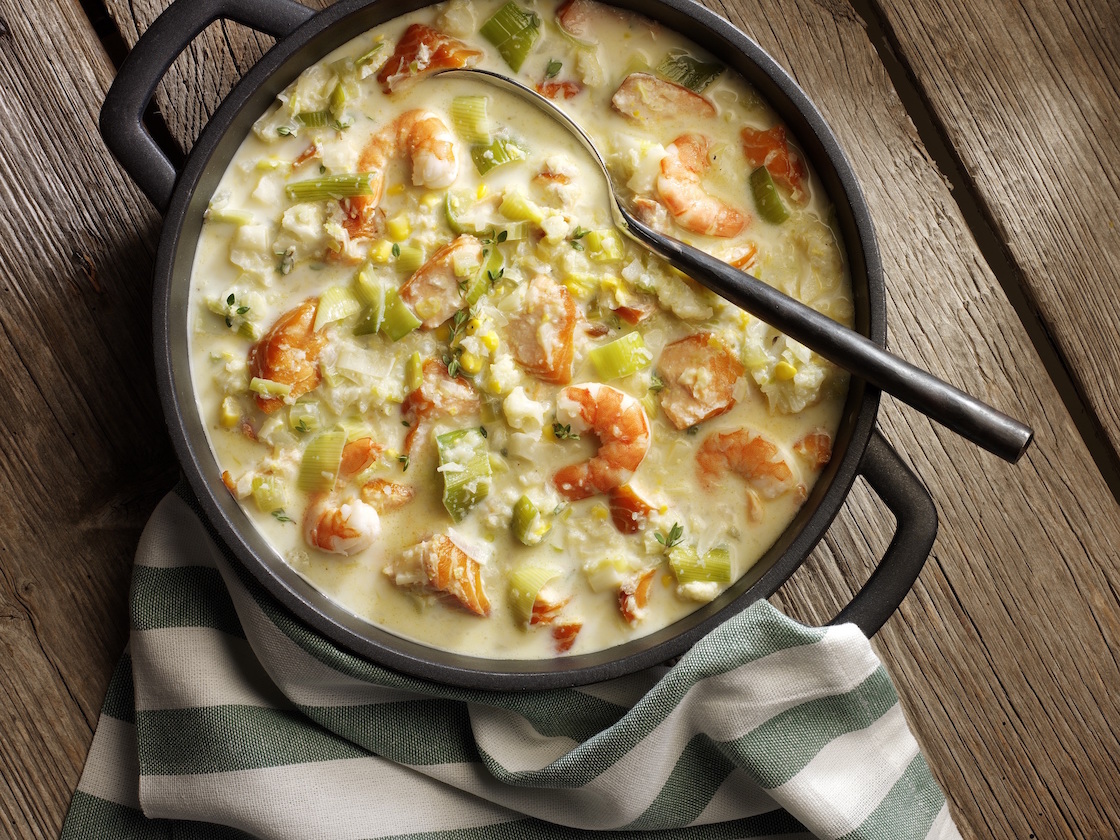 … it is undoubtably and finally soup weather… there's been a lot of rain here in the UK but there has also been that all important ground-frost early in the morning and it's this frost they say that tells the farmer when the leeks are finally ready for the harvest, apparently the leeks need that short sharp shock of frost to ensure they are at their most tasty and perfect… of course I have no idea if this is true but I like the idea that traditionally the weather and change of seasons is what would have lead the farmers choices, giving him the signals in natures cues to tell him when it was time to pick his crop. It's all very different now and indeed the weather patterns have probably entirely changed since the days when the first frost became an indicator but the leek season is very much still through the winter months which is when they're at their very best.  I guess one should think of them as the strawberry of the vegetable world, as one can now get strawberries all year round but we all know the ones picked at the height of their natural season taste the best… of course, being the British Leeks Ambassador I am a little biased but leeks have long been a favourite vegetable as they impart such an incredible soft, oniony flavour without being overpowering and make a wonderful addition to any soups or stews which is where we first came in, for this is most definitely soup weather and there is nothing quite like a bowl of warming love to brighten up the darkest of black fridays…
hot smoked salmon, prawn and leek chowder
this is my favourite healthy soup which proves that any kind of diets don't have to be boring! It's a rich, thick and creamy soup, yet there's no cream and with pre-cooked smoked fish and prawns to add a little luxury to the proceedings. To reduce the carbs I'm using cauliflower instead of potatoes to thicken, but essentially the recipe is the same as a classic chowder.
1 medium onion – finely chopped
1 medium cauliflower – finely chopped
2 medium leeks – finely chopped
1 stick of celery – finely chopped
1 cup of frozen sweetcorn kernels
1 x 180g packs hot smoked salmon, skinned and flaked
1 x 200g pack of pre-cooked king prawns
500 ml vegetable stock
500ml skimmed milk
salt and pepper and fresh thyme
add a generous knob of butter and a little olive oil to a large pan and gently sauté the onions until soft, then add the leeks, cauliflower and celery, place a lid on and sweat until all the veg are soft.
add sweetcorn, stock and the milk to the vegetables and let them simmer for 10-15 minutes. Using a spoon take out one third, blend with a hand-whizzer and return to pan before adding flaked fish and prawns and let them heat through thoroughly.
stir with a little more olive oil and let it cool slightly before serving.
i'm linking this soup up to
tea time treats
, hosted by Karen from
Lavender and Lovage
which has soup as it's theme
recipe by Belleau Kitchen and photography by
British Leeks where you can check out more of my delicious leek recipes
eat and of course, enjoy!