… November marks the start of the Leek season here in the UK and i've spent the past couple of months working with the wonderful people at British Leeks as their new recipe ambassador.  I love leeks and regularly use them but if i'm honest i'd not really thought of them as a main ingredient before, always sidelining them as an accompaniment in a pie or soup but the leek is quite a robust vegetable with a distinct flavour that stands up on its own and much like its close cousin the onion, can be gloriously sweet and flavourful when given the special love and attention it deserves.  As well you know, I try to promote eating locally grown and seasonal produce here at Belleau Kitchen but this can be quite hard during the autumn and winter months so it's good to know that the leek is a cunning little vegetable that thrives in these colder months and because its packed with nutrients and anti-oxidants it will help us get through these months too!
As well as developing these divine recipes I was also fortunate enough to go and meet the lovely Tim Casey, Lincolnshire Leek Farmer extraordinaire over at his farm, Bomber County Produce and see the leeks growing in the fields.  It was such a great morning and so brilliant to be able to drive just a few miles over the wolds to go and see the fresh produce at its source.
Leeks are thoroughly versatile and can be cooked in so many ways from simply pan frying in plenty of butter (my grandma always told me 'leeks love butter') to roasting with meats or baking into pies and quiches… I have hundreds of recipes on my blog that use leeks but these new set of 6 recipes really bring the leek to the forefront of the dish and I will be sharing them with you throughout the Leek season season.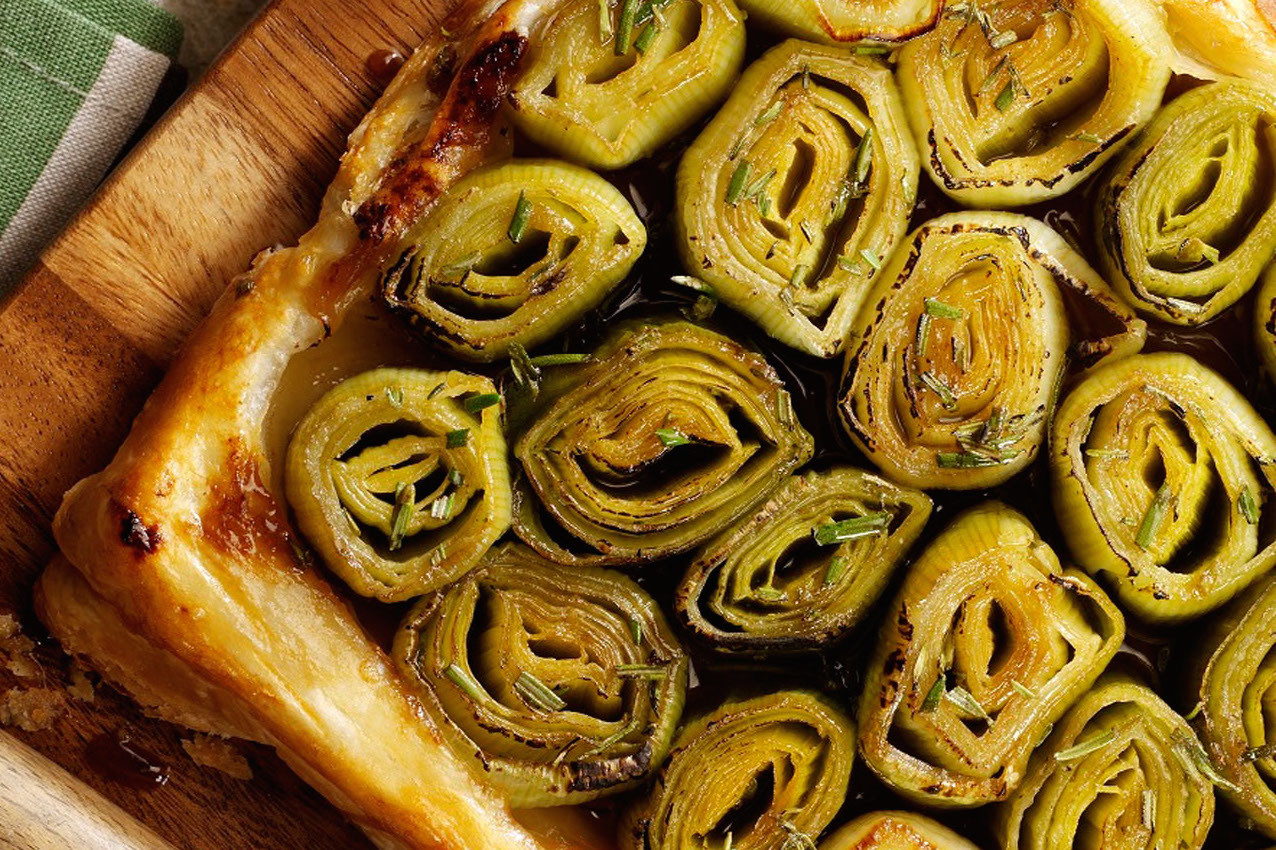 caramelised leek tart tatin
it may look like you've slaved over this dish for hours but it is in fact such an incredibly simple tart to make… by placing butter and sugar under the leeks in the pan I've eliminated the need for pre-frying, so it can all be done in the oven. The fresh lemon thyme really brings out the flavour of the leeks, but if you can't find any, then regular thyme also works well. So simple yet it looks so stunning. 
i've used an oblong deep dish baking tray roughly 30cm x 20cm which just happens to be is slightly smaller than a regular sheet of ready rolled puff pastry, which is useful although if you feel the need to make your own check out my recipe for a rather fabulous ruff puff
Serves: 4
Preparation time: 20 minutes
Cooking time: 1 hr 50 minutes
roughly 8 large leeks – chopped to 3cms lengths
a few knobs of butter
olive oil
a little golden sugar
fresh lemon thyme or regular thyme
a tablespoon or two of balsamic vinegar
1 sheet of ready-made puff pastry
pre-heat the oven to 160 C (140C fan)
lay some knobs of butter in the bottom of the pan, sprinkle with a pinch or two of sugar and plenty of fresh thyme and stand your leeks on top – they should all tuck together and stand up like little soldiers. Drizzle with olive oil and place in the oven for at least an hour, so that it gently bakes and caramelises the leeks – check after 30 mins to ensure they're not burning.
after an hour, take it out of the oven and drizzle a little balsamic over and around the leeks, then turn the oven up to 180C (160 C fan) pop it back into the oven for another 15 minutes or until softened and lightly caramelised.
take it out of the oven and set aside to cool a little, then once it's stop steaming, lay the sheet of pastry over the top, brush with egg wash or milk and pop it back into the oven for another 20 minutes or until the pastry has risen and turned golden.
remove from the oven and set aside for a few minutes to cool, then take a knife and ensure that the edges of the pastry are loose from the pan, then place a plate or chopping board over the pan and quickly flip the whole thing upside down and remove the pan.
eat and of course enjoy!