… well I guess it's time I came clean and told you that we're off for our annual pilgrimage to California… we usually go after Christmas to visit family and get a little winter sunshine but this year we've decided to go for the big day itself.  If we're entirely honest The Viking and I have mixed feelings about being away from Belleau for Christmas but I'm sure once we get to the sunshine we'll soon forget it!  As you know, I adore Christmas, mainly for the food but I just love the whole twinkly lights spectacle of it all and i'm sure California will deliver this in heaps, albeit with added sunshine but one of the things that has been interesting about planning to be away this year has been how freeing it is not to have to plan for the big day… we've barely done any Christmas shopping… and even though i've been developing festive recipes for the blog just the idea that I don't have to think about cooking for the next two weeks is making me feel a little bit giddy.  It's like a proper holiday for me and I cannot wait… and whilst I hate to make you all feel thoroughly sick I will be sending blog postcards from the sunshine, so watch this space…
spinach and mushroom cottage cheese quiche
it can all become a little too much at this time of year can't it?  All the rich food and alcohol… it's nice to take a break once in a while and have something a little lighter.  I'd always seen quiche as the ultimate summer food but actually it's so lovely to take a break from the turkey sandwiches and have something that feels a little less like winter on a plate.  The addition of cottage cheese in the quiche helps cut through the richness of the cream but you can still be a little naughty with a cheese shortcrust and plenty of butter… i've gone for a classic spinach and mushroom but you could easily replace the mushrooms or spinach with shredded sprouts which I think would be delightful…
for the pastry
250g plain flour
100g salted butter
1/ teaspoon english mustard powder
50g finely grated strong cheddar
water to mix
for the filling
1 medium onion – halved and finely sliced
one large box of closed cup mushrooms (380g) – finely sliced
3 large garlic cloves – finely crushed
300g baby spinach leaves
butter and olive oil
fresh rosemary – finely chopped
salt and pepper
4 eggs – beaten
100ml single cream
150ml cottage cheese
I've used a 25cm fluted quiche tin which is 3cm deep… which I buttered well into all the grooves
make the pastry first by rubbing the butter into the flour in a large bowl until you have something resembling breadcrumbs, stir in the grated parmesan and mustard powder then add a tablespoon or two of cold water and bring together into a dough with your hands, you may need to add a little more water to create the dough but you will feel how 'short' the pastry is.  Wrap in cling film and pop in the fridge for at least 30 minutes
in a large pan gently melt a generous amount of butter with a little olive oil and add onions, stir and gently sauté for about 15 minutes until they begin to turn golden brown… remove from the pan and then add a little more butter and sauté the mushrooms, garlic and plenty of pepper and salt until they are tender and have a little colour… then turn up the heat a little and add the onions back in then tip the spinach on top, place the lid on, turn down the heat and steam for eight minutes until the spinach is soft, then remove from the heat.
now your pastry should be ready, roll it out and line your greased quiche pan. Scrunch up some baking parchment and then lay this into the pastry case and pour some baking beans on top. Blind bake for 15 minutes on 150C
once your pastry is turning golden, take it out of the oven and set aside whilst you beat the eggs into the cream and cottage cheese… pour the mushroom and spinach mix into the pastry case followed by the cream and bake on 160C for about 15-20 minutes until golden and risen, set aside on a wire rack to cool.  The quiche should easily slide out of the tin.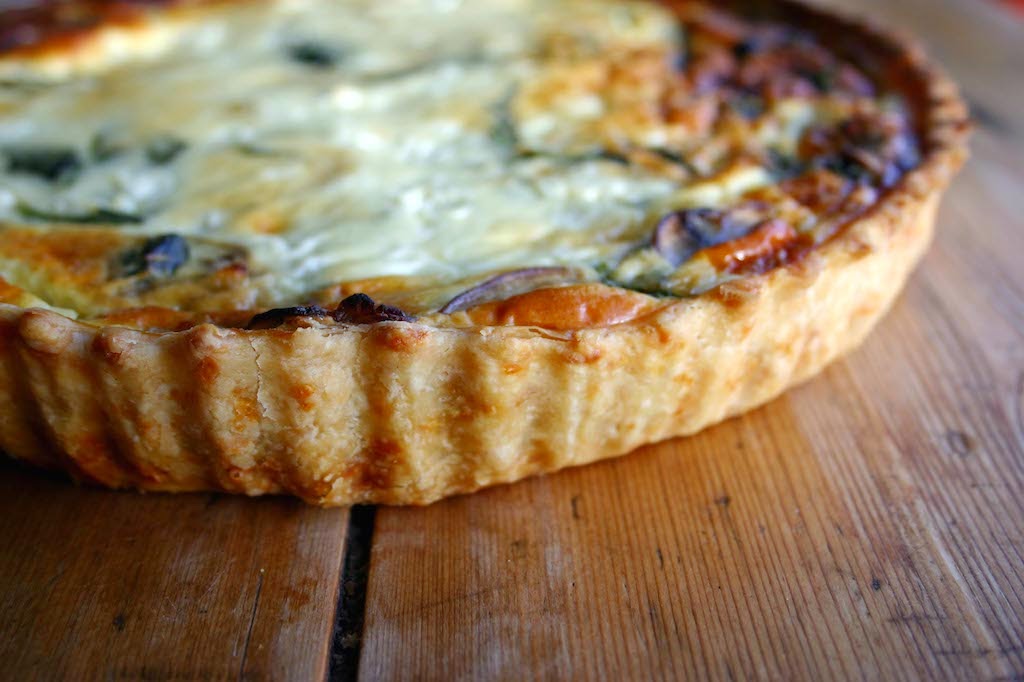 eat and of course, enjoy!