… I know that many people like a good cupboard clear-out in the Spring but for me, November marks the time when I like to pull everything out of my food cupboards and assess what's there… I guess i'm thinking about Christmas and ultimately planning for what what I'm going to need to get in and stock up on so that I don't have to be rushing to the shops over the festive period. It's quite amazing what you find when you root around in there, for instance this year I found a packet of chestnuts that I bought last year for Christmas (still miraculously in date) and believe it or not there was also one of those mini Heston Blumenthal Waitrose Christmas Puddings… just sitting on the bottom shelf!
Of course I always have my favourite store cupboard items, they're always in there and get refreshed as and when they run out… these are the key ingredients and items that I simply could not be without and we all have our favourites don't we?  Some, like the Marigold Swiss Vegetable Bouillon stock, has been handed down to me by my mum and others such as the LittlePod Vanilla Extract have been recommended to me by blogger friends and then of course the very basics such as strong white bread flour have come from my keen love of baking home made bread… and it's funny how we are loyal to some brands (I could only ever use Maldon Sea Salt) but are not bothered about others, for instance I really don't care about my brand of Extra Virgin Olive Oil as long as it's a good quality single origin…
the good people at
Tombola Times
have created a
survey
to reveal the most popular store-cupboard food products worldwide and they need lots of response from foodies, bloggers, blog readers and general cooking fanatics to help reveal the ultimate top 10… everybody who takes part in the survey will be entered into a prize draw to win the contents of the Ultimate Store-Cupboard which will be delivered to you in the form of a hamper… so it's fun to take part and you could win a little something too.. what's not to like?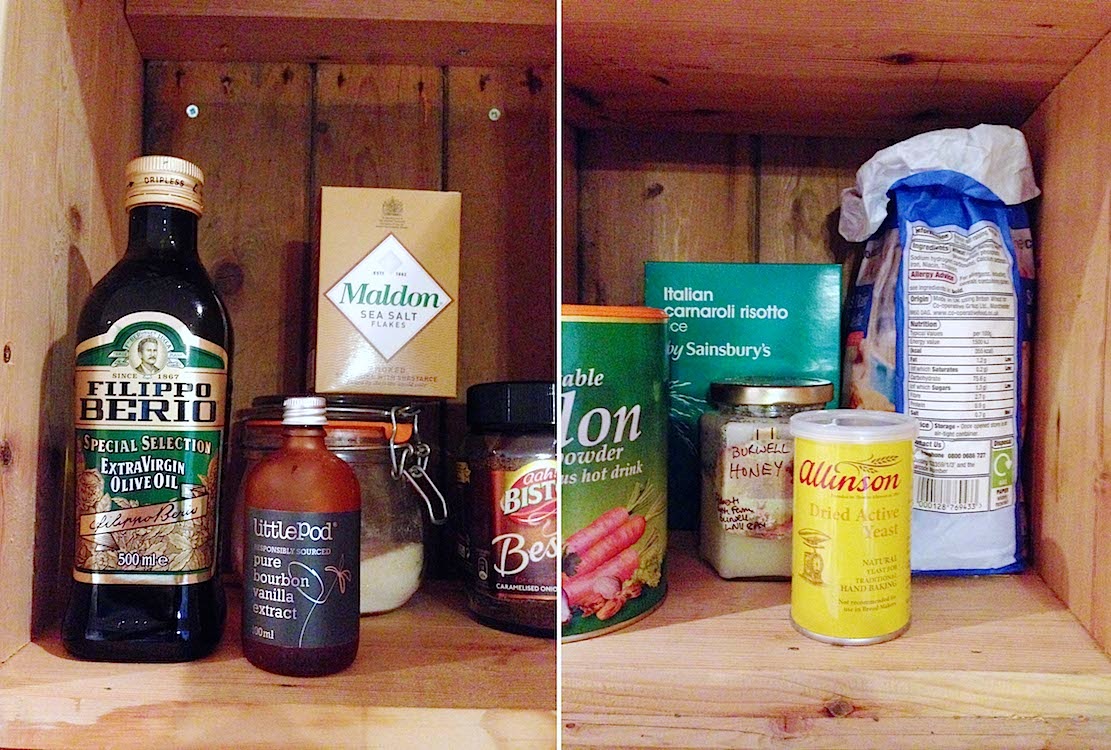 if you could choose only 10 kitchen store-cupboard must-haves, what would they be?
my list looks a little like this – although it's not a completely static list and in fact even compiling this list made me realise that my tastes change quite frequently… but enough of me waffling…
Marigold Swiss Vegetable Bouillon
This is the original and the best… it goes into everything that I need stock for and if you read my recipes where I say stock this is what I use.  It also makes a very tasty quick cup-a-soup style drink if you're in a rush…
Maldon Sea Salt
The UK's best-selling and beloved sea salt flakes… I use it in all my cooking and go through it at an alarming rate…
Billingtons Golden Caster Sugar
Billington's just happens to be my current favourite brand but in fact there's always a packet of golden caster sugar in the house… I bake most of my cakes with it as I love the texture it gives and the whilst the golden taste is subtle I know it's there…
Arborio Rice
if all else fails I know I can whip up a damn fine risotto in 25 minutes for any friends who may have arrived suddenly in the darkness of the night… rice, wine, onions, stock, cheese and love is all you need to make a bowl of gloriousness…
Strong White Bread Flour
this is one of the products that whilst I probably should have a favourite brand, in fact I will use any strong white bread flour and have done to create gorgeous bread… I really think you can't be fussy about these staples… what if you were in a pickle and needed to bake bread… think of the impending apocalypse!
Fast Action Dried Yeast
Obviously to make the bread you need the yeast and I should take out shares in Allinson…
Lincolnshire Honey
I would eat this stuff with a spoon if I could and sometimes I do… it goes on toast, with cheese, in cakes, in sauces, with lamb and roasted with vegetables… it tastes of god.
LittlePod Pure Bourbon Vanilla Extract
this was a product that was reviewed widely on a few of my favourite blogs a number years back and I went out and purchased some immediately.  The stuff is by far the best tasting vanilla I have ever tried and it's just so handy, packed with seeds and easy to pour you just grab and shake… they do a mean coffee extract too!
Extra Virgin Olive Oil
again this is one of those products that I should probably think more about when I purchase and I do always ensure I go for a good quality single origin if I can.  I use this for most of my cooking; salads, roasting, frying… I know I shouldn't but I do.
Bisto Best Caramelised Onion Gravy Powder
and finally for me this is the ultimate guilty pleasure… it has its obvious original uses but it's also great to add to vegetarian stews for a bit of a richer, darker depth of taste plus it also helps thicken which can be very helpful… the flavour has much improved over the years so if you haven't tried it for a while I'd recommend it.
so what goodies are in your top ten?
eat and of course, enjoy!