… i'm taking part in The Buyagift £3 Challenge which is a brilliant awareness campaign set up between Buyagift.com and leading food charity The Trussell Trust who are asking us all to try and create an inventive meal for two for only £3… amazingly over 13 million people live below the poverty line in the UK and through the creation of their innovative foodbanks, the The Trussell Trust provide emergency food for people in need… as a food lover and in my position of privilege I am more than happy to promote this campaign and hopefully provide some inexpensive food inspiration for all of us!
…if you'd like to take part the project runs from the 15th November to the 15th December so you have plenty of time to think of ideas – the rules are really simple and can be found here… all you have to do is get creative with £3… it's a great way to make you stop and think about how we spend our money on food and how much food we waste… now, enough of the preaching and on to the cooking…

mushroom korma pie with a curried ruff puff pastry crust
yes, it seems i'm on a bit of an indian vibe of late but I feel there is nothing more warming and comforting than the combination of spices that go into a mellow curry like the korma with its creamy nuttiness… it makes for a great beginners dish for anyone unfamiliar with the indian pallet and now that Sainsbury's have these natty, authentic and ready-prepared, 3-step packets of indian spice mixes there is very little excuse not to give it a go… and yes, even though some people who will remain nameless, may think it strange to create a curry pie, all i've really done is take our great nations two favourite dishes and combined them into one and if you think about it the samosa is nothing but a mini indian version of the pasty, so it's all there somewhere in its geneology…
as it turns out the Korma Kit was the most expensive ingredient in the pie, coming in at £1.50 but you could easily spend less and use regular spices and the rest of the ingredients were relatively inexpensive and I shopped very locally looking for bargains – basically vegetables, yoghurt, butter and flour that I knew i'd be able to bring this in just on price… and it came in at exactly £3!
for the ruff puff pastry
300g strong plain flour
250g butter
1 teaspoon salt
2 teaspoons garam masala or medium curry powder
150ml water
for the korma
1 Sainsbury's Korma Kit (which includes a marinade packet, a packet with 1/4 inch cinnamon stick, 2 cardamom pods and 2 cloves and a Korma spices packet, made up with 1 tsp cumin powder, 1 tsp coriander powder, 1/2 tsp tumeric, 1/2 tsp chili powder, 1 tsp garam masala )
300g chestnut mushrooms – quartered
1 medium onion – finely chopped
2 sticks celery – finely chopped
3 garlic cloves – crushed
1 inch piece of ginger – finely chopped or chrushed
5 tbsp yoghurt
3 tbsp ground almonds
1 tbsp tomato puree
50ml single cream
75ml veg stock
salt and sugar
the korma kit comes with instructions for chicken so i've adapted it here for mushrooms… I will also include the list of spices too (and when to add them) for those not able to get to a sainsbury's…
start with the pastry by combining the flour, curry powder, salt and butter in a bowl – rub it in as you would with a regular pastry but don't go all the way to breadcrumbs, leave some lumps of butter in there too… then add 2/3rds of the water and bring together into a dough.  Use more water if it feels too dry but this should do it… flatten out and wrap in clingfilm…. pop it into the fridge for at least an hour
after an hour roll it out onto a floured board until you have an oblongish shape and then fold the top over to halfway then the bottom over the top of this and roll out… repeat this again then pop it back into the fridge for at least 2 hours if not overnight
to make the filling, first take the yoghurt, half the ginger and garlic and 1 tsp cumin powder, 1 tsp coriander powder, 1/2 tsp tumeric, 1/2 tsp chili powder and 1 tsp garam masala mix this together, then throw in the mushrooms, stir together and set aside for 30 minutes
next, in a heavy pan melt some olive oil and butter and on a medium heat, fry the 1/4 inch cinnamon stick, 2 cardamom pods and 2 cloves for a couple of minutes before adding the onions and celery which you need to sweat for about 8 minutes until they begin to soften, then add 1 tsp cumin powder, 1 tsp coriander powder, 1/2 tsp tumeric, 1/2 tsp chili powder and 1 tsp garam masala and stir before adding the remaining garlic and ginger and let them saute for about 5 more mins.
add the marinated mushrooms with all the marinade, stir and place the lid on for about 8 minutes until the mushrooms begin to soften and bubble, then take the lid off, turn up the heat and saute the pan until it gets nice and bubbly, then add the tomato paste, ground almonds, cream and stock, season and let the whole thing bubble away for about 5-10 mins, then throw in the frozen peas
pour the curry into your oven proof dish and let it cool a little before you roll out the pastry
roll the pastry out on a floured board and either place it in one sheet onto the curry in the dish or create a fancy lattice work which is a lot easier than you may think and involves recalling home economics lessons from 35 years ago…
brush with a little egg milk wash and bake on 170C for 30 mins or until golden and crispy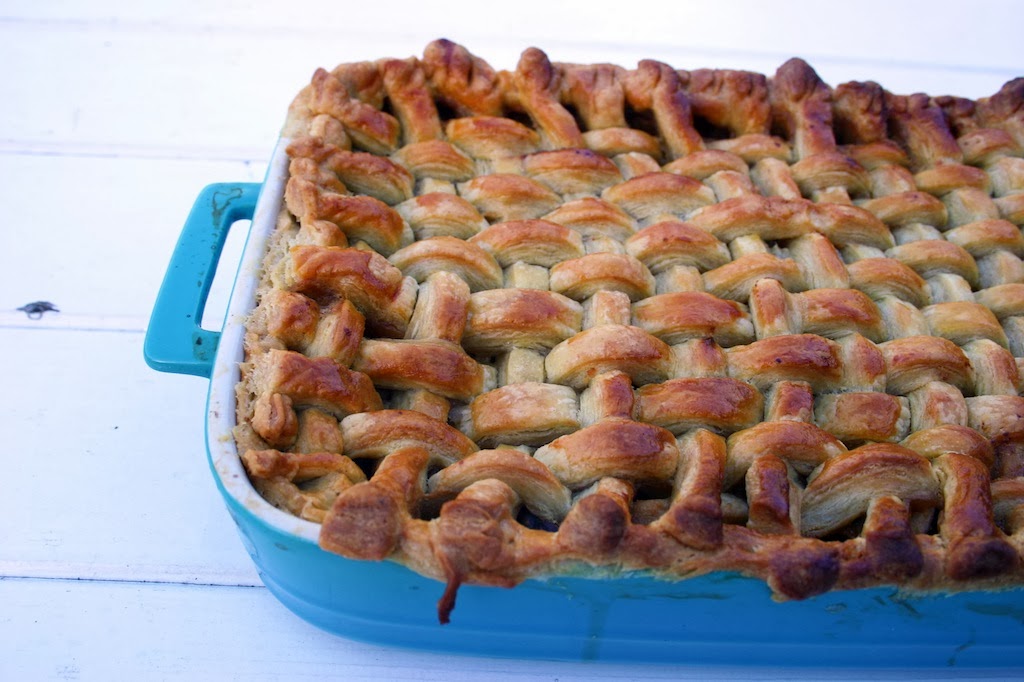 I am part of the Sainsbury's Food Blogger Network and they very kindly send me products from time to time to review and cook with… as you can imagine all thoughts on the product used in this post are my own.
eat and of course enjoy!