… there is an art to making omelettes and, as i've learnt to my detriment, it's not something you can just do naturally… of course i'm not saying you can't just pick up a frying pan, crack some eggs and make a decent omelette, in fact i'm sure you can… what i'm saying is, that to make a knock-out omelette, every time, one that people actually say… 'wow, now that's a good omelette' you have to learn a few simple rules… and if you follow these rules you will laugh at how easy, fast and damned good it really is!
rule 1… do yourself a favour and buy a decent omelette pan… this should be small, for one omelette… the very nature of the omelette is that it keeps its heat and they are so fast to cook you can do them one at a time without anyone eating alone… the pan should be a heavy, deep, non-stick pan… roughly 20cm across.
rule 2… don't over-beat your eggs… you need to have bits of white and bits of yellow in there and if you over-beat you create a denser texture… keep it loose man…
rule 3… hot pan, hot butter… fast wrist… get that pan nice and hot before your pour the eggs in, you'll then seal the omelette quicker…
rule 4… your omelette should be eggs and a little milk or cream only… the fillings or flavours get folded inside once the omelette is cooked…
… ok, enough rules, let's get on with the main event…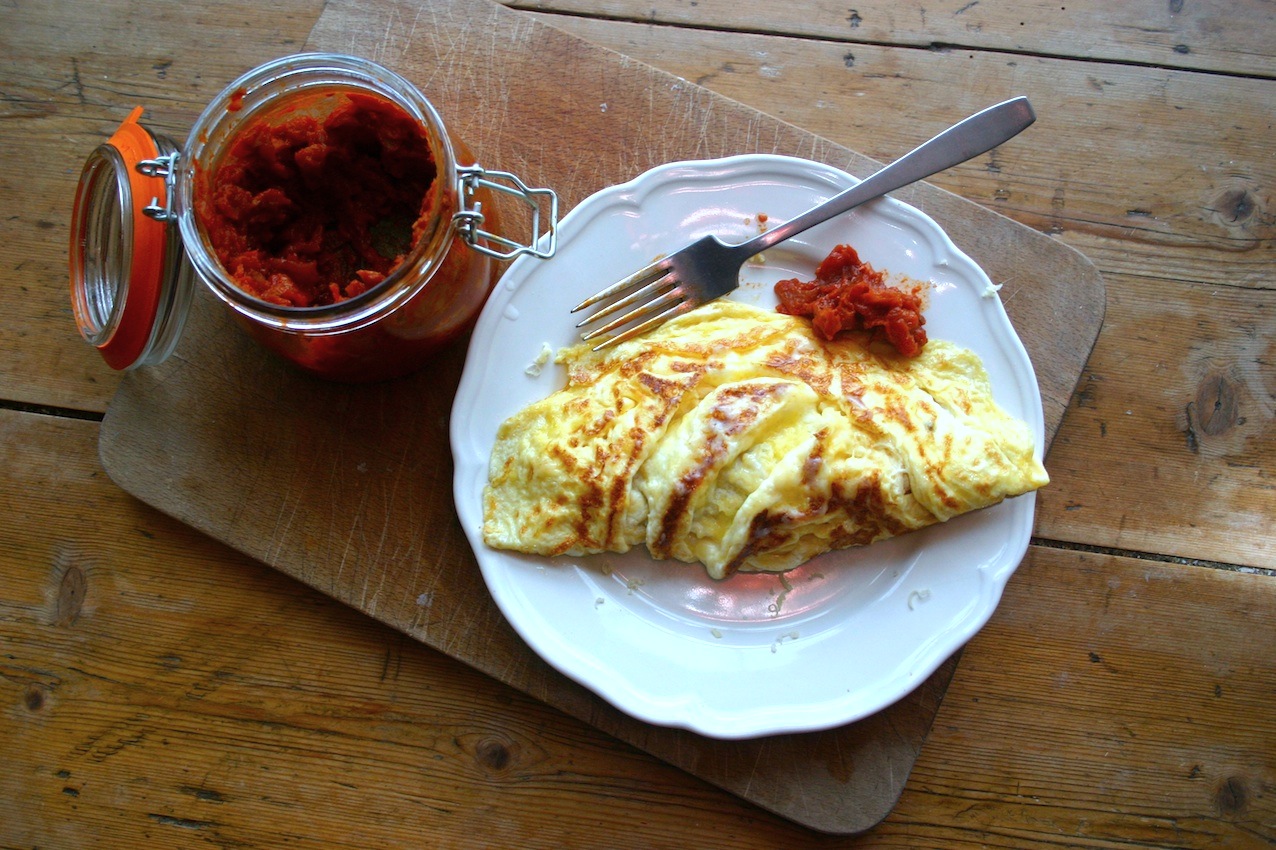 three egg omelette with hot tomato jam
i'm entering this omelette into the Breakfast Club challenge, this month hosted by the lovely Karen over at Lavender and Lovage.  Breakfast Club was started by Helen from Fuss Free Flavours and has a different theme each month, with this month's being eggs… of course!
… I made the tomato jam for my Star Trek Pizza last week, it is a genius tomato jam, thick with caramelised onions, garlic, tomatoes and a little chilli for that heat… and it is stunning oozing out of an omelette!
3 large eggs
a small splash of milk or cream if you're feeling a little luxurious
butter
a little strong cheddar cheese
hot tomato jam
– crack the eggs into a bowl, add the milk and fork it through a few times until the yolk and white are mixed but not entirely combined
– heat the butter in the pan until it bubbles and then pour the egg in.  Let it seal for 30 seconds and then, using a spatula, gently push the outer edge of the omelette into the centre of the pan allowing the liquid egg to run into the space you've created.  Slowly work your way around he pan until you're back where you started and then leave it well alone for a minute or two.  You may have to repeat this technique again depending on how solid or runny you like your omelettes.
– once you're happy with the solidity of your omelette and are ready to serve, grate some strong cheddar  on top and then spoon in the tomato jam
– now, take the pan to your plate and shimmy half the omelette from the pan onto the plate, folding it in half as you finish
eat and of course, enjoy!