Living with a vegetarian always keeps you on your toes, none more so than when we're on holiday. Whilst it's definitely become easier over the years as global tastes change and restaurants rise to meet the change, navigating 'no meat' in traditional meat-eating countries is always a fun game we play. Spanish tapa is particularly risky and that's where these spinach croquettes come in.
Spinach croquettes or croquetas de espinacas as they're known in Spain are the vegetarians dream tapas.
300g fresh spinach (you can use 200g frozen)
400ml milk (I only have skimmed milk but any milk will work)
120 ml vegetable stock – I love kallo
3 tablespoons olive oil
3 banana shallots – diced
2 cloves of garlic – grated
75g plain flour
Salt and pepper
2 large free-range eggs
135g fine bread crumbs – I make my own with stale bread.
Vegetable oil for shallow frying.
If you're using fresh spinach, add a tablespoon water to the bottom of a wide pan (with a lid), and place it on a medium heat. Place the spinach on top, pop the lid on and let the spinach wilt.  It should take roughly 5 mins. Once wilted, set aside to cool, then drain off any liquid and squeeze as much water out of them as you can.
Place the squeezed spinach on a board and chop well. Set aside.
Combine the warm stock with the milk in a jug and set aside.
Heat a large pan over medium heat and add the olive oil and onions. Gently saute and when they are soft, add the garlic. Once soft, sift the flour into the pan. Mix well. Fry, stirring from time to time, for a couple of minutes to remove the taste of raw flour. Once the mixture begins to turn light brown, add a ladle of the milk-stock mixture. Stir well until incorporated then add another ladleful. Continue this way until you have a smooth, creamy sauce.
Add the spinach, salt and pepper and stir it all together. Transfer to a dish and allow to cool to room temperature. Cover with clingfilm, pressing it onto the top of the filling and put it in the fridge for at least a couple of hours or overnight.
Now it's time to assemble. You'll need a 'coating station' which is essentially 2 wide bowls.  One with the beaten eggs and one with the breadcrumbs.
Take about a teaspoon of the filling and use your hands to roll it into a small log shape. Dredge it in the breadcrumbs, then into the egg mix, then again into the breadcrumbs.
Heat oil for frying in a small pan. Fry the croquettes in batches of 4 or 5 until golden brown on all sides. Remove to a paper towel-lined plate.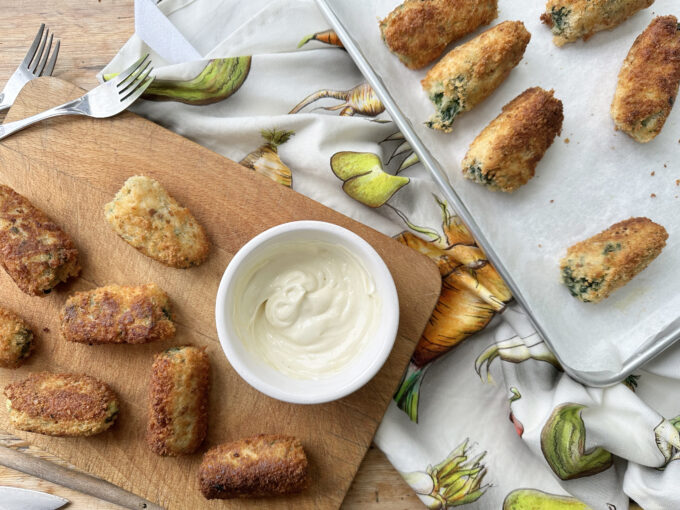 Click here for more of my savoury recipes.
Eat and of course, enjoy!