I know it seems like the world is burning with record breaking temperatures in Europe and America but here in the UK it may as well be Autumn.  I know it seems very British to complain about the weather but it's just so dull and grey and rainy.  So much rain… and it all means that it's hard to know what to cook.  Usually it would be all salads and BBQ's and al-fresco dining but now it just feels like we want a big bowl of comfort food and a good film.  Hopefully this veggie sausage and summer vegetable traybake is a nice hybrid between comfort food and salad.
All In One
The great thing about a traybake is that it's the epitome of the 'all in one' method of cooking.  You literally throw it all into an oven-proof tray and roast it until it's glorious. I've taken it to another level of fabulousness by using some wonderful Balsamic Vinegar Dressing from Mellow Yellow to lubricate it.  The dressing, originally intended for salad, actually contains all the ingredients I'd normally add individually to a bake like this; rapeseed oil, balsamic vinegar, mustard and garlic powder. So it really is a genius addition to the all in one method.
Mellow Yellow
Mellow Yellow is a collection of British sourced and made, cold-pressed rapeseed oils and dressings which are the brainchild of Northamptonshire farmer Duncan Farrington.  I'm working with them to bring you some delicious recipes.
I'm using all my favourite summer veg and veggie sausages but this dish would work brilliantly with any mix of vegetables and your favourite sausages, just go for it!
2 banan shallots – peeled and halved root to tip
2 stalks of celery – chopped
1 fennel bulb – roughly chopped
a handful of new potatoes – chopped
4 chanterney carrots – halved
1 red and 1 yellow mini-peppers – halved
1 corn on the cob – halved lengthways and then cut into 4
5 garlic cloves
a handful of green beans – chopped
8 vegetarian sausages – I used THIS isn't pork sausages
fresh rosemary and thyme
roughly 100ml Mellow Yellow Balsamic Vinegar Dressing
Pre-heat the oven to 150C (fan) 0r 302F
Place all your veg, herbs and the sausages into a large roasting tin and drizzle with the dressing.  Mix it all up (I used my hands to ensure full coverage.)
Roast for 30 mins at 150C and then 45 mins at 200C (390F) until all gloriously golden and roasted. Serve family-style in the centre of the table.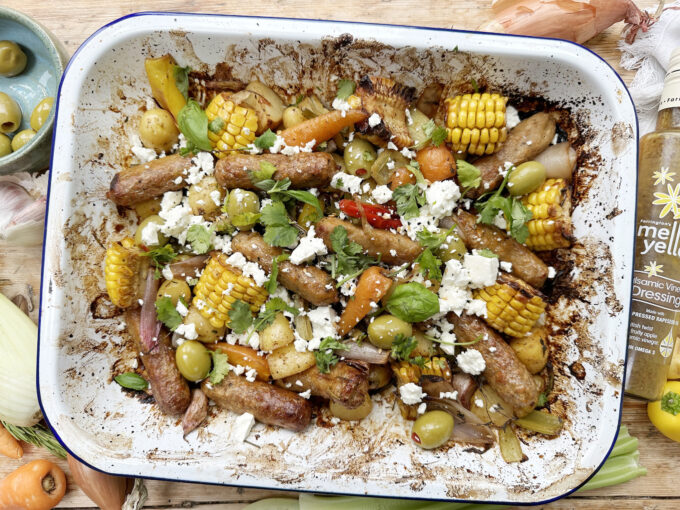 For more traybake roasts check these out on Dom in the Kitchen.
Eat and of course, enjoy!