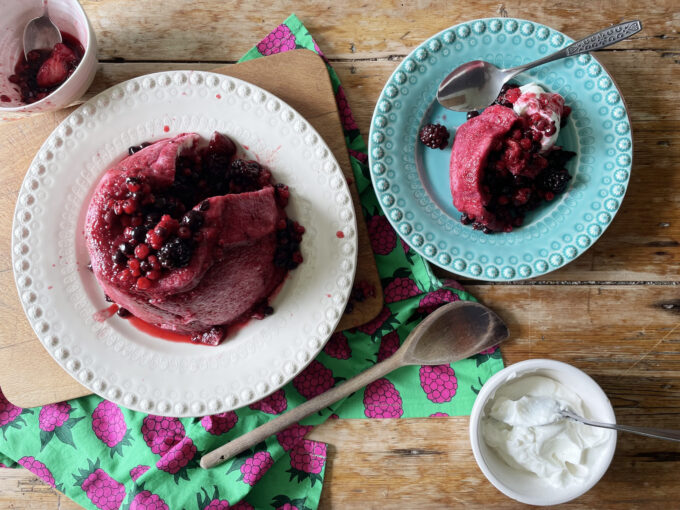 Summer Pudding is potentially my all-time favourite pudding.  It's so simple to make and relatively inexpensive; it's literally bread, fruit and sugar.
800g total mixed berries – I used the following:
700g frozen mixed berries
100g extra blackcurrants (just cos I love them so much!)
2 tablespoons Campari (optional)
8-10 medium slices white bread from a large loaf, crusts removed.
150g golden caster sugar
TIP: You can use frozen mixed berries – treat them exactly the same as fresh.  No need to defrost.
You will need a 1 litre pudding basin, lightly brushed with vegetable oil.
Ensure all the fruit is clean, then place in a large pan together with the sugar and the Campari.
Cook over a medium heat for 3–5 minutes until the sugar has dissolved and the juices begin to run, then remove the pan from the heat.
Trim one slice of bread to fit the base of the pudding basin, and cut 4 slices in half to line the side of the basin, overlapping them at the straight edge with the rounded side down, and sealing well by pressing the edges together. Fill any gaps with small pieces of bread, so that no juice can get through when you add the fruit.
Pour the fruit and juice in – except for about a cupful – then cover the pudding with the remaining bread and place a small plate or saucer (one that will fit exactly inside the rim of the bowl) on top. Place a weight on top (an old scale weight would work, or a bag of rice.) Leave in the fridge overnight.
Just before serving, loosen the pudding all round using a palette knife, and turn it out onto a large serving dish, then spoon the reserved fruit and juice all over, to soak any bits of bread that still look white (a pastry brush is useful here). Serve cut into wedges, with some cream.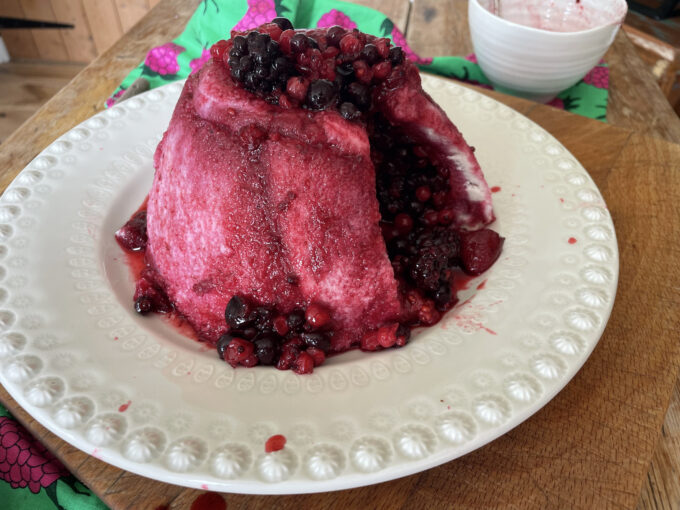 For more pudding recipes, check these out on Dom in the Kitchen.
Eat and of course, enjoy!