Apricots have the power to make me feel summer, whatever the season. And this apricot, almond and honey galette is in my opinion the ultimate way to serve them.
Perfectly rustic a galette is essentially an open pie or tart that can be knocked together in moments and delivered to the table in bucolic triumph.
For the pastry
250g plain flour

50g ground almonds

150g butter – at room temperature

1 tablespoon sugar

1 egg yolk

a little cold water to mix
For the galette
5 or 6 apricots – stoned and quartered

2 tablespoons honey – I love Rowse Organic Honey 

1 tablespoon ground almonds

The juice and zest of one lemon

Almond slithers
Make the pastry by placing the flour, ground almonds butter and sugar into a bowl and stirring together. Add the butter and rub it into the flours using your finger tips until it resembles breadcrumbs.
Add the egg yolk and a splash of water and using your hand, shaped like a claw, start to move it around the bowl and bring it together into a dough. You may need a little more water.
Once the dough forms, flatten it out and wrap it in clingfilm and refrigerate for at least 30 mins.
Meanwhile place the apricot quarters into a bowl along with the honey, lemon juice and zest and ground almonds and stir. Set aside.
Pre-heat your oven to 160c fan. Line a baking sheet with parchment paper.
Roll out the dough into a round, roughly 12 inches in diameter. Carefully lift it onto the baking sheet.
Place the apricot mix into the centre of the pastry circle and then fold over the edges to create an open package. The pastry may crumble and crack but it's supposed to look rustic so don't worry.
Brush a little water or milk around the edge of the pastry and sprinkle with almond slithers and a little sugar.
Bake for 25-35 mins or until the pastry is golden and the top of the apricots are a little brown.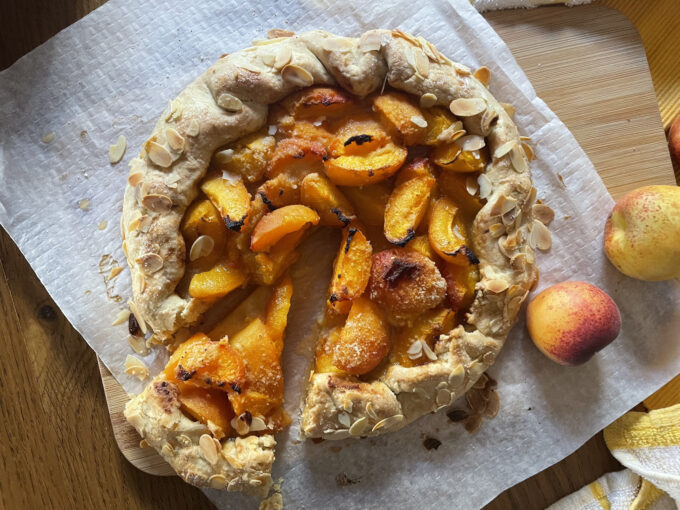 For more tart recipes check these out on Dom in the Kitchen.
Eat and of course, enjoy!