This butter bean minestrone with parmesan croutons is one of those all-rounder comfort foods that I whip up if either we're feeling a little under the weather or in fact the weather is a little, under itself! As it happens both happened this week.  It's been weirdly warm and muggy, yet rainy and cloudy and quite frankly so have we.  So I put a pot of this on the stove, using up any veg I had lying around and half a jar of the marvellous Queen Butter Beans from the Bold Bean Co. and we snuggled up on the sofa and watched a movie.  The perfect evening.
MY TOP 3 TIPS TO MAKING THE BEST MINESTRONE:
low and slow – there really is no reason to rush this one and the lower and slower you can cook it the better it will taste.  This includes making it the day before you're going to eat it.  Those flavours will only enhance with an overnight cool down and reheat.
add some wine to your stock – there's something about that little glass of white wine that takes this from soup to super!
cheese – I always grate a mix of very strong cheddar and parmesan in to the final soup, it gives it an unexpected creaminess and also adds a subtle twang which works wonders with all the vegetables.
a little olive oil and butter
one medium white onion – chopped
2-3 sticks of celery – chopped
1 large carrot – chopped
2 garlic cloves – grated
fresh herbs – I used oregano, rosemary and thyme
100g frozen peas
1/2 jar (or one tin) butter beans
2/3rd litre vegetable stock mixed with 1/3rd white wine
1/4 head of large savoy cabbage – chopped
100g pasta – I used some old tagliatelle that I simply broke in to the soup
100g strong cheddar cheese – finely grated
plenty of fresh ground black pepper
for the cheesy croutons
a few slices of chunky bread – I'm using some sourdough baguette
100g hard cheese such as parmesan or Lincolnshire Poacher – finely grated
1 teaspoon garlic salt
chilli oil
To make this butter bean minestrone with parmesan croutons, In a large soup pan or shallow casserole dish, heat a little butter with some olive oil and once warm throw in the onions, celery and carrots, stir well, turn up the temperature to just above medium and let the vegetables cook for at least 8 minutes, stirring regularly.  Add the grated garlic and the fresh herbs halfway through this cooking time and stir well in.
After 8 or so minutes the vegetables will have begun to soften and slightly colour. Add the peas and stir well in and let them shimmy in the heat for another 5 mins
Add the tin of chopped tomatoes followed by the stock and stir together, then add the cabbage, place the lid on, turn down the heat to it's very lowest and let the whole thing gently bubble away for at least 45 mins, adding the pasta after 20 mins.
Take it off the heat and add the cheese and stir well in.
Meanwhile, To make the croutons, pre-heat the oven to 180C fan.  Cut thick slices of the bread (maybe 2 per person?) and lay them out on a baking tray.  Sprinkle with a little olive oil (a chilli oil is nice) and season with salt, pepper and a little garlic powder.  Bake for 15 mins then remove from the oven, sprinkle over a little more oil followed by the cheese so they they're evenly coated.  Baked for 10 mins more until golden and crispy.
At this stage the Minestrone is essentially ready to serve but I promise you it simply won't taste as good as it could do should you allow it to cool entirely and reheat later.  The ultimate would be the next day but if you make it in the morning and serve it in the evening then it will be pretty damn phenomenal!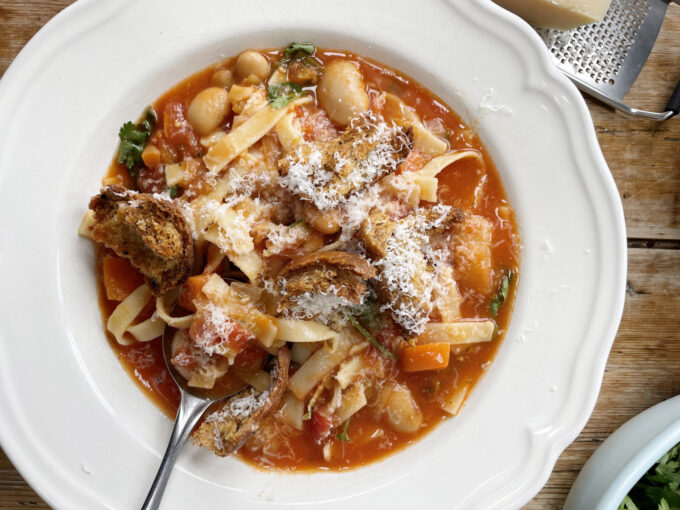 For more soup recipes try these on Dom in the Kitchen.
Eat and of course, enjoy!