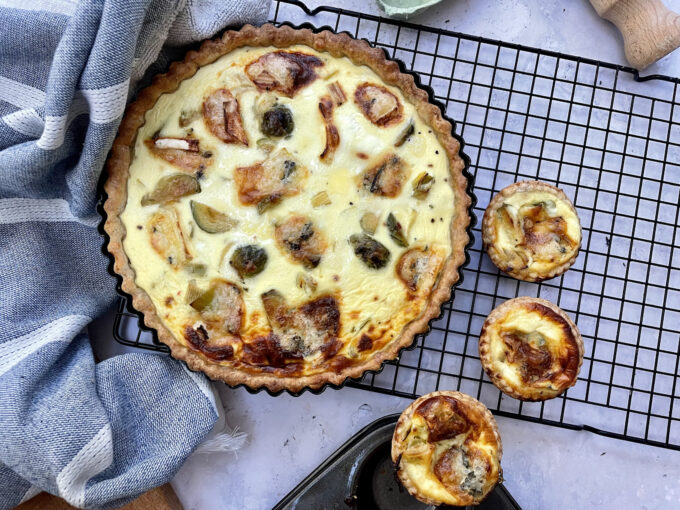 This Brussels Sprouts quiche is inspired by the stuff that was left in the fridge after Christmas.  Not necessarily 'leftovers' as such, more the stuff that didn't get used but that I really don't want to throw away.  As I'm sure most of us do, I always over-order and underuse and of course I hate food waste so I wanted to find a way to amalgamate it all together.
Quiche
I usually make my quiches with single cream and they're lovely but very rich but this also means I have to have cream in the fridge if I want to spontaneously make quiche and I don't always stock cream.  I do however always have a tub or two of Fage Greek Yoghurt.  It's my favourite kind of yoghurt because its so rich and creamy.  Even their 0% fat has a richness to it that I love.
I had some blue cheese in the fridge from the Christmas binge.  It was a stunning creamy mild blue called Montagnolo from the always amazing Cheese Society in Lincoln.  They ship across the UK and are lovely.
I think this quiche is perfect for a New Years Eve party, you can make one large one or lots of little bite-size ones.  This recipe should make about 24 mini quiches which you can make in a mince pie or muffin tin.
for the cheesy rye flour pastry
150g plain flour
100g rye flour
100g butter
50g finely grated Lincolnshire Poacher (or other strong/sharp cheese)
1 teaspoon finely chopped fresh herbs – I used thyme and rosemary
water to mix
for the filling
butter and olive oil
1/2 white onion – thinly sliced
1/2 leek – sliced
6 – 8 brussels sprouts – quartered
100g mild blue cheese – broken into chunks
fresh thyme– finely chopped
salt and pepper
3 eggs – beaten
220ml Greek Yoghurt
a little milk to loosen the mix
make the pastry by rubbing the butter into the flour in a large bowl until you have something resembling breadcrumbs, stir in the grated cheese and fresh herbs then add a tablespoon or two of cold water and bring together into a dough with your hands, you may need to add a little more water to create the dough but you will feel how 'short' the pastry is.  Wrap in cling film and pop in the fridge for at least 30 minutes
in a large pan gently melt a generous amount of butter with a little olive oil and add the onions and leeks, stir them around and them leave them until they begin to squeak, turn up the heat a little and saute them till they begin to brown a little, then add the Brussels sprouts and let them soften in the heat. Turn off the heat but leave the pan on the hob, pop the lid on and let the veg sweat until everything is soft.
now your pastry should be ready, roll it out and line your greased quiche pan. place some baking beans on top of the pastry and blind bake for 15 minutes on 150C
once your pastry is turning golden, take it out of the oven and set aside whilst you beat the eggs into the yoghurt.  Add a dash of milk if needed to slightly slacken the mix.  Pour the sauteed vegetable mix into the pastry case followed by the yoghurty egg mix and crumble the cheese over the top (I like to leave it quite chunky but tuck it into random places) and bake on 160C for about 25-35 minutes until golden and risen, set aside on a wire rack to cool.  The quiche should easily slide out of the tin. (famous last words…)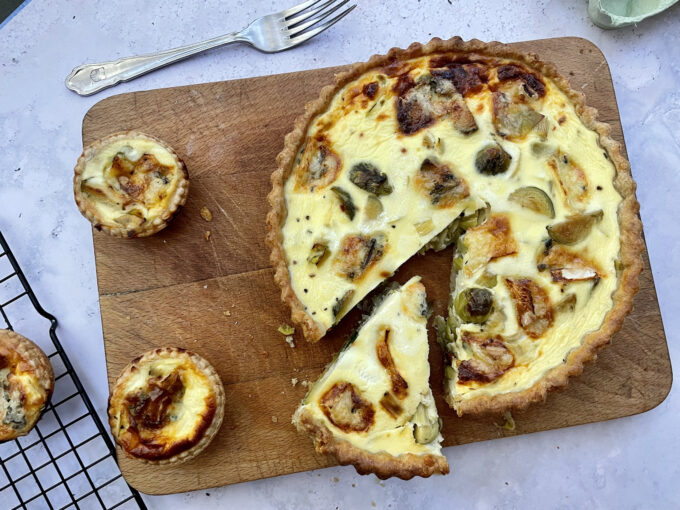 Eat and of course, enjoy!