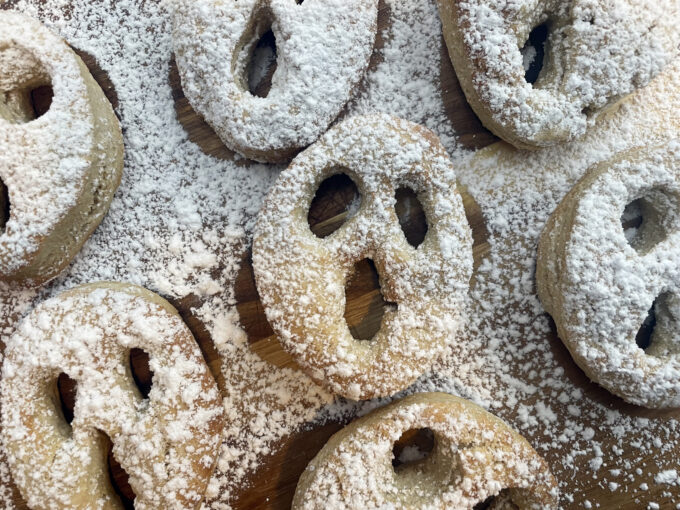 These screaming scones are not only the most deliciously spooky treats for Halloween but they are so easy to make I'm quite amazed I've never made them before.  PLUS, they go into the air fryer, so they're an absolute dream! I see them more as biscuits as you roll the scone dough out a lot thinner than you normally would with regular scones but you need to do this so they don't rise too much and obscure the fun screaming faces.
575g plain flour
45g / 3 tablespoons baking powder (ensure it's from a fresh packet.)
80g golden caster sugar (I used regular caster sugar because that's what I had)
150g unsalted butter – cold and cubed
2 medium eggs
150ml – 175ml whole milk (I actually used skimmed)
extra egg for the eggwash
Combine well the flour, sugar and baking powder in a large bowl.  Add the butter and rub all the ingredients together with your fingerprints until you have a texture that resembles breadcrumbs. Stir in the sultanas or mixed fruit.
Add the 2 eggs and half the milk and stir with a knife.  Continue to add milk until the mixture starts to clump together into a dough, then go in with your hands and bring it all together.  You should be able to clean the bowl with the dough and have something that is smooth and not too sticky. (Only use as much milk as you need to bring it together like this.) Wrap in clingfilm and place it in the fridge for 30 mins.
Flour your work surface and roll the dough out flatter than you would normally roll them, I'd say half an inch thick. Dip your 8cm cutter (non fluted) in flour and cut out the scones.  I managed to get 11 scones out of mine.  Then taking a smaller cutter (I used the round end of a 1cm piping nozzle) and cut out three holes.. i.e. the mouth and two eyes. Carefully stretch the scone faces lengthways until you make a screaming face.
Once you've stretched all of them, place them on a baking sheet and back into the fridge for at least 45 mins (or until you need to use them.)
Preheat the oven to 200C fan. (Or the air fryer to 180C)
Brush the top of each scone with a little beaten egg and then bake for 12 – 15 mins until golden on top.  (If using the air fryer bake them for no longer than 8 mins.)   Allow them to cool entirely on a wire rack. Dust liberally with icing sugar and decorate the eyes with jam to represent oozing brains!
For more Halloween recipes check these out on Dom in the Kitchen.
Eat and of course, enjoy!