I've never made toffee apples.  I don't think I've ever eaten them actually.  They always look so pretty but I would say that apples are my least favourite un-cooked fruit.  It's not that I don't like them, they're just not my first pick from the fruit bowl… and of course I adore cooked apples in all ways! I'm also not a big toffee fan, so when The Viking started talking about how we could use up the hard apples that we picked from our neighbours mini apple orchard and suggested toffee apples I really wasn't that bothered.
I'm glad he did though. There's something about the crazy, tooth-achingly sweet toffee that does magic to the slightly hard, almost sour apples that I love.  It's like the molten hot toffee has super-ripened the apples in a flash! These are genius for Halloween but if you're planning to make them with the kids remember that the sugar gets INCREDIBLY hot and can burn quite badly.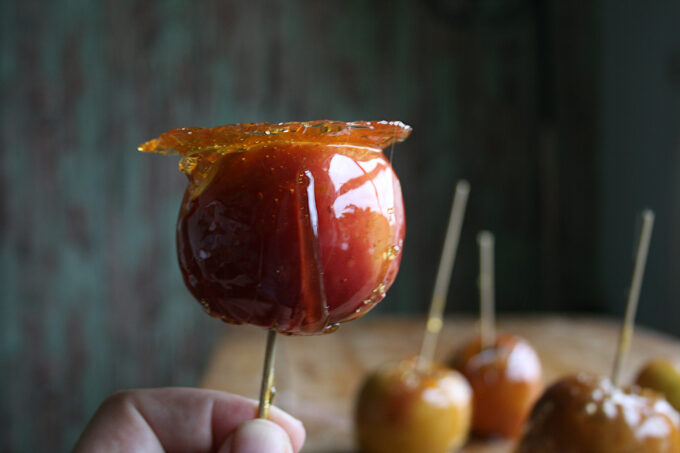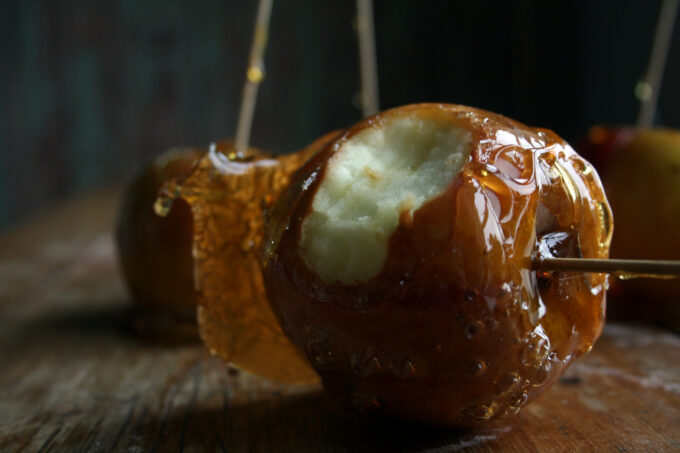 This recipe comes from the always brilliant BBC Good Food website.  It's pretty failsafe as we changed nothing.  Toffee is toffee after all!
8 crunchy apples
400g golden caster sugar
100ml water
1 tsp vinegar
4 tbsp golden syrup
You will also need some lollipop sticks or wooden skewers, or even some twigs which you will need to clean well first.
Place the apples in a large bowl, then cover with boiling water. This will remove the waxy coating and help the toffee to stick. Dry thoroughly and twist off any stalks. Push a wooden skewer or lolly stick into the stalk end of each apple.
Lay out a sheet of baking parchment and place the apples on this, close to your stovetop. (You really want to avoid dripping molten sugar on any surfaces!) Tip the sugar into a pan along with the 100ml water and set over a medium heat. Cook for 5 mins until the sugar dissolves, then stir in the vinegar and syrup. Set a sugar thermometer in the pan and boil to 150C or what's known as the 'hard crack' stage. If you don't have a thermometer you can test the toffee by pouring a little into a bowl of cold water. It should harden instantly and, when removed, be brittle and easy to break. If you can still squish the toffee, continue to boil it. This process took us about 10 minutes on a medium heat.
Working quickly and carefully, tip the pan filled with hot liquid toffee as a slight angle, then dip and twist each apple in the hot toffee until covered, let any excess drip away, then place on the baking parchment to harden. You may have to heat the toffee a little if the temperature drops and it starts to feel thick and viscous. Leave the toffee to cool before eating.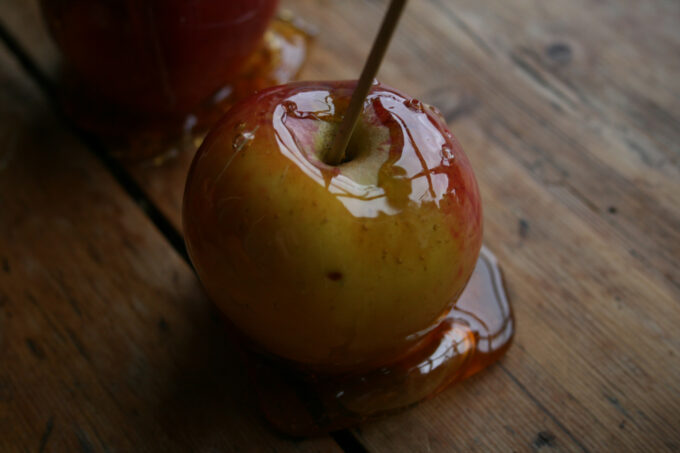 Eat and of course enjoy!