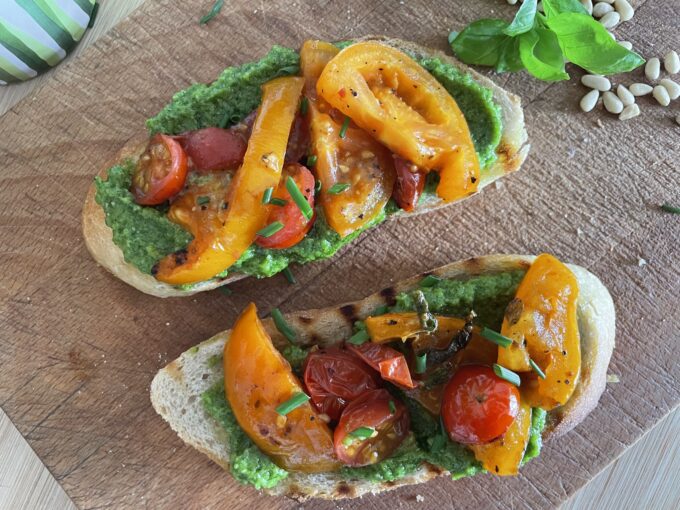 So, firstly before I tell you all about this incredible Tomato Leaf Pesto, I need to tell you that I've changed my subscription feed from Feedburner (which is now obsolete) to Follow.It.  Hopefully this won't effect you in anyway but do let me know if you don't get the emails any more. Oh and if you don't subscribe yet then please do!
Home grown tomatoes are incredible but anyone who's grown them knows that it's all leaf and very little fruit.  Well, believe it or not but the leaf is edible and tastes sublime.  Like, sun-ripened tomatoes grown on the slopes of some Mediterranean hill. So I made a tomato leaf pesto.
It's pretty similar to traditional pesto, I'm just subbing out some of the basil with chopped tomato leaves.  It couldn't be simpler.
You can eat it however you like, with pasta, in a quiche or simply thickly spread onto griddled bread and topped with pan-fried tomatoes and oregano.  Honestly, it will be the best thing you'll put on toast this week!
Notes on the ingredients.
Apologies for the lack of detailed measurements but I made this off the cuff and literally grabbed handfuls of ingredients.  I genuinely love and encourage this kind of cooking.  I've made assumptions where I can but cooking should be a pleasurable experiment and something like a pesto has quit wide margins of error so it's doubtful you can go wrong.
For the pesto
50g pine nuts
a handful of tomato leaves – try and pick leaves from the top of the plant, then give them a good wash.
a large handful of basil leaves (you could use rocket here as a substitute for a more peppery taste.)
50g strong cheddar cheese (feel free to use parmesan.)
1 clove of garlic – peeled
1 – 2 tablespoons extra virgin olive oil
For the rest
a handful of tomatoes – I used some cherry tomatoes cut in half and one yellow tomato cut into chunks.
a little olive oil
a pinch of fresh or dried oregano
2 slices of chunky rustic bread
Start by toasting your pine nuts.  I do this in a hot pan with no oil.  Just ensure you shimmy the pan lots and as they begin to turn golden take them off the heat and remove them from the pan. They should take about 8 mins to toast.
Add all the pesto ingredients to a food processor and whizz to a smoothish consistency.  Add more oil if you prefer it smoother.  I like a more rustic look.
In a pan, add a little olive oil and throw in the tomatoes and oregano.  Let them sauté for about 5 mins until they breakdown and get a little scorched.  Set aside.
Drizzle some olive oil onto the bread slices and pan fry until golden.  I'm using a griddle pan which is a nice way to get those little lines that are so desirable.
Now just layer it all up.  Spread a healthy dollop of the pesto onto the toast and then lay some of the tomatoes on top.  Glorious!
For more pesto recipes check out these on Dom in the Kitchen.
Eat and of course, enjoy!