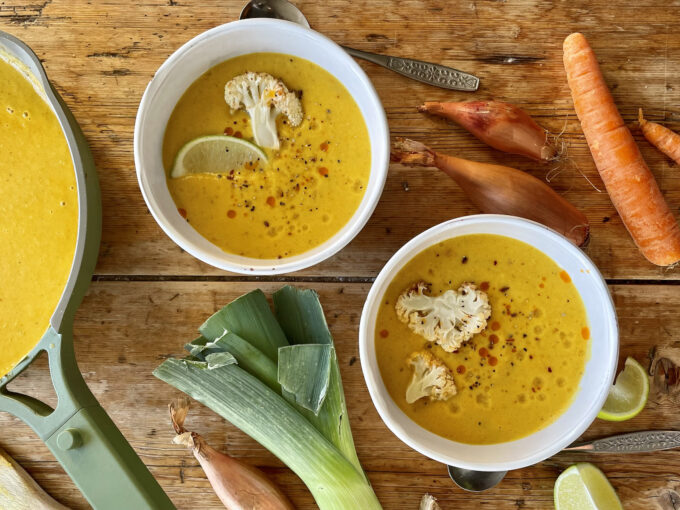 The best soup ever!
What I adore about this roasted cauliflower, leek and coconut soup is that it instantly transports me to warmer climes. That wonderfully rich and warming taste of the Thai-inspired spices combined with the creaminess of the coconut milk just makes me think of walking along a tropical beach at sunrise, the sand beneath my toes.  And that colour just reminds me of the hot sun on my back. It's just what we need on these freezing and gloomy January days.
Packed with goodness
The soup is also packed with goodness from the cauliflower, carrots and leeks which makes this a wonderful way to stay healthy but not compromise on taste.  It's also vegan (if you leave out the butter) which is great if you're having a go at Veganuary. (Gosh I dislike that word…) But probably the thing I like about it the most is that in 30 mins you have the most wonderful meal ready to go!
1

large

cauliflower

,

including the stem, roughly chopped

olive oil and butter
salt and pepper (the brilliant Cornish Sea Salt 'Salt and Peppery' is perfect for this dish)
3 or 4 banana shallots,

chopped (you can use 1 medium onion)

2

large

carrots

,

chopped

1 medium leek – chopped
1 thumb-sized nugget of fresh ginger – grated

2

 

cloves of garlic – 

grated

1

teaspoon

ground turmeric

3

tablespoons

red Thai curry paste (shop bought is more than fine here)

1 litre good quality vegetable stock

400ml (one regular can)

 coconut milk

chilli oil and fresh lime to serve
Preheat the oven to 180C fan.
Lay the chopped cauliflower into a roasting tin, drizzle with a little olive oil and sprinkle with sea salt. Roast the cauliflower for 30 minutes, or until it is soft and beginning to brown.
Onto the soup
You'll need a large soup pan with a lid. Gently melt a little butter and olive oil in a large pan over a medium heat. Add the onion and sauté for 5 minutes. Stir in the leeks and then the carrots.  Place the lid on the pan and continue to cook, until both the carrots and onion are soft and beginning to brown – roughly 10 minutes.
Add the ginger and garlic and cook for 1 minute. Next add the turmeric and Thai curry paste and cook for 1 more minute.
Add the stock and bring it all to a gentle boil. Reduce the heat to low and gently simmer until the cauliflower has finished cooking. Take the cauliflower out of the oven and stir it into the pot. I keep back a few bits of cauliflower to garnish the soup at the end.) Turn the heat off and let it cool by half (roughly 15 mins) before pouring in the coconut milk.
Blend well using a stick-blender, then add any salt and pepper to taste. Drizzle with a little chilli oil and a squeeze of fresh lime to add some zing!
For more soup recipes, check out Dom in the Kitchen
Eat and of course, enjoy!